| 25 Mar 2020
Customer Support - Service & Support
How Remote Teams Use CloudTalk As Business Phone Software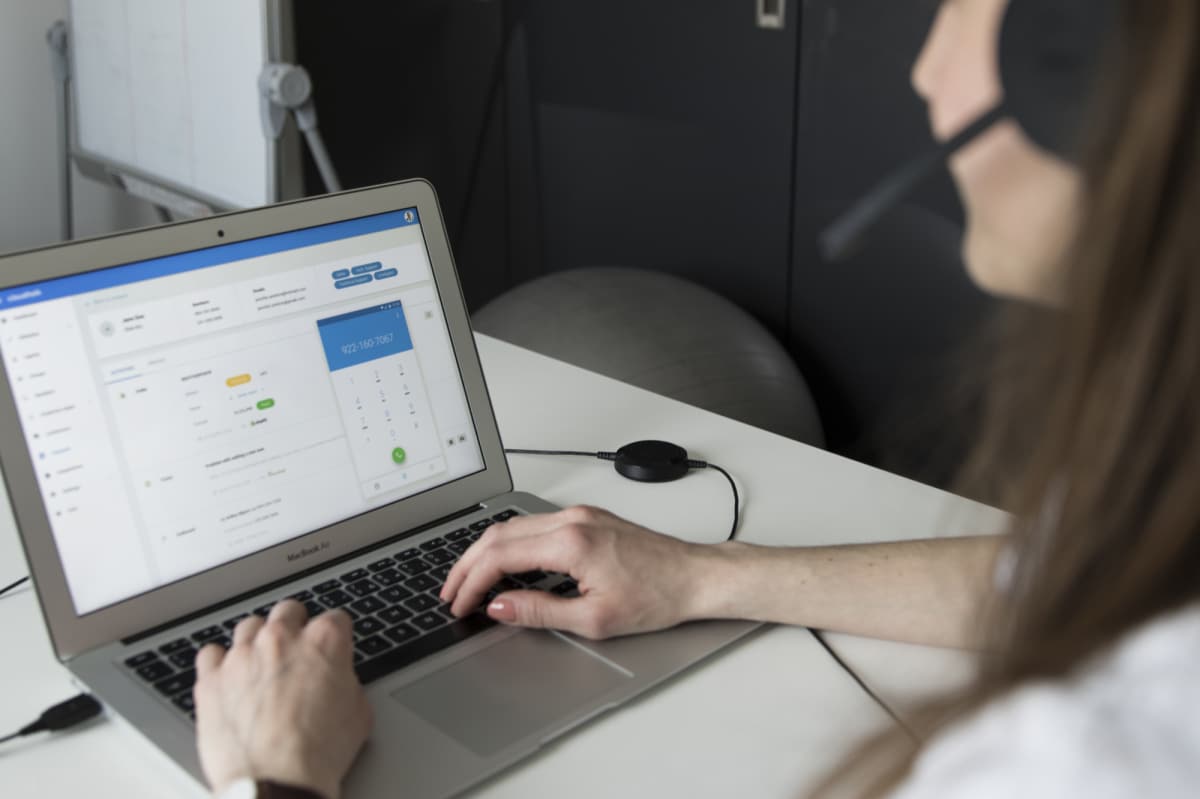 There has never been a better time to switch to a cloud phone solution. With the Covid-19 outbreak, businesses are switching to remote work and migrating to cloud solutions in masses.
If you're curious, how CloudTalk is used by remote teams all over the world, what better example to give than to explain how we use CloudTalk internally for both sales and customer service purposes.
CloudTalk is used by businesses of different types and sizes, and not surprisingly, our team is using CloudTalk as well, even while working remotely.
How do CloudTalk-ers use Cloudtalk?
All departments including development, marketing, finance, legal, support and sales get to make or receive calls to CloudTalk. However, not everyone uses it on a daily basis. In this blog, I will explain the 2 most common use cases for CloudTalk within the company:
Sales team
Customer support team
Sales Team
The first important fact when using CloudTalk within our sales team is the ability to work from anywhere with an internet connection while maintaining local presence by using local phone numbers.
No matter, whether a colleague uses a desktop computer, notebook or a mobile device – with a proper internet connection, calls can be done from anywhere with the CloudTalk desktop or CloudTalk mobile apps. Our team typically uses a Jabra or Logitech headset for better voice quality and noise reduction.
International numbers
Even though our sales team doesn't do a lot of cold calling, their first touch with prospects is done mostly by phone calls. In this case, access to a local number plays a very crucial role.
"When you have a prospect from Germany, it is important to use the German phone number in order to increase the pick-up rate and build trust from the very beginning.
Otherwise, your prospect might be scared to answer your phone thinking that you are a fraud company. Be aware of this important fact."

– Marek Beran, Head of Sales in CloudTalk
Get an in-depth overview of customer support trends
Power/ Smart Dialer
When our sales development representatives have a list of prospects they need to call to, they usually use the Smart Dialer feature. Smart Dialer is CloudTalk's flagship feature and it is similar to the well-known Power Dialer.
However, there is a small difference. It helps you compile a list of phone numbers from any website or online system with a single click.
"The Smart Dialer allows you to automatically dial a list of phone numbers, for instance from your CRM system. I no longer need to type in and dial every number manually when I call my list of leads. I just create one list, and then CloudTalk does the rest.
If I didn't catch a prospect, I can automatically reschedule the call for another time or day. And the best part is that all the call information is going to be logged in our CRM system thanks to CloudTalk + Pipedrive integration. Basically, this simple feature will save you a lot of time."

– David Berezovsky, Business Development Manager in CloudTalk
Pipedrive + CloudTalk Integration
As our sales team uses Pipedrive, there was a natural need to have a native integration for CloudTalk with Pipedrive. The system integration helps us improve team efficiency, automate unnecessary workflows or improve the overall customer experience.
"The CloudTalk + Pipedrive Integration is great! It synchronises everything! It allows me to have all my contacts synced whenever I have inbound or outbound calls to make. With the sync, I can have unlimited storage for all recordings."

– Romain Lahyani, Senior Account Executive in CloudTalk
Thanks to Pipedrive + CloudTalk integration, all the important data like Calls, Notes, Contacts, Recordings, Tags are sync in real-time. Thanks to the Aftercall feature, our sales reps can add to specific contact important notes and tags, which are afterward synced in both systems.
Those, who use a different CRM, don't worry. CloudTalk has native integrations with Hubspot, Salesforce, Zoho and many more.
Click to Call feature
Another useful feature is the Click-to-call Chrome Extension, which enables our sales reps to automatically dial a phone number directly from Pipedrive or any website. This simple feature saves a lot of time and is quite popular amongst our customers with 500+ active users.
Customer Support Team
As CloudTalk is used all around the globe, we have 12 different local numbers which our customers can call at standard local rates. Having local numbers for different markets you operate in also has other advantages.
When someone calls your Spanish number, you can route the customer directly to a Spanish-speaking agent – just like we do at CloudTalk.
Call Flow Designer
If there was one feature that our customer support couldn't live without, it would be the Call flow designer. The CFD lets you set up a simple or more advanced IVR tree, in other words, it makes sure your inbound phone calls get routed to the correct departments or people.
At CloudTalk, we have a simple IVR where callers can press 1 for Sales or 2 for customer service and then the calls are routed. However, some of our customers use super-advanced trees with up to 30 steps!
"The first contact resolution rate has improved rapidly after we deployed our IVR tree with Call Flow Designer. I can't imagine working without it."

– Erika Babat, Customer Support Manager in CloudTalk
Warm Transfer
Another important feature for our team is the Warm transfer, which allows us to easily transfer callers over to other agents with the possibility to speak with them first. It is very useful especially when customers have too many different requests and the task should be fulfilled by different departments like support, sales or technical support.
To avoid a situation where a customer needs to explain her problem to 2 or 3 different agents, a warm transfer is a handy solution.
Business Hours
When asking around the team for most popular features, Business hours came up as well.
"When the Business hours are set up, customers or prospects can call our contact center only during the business hours we select. When they don't, there is a recording which tells them that they are calling outside of business hours and if they want, they can leave us a voicemail with their contact details and we will get in touch with them soon."

– Martin Simo, Customer Support Manager in CloudTalk
Callback Feature
When our support team is too busy to deal with the new issues or there are some unanswered phone calls from customers working in different time zones, CloudTalk will automatically call these customers back. Thanks to the Callback features, the customer's number will be dialed until our agent and the customer are successfully connected.
CloudTalk + Intercom integration
As we use several online tools for customer support, integrations are yet again super important in streamlining our workflows. For instance, the CloudTalk + Intercom integrations give our agents a better overview of their previous communication with specific customers because all the important information is synced.
To streamline the communication, our agents can reach out to contact directly from Intercom chat.
Curious to learn more?
Signup for a free trial and see if CloudTalk could be a good fit for your transition to remote work.