Call Forwarding service: Make sure that your clients can always reach you
Automatically forward your incoming calls to external mobile
Incoming calls are taken care of, even when a specific agent is busy or unavailable
Transfer callers over to another agent with having the possibility to speak with them first
2,500+ call centers and phone systems powered by CloudTalk and counting
With Call Forwarding you can be sure that you do not disappoint your customers. This feature enables you to route any incoming calls to any mobile or landline phone number or another call queue. Call Forwarding is a reliable backup plan for receiving calls when all agents in a specific caller queue are busy or offline.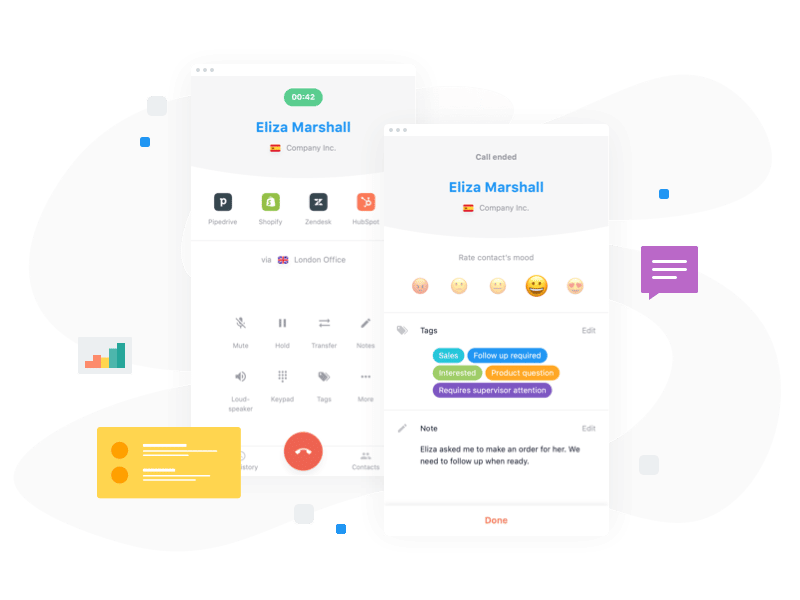 What advantages does it bring to your business?
Call Forwarding is beneficial for both customers and businesses.
It can immediately increase customer satisfaction and generate higher revenue
Reduces hold time: customers are connected to the right agent faster
Improves the customer experience: they get straight to a person who can solve their problem
Optimizes agents' productivity: they will work on tasks best suited to them and with a more balanced workload
Decreases call abandonment rate and the number of missed phone calls as well
Increases accessibility and flexibility for your business which gives you the worldwide presence
Budget-friendly feature that comes with 140+ virtual international phone numbers for businesses of any size
---
The Warm Transfer allows you to connect with your clients on a more personalized level. It is an additional level of customer care. Instead of automated call waiting, it shows customers that you are here for them. By using this feature you keep the conversation flowing, agents can provide faster service and customers are happy.
Improve customer support agents' efficiency
with call forwarding options
CloudTalk allows you to easily monitor agent performance and ensure
that your company quality standards are being met.
Skills-based routing
This option enables high-quality customer service management by assigning each call to the agent with the most relevant skills to answer it. It will help you avoid customers being routed to agents who may not be able to help because they cannot speak the same language or don't have the necessary qualifications.
Route by IVR
With IVR you can give customers self-service options and improve the quality of support. An automated system interacts with customers and routes them from multi-level menus that give them choices, so they will always be directed to the correct department depending on the specific issue they are facing. Remember that IVR reduces average call duration by 40%.
Design call flow
Designing your customer's journey through the call center step by step. You can insert steps like Interactive Voice Response (IVR), business hours, and a welcome message in order to have complete control over your coming calls or set specific actions for each phone number individually. That way, each customer can always be directed to their preferred agent.
Optimize business rules routing for more personalized and effective service
With your IVR and call routing system in place, you can begin setting up a call routing strategy to meet specific business purposes. If you have high-value customers that you want to treat with special care, you can set them to VIP status to ensure that they have priority to skip the queue. It's also possible to set rules such that the most important customers are directed to the best-performing agents.
Expand your audience with 140+ virtual numbers
Using virtual numbers, you can make cheaper, easier phone calls that are accessible from virtually anywhere in the world. All you need is an Internet connection. CloudTalk allows you to set an outbound caller ID automatically based on the call destination country. Your clients abroad will receive a local phone call instead of an international one.
---
Better experience for your customers
Start 14 days free trial
Fill in the form and experience cloud-based contact center for innovative businesses by yourself. Be the company your customers want you to be. Set up takes just 5 minutes.