Did Nice CXone (NICE inContact) let you down?
Switch to its alternative
Keine entfernten Anrufe mehr. Einfach zu verwenden. Wird bereits von 2500+ SMBs geliebt.
Sie erhalten KOSTENLOSES benutzerdefiniertes Onboarding und eine zweiwöchige KOSTENLOSE Probephase
Unbegrenzte Anzahl an Angestellten in allen Plänen
Vereinfachte Workflows dank 40+ Integrationen
Unbegrenzte benutzerdefinierte Berichte inklusive Emotionsanalytik
Als Desktop- und Mobilapp-Version erhältlich
Hunderte von Unternehmen haben bereits zu CloudTalk gewechselt.
Was erhalten Sie, wenn Sie
von CXone (NICE inContact) zu CloudTalk wechseln?
Verlässlichkeit. Qualitativ hochwertige Anrufe. Produktivität.
Die beste Kundenerfahrung. Und noch mehr hier in der Tabelle:
| | | |
| --- | --- | --- |
| Pricing | Starts at $25 per user/month, billed annually. | Starts at $100 a month. |
| Platform | Available across all devices and platforms. | Not supported on Mac, iPhone and iPad. |
| Missed call | | 24/7 chatbots or AI Voice interaction. |
| Integrations | 40+ | Specific CRM integrations can be installed in a couple of hours. |
| IVR and Flow Designer | | Uses AI to add virtual manpower through bots and virtual agents. |
| Analytics | | Limited number of reports, contact center analytics, and customer surveys. |
Die Vergleichsdaten stammen aus einer Analyse von Q4, 2021.
Mit #1 bewertete Callcenter-Software
Basierend auf 400+ CloudTalk-Bewertungen auf 6 unabhängigen Software-Marketplaces & -Plattformen
---
Work with what you know. Integrate with over 30+ CRM, eCommerce, helpdesk, and other systems
Hier sind alle Funktionen,
die Ihnen helfen, die beste Kundenerfahrung zu liefern
Mit den fortgeschrittenen Funktionen von CloudTalk erreicht Ihr Vertriebsteam ein neues Niveau der Produktivität.
Sind Sie neugierig, wie es innerhalb von CloudTalk aussieht?
Sehen Sie selbst
---
Optimieren Sie Ihre Produktivität
mit den einzigartigen Funktionen von CloudTalk
Peak hours might be hectic, we get that. With CloudTalk there is no need to worry about mishaps when recording selecting calls. We can plug you in with any major helpdesk, so all incoming calls are logged under particular customer profiles. Right by your hand.
We want you to deliver the best customer experience. With our integrations all calls are initiated directly from within any CRM to make sure, non of your customers get refused and contacted on time. CloudTalk helps you optimize your time and decide which tasks to prioritize.
Möchten Sie Ihren Kunden näher sein? Zusätzlich zu allen Analytikfunktionen bietet CloudTalk eine einzigartige Emotionsanalyse. Die Stimmung des Kunden nach jedem Anruf zu bewerten kann ein effektives Tool sein, mit dem Sie Ihre Angestellten trainieren und die allgemeine Kundenerfahrung verbessern können.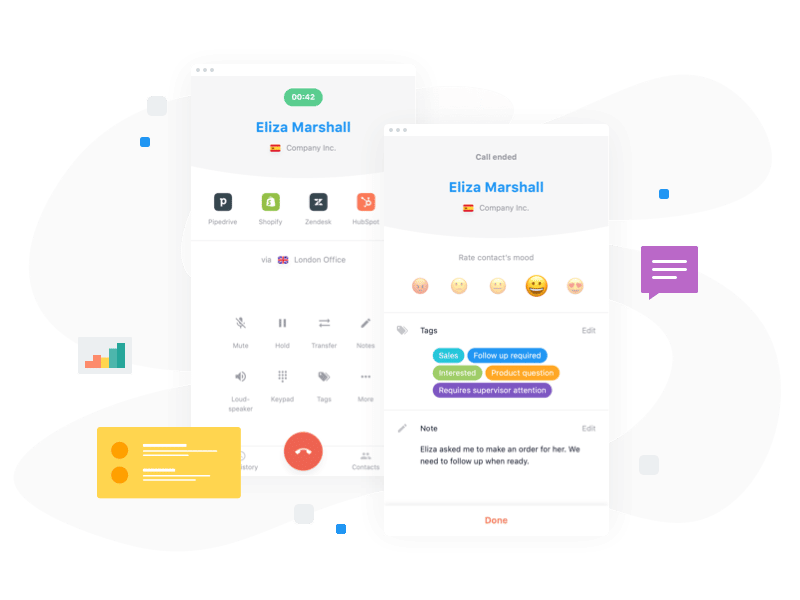 Verpassen Sie dank der Rückruffunktion von CloudTalk keinen Anruf
No more removed calls, no more angry customers. The callback feature automatically re-dials customers until connected to the right agent.
Bringen Sie die Kundenerfahrung auf ein höheres Niveau, mit der Echtzeit-Anrufanalytik
Tracken Sie die Anrufaktivität, den Angestelltenstatus, Servicelevel, Wartezeiten und sogar Kundenstimmungen, um sicherzustellen, dass Ihre Angestellten die Bedürfnisse der Kunden erfüllen
Have a question you need answered?
If you have any questions regarding CloudTalk Coverage or the phone numbers, please get in touch at
How does the free trial work?
Simply send us your contact information, and we will send you access to a free CloudTalk trial with no strings attached. You can immediately start making phone calls with CloudTalk.
What are your outbound call prices?
Each package includes one standard local or toll-free number for free. Prices of outbound calls vary, please contact us for more details.
Users work for your company and communicate with your existing and potential clients. You can add or remove users in just a few clicks anytime you need. As a user, you can imagine your agent, supervisor, analyst, administrator, etc.
Can I change my subscription plan anytime?
Plans billed annually can only upgrade to a higher tier plan (e.g., From Essential to Expert). It's not possible to downgrade annual billing.
Can I use CloudTalk for more activities?
Definitely. CloudTalk can be used in many different ways, be it customer support, contact center, virtual phone system, or active call center. Our solution is perfect for companies operating several e-commerce at the same time in need of separate customer support for each e-commerce.
The safety of your data is our topmost priority. CloudTalk uses third-party data centers with industry-standard certifications (Tier III+ or IV, ISO 27001, PCI-DSS). All facilities include physical protection. The interface is accessed through an encrypted SSL connection. You can read more on our page dedicated to Security.