Did Nice CXone (NICE inContact) let you down?
Switch to its alternative
No more removed calls. Easy to use. Already loved by 2500+ SMBs.
Bénéficiez d'une formation personnalisée GRATUITE et de deux semaines d'essai GRATUITES.
Nombre illimité d'agents dans toutes les formules
Flux de travail simplifié grâce à plus de 40 intégrations
Nombre illimité de rapports personnalisés, y compris des données statistiques émotionnelles
Disponible en version bureau et application mobile
Des centaines d'entreprises sont déjà passées à CloudTalk.
Ce que vous obtenez en migrant
de CXone (NICE inContact) vers CloudTalk?
Fiabilité. Appels de haute qualité. Productivité.
Meilleure expérience client. Et un petit peu plus ici dans le tableau :
| | | |
| --- | --- | --- |
| Pricing | Starts at $25 per user/month, billed annually. | Starts at $100 a month. |
| Platform | Available across all devices and platforms. | Not supported on Mac, iPhone and iPad. |
| Missed call | | 24/7 chatbots or AI Voice interaction. |
| Integrations | 40+ | Specific CRM integrations can be installed in a couple of hours. |
| IVR and Flow Designer | | Uses AI to add virtual manpower through bots and virtual agents. |
| Analytics | | Limited number of reports, contact center analytics, and customer surveys. |
Les données comparatives sont basées sur une analyse effectuée au 4ème trimestre 2021.
N°1 des logiciels de centres d'appels
Based on 400+ CloudTalk reviews on 6 independent software marketplaces & platforms
---
Work with what you know. Integrate with over 30+ CRM, eCommerce, helpdesk, and other systems
Voici toutes les fonctions
qui vous aident à offrir la meilleure expérience client
Grâce aux fonctionnalités avancées de CloudTalk, votre équipe commerciale atteindra un tout autre niveau de productivité.
Curieux de savoir comment cela se révèle dans CloudTalk ?
Regardez de plus près
---
Optimisez votre productivité
avec les fonctions uniques de CloudTalk
Peak hours might be hectic, we get that. With CloudTalk there is no need to worry about mishaps when recording selecting calls. We can plug you in with any major helpdesk, so all incoming calls are logged under particular customer profiles. Right by your hand.
We want you to deliver the best customer experience. With our integrations all calls are initiated directly from within any CRM to make sure, non of your customers get refused and contacted on time. CloudTalk helps you optimize your time and decide which tasks to prioritize.
Vous cherchez des moyens de vous rapprocher de vos clients ? Au-delà de toutes les fonctions de statistiques, CloudTalk vous offre une analyse unique de la satisfaction. L'évaluation de l'humeur des clients après chaque appel peut être un outil efficace pour former vos agents et améliorer l'expérience globale du client.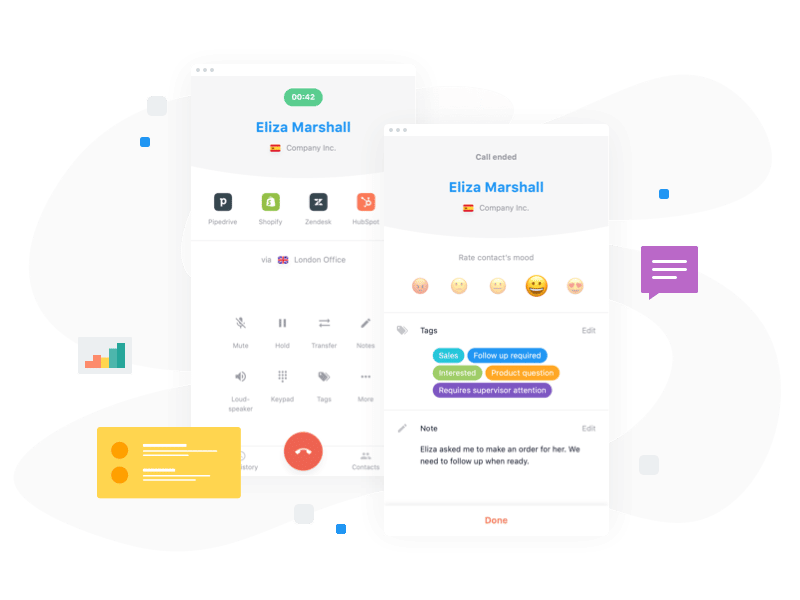 Ne manquez jamais un appel grâce à la fonction de rappel de CloudTalk.
No more removed calls, no more angry customers. The callback feature automatically re-dials customers until connected to the right agent.
Renforcez l'expérience client grâce à l'analyse des appels en temps réel.
Suivez l'activité des appels, le statut des agents, le niveau de service, les temps d'attente et même les émotions des clients pour vous assurer que vos agents répondent aux besoins des clients.
Have a question you need answered?
If you have any questions regarding CloudTalk Coverage or the phone numbers, please get in touch at
How does the free trial work?
Simply send us your contact information, and we will send you access to a free CloudTalk trial with no strings attached. You can immediately start making phone calls with CloudTalk.
What are your outbound call prices?
Each package includes one standard local or toll-free number for free. Prices of outbound calls vary, please contact us for more details.
Users work for your company and communicate with your existing and potential clients. You can add or remove users in just a few clicks anytime you need. As a user, you can imagine your agent, supervisor, analyst, administrator, etc.
Can I change my subscription plan anytime?
Plans billed annually can only upgrade to a higher tier plan (e.g., From Essential to Expert). It's not possible to downgrade annual billing.
Can I use CloudTalk for more activities?
Definitely. CloudTalk can be used in many different ways, be it customer support, contact center, virtual phone system, or active call center. Our solution is perfect for companies operating several e-commerce at the same time in need of separate customer support for each e-commerce.
The safety of your data is our topmost priority. CloudTalk uses third-party data centers with industry-standard certifications (Tier III+ or IV, ISO 27001, PCI-DSS). All facilities include physical protection. The interface is accessed through an encrypted SSL connection. You can read more on our page dedicated to Security.