Aumenta la qualità delle tue chiamate in entrata con dati in tempo reale
CloudTalk, la migliore alternativa Callfire, ti porta la perfetta soluzione 2in1 – un call center basato su cloud leader nel settore e dati dettagliati in tempo reale.
Reporting avanzato del call center e dashboard personalizzabile in tempo reale
Informazioni sul cliente in tempo reale prima di rispondere alla chiamata
Integrazioni perfette con Hubspot, Salesforce, Pipedrive e ZOHO CRM
Funzionalità di blacklist per proteggere i tuoi agenti da una chiamata non richiesta
Nessuna carta di credito richiesta
2500+ call center e sistemi telefonici basati su CloudTalk e molto altro ancora
Migliora il modo di gestire le chiamate in entrata
CloudTalk vs. Callrail
Lavora in modo intelligente e affidati ai dati. Affidati alle funzionalità di CloudTalk per convertire più contatti.
| | | |
| --- | --- | --- |
| Pricing | Starting at $25 per user/month billed annually, you'll get advanced analytics, reporting, and productivity features right at your hand. Custom membership is available. | Starting at $45 per month just for Call Tracking products. Other analytics features are available for an extensively high additional price. |
| Call management | Each of CloudTalk's memberships includes features like Automated call distribution, IVR, Call notes, tags, and Click to call. | For $95 per month, you can get a Conversation analytics product with some of the call management features. |
| Integrations | Automatically log your calls and lead into desired CRM. CloudTalk offers an open API, as well as over 30+ CRM and helpdesk integrations like Salesforce, Hubspot, Zapier, Zoho or Zendesk. | Callrail offers more integrations with tools for lead tracking, but integrations for logging and management are missing. It integrates with features like Facebook, Google Ads, Wix, VWO, or Slack. |
| Reporting | In-depth reporting offers filtering data by agent, phone number, queue or timeframe, inbound, outbound calls, and missed calls. Rely on real-time data to keep track. No additional price. | For $145 per month, you get the Analytics suite feature. |
| Report sharing | Easily download your custom in-depth reports as xlxs and share them with colleagues or clients. | Offers to share the dashboards as PDF or html. |
| Call recording | CloudTalk automatically captures a call in an audio file format with all client's information and previous integrations. Analyze, monitor, and download your call recordings whenever you need to. | CallRail allows you to automatically record phone calls received by your tracking numbers |
| Missed calls reminders | Handle a high volume of incoming calls with Smart detection of resolved missed calls. This feature reminds your agents to call back, and shows you the most recent missed calls. It also additionally filters those calls that have already been resolved and those which have not been resolved. | Does not offer this feature. |
| Spam call detection | CloudTalk allows you to compile a blacklist of phone numbers so that you can block any unsolicited calls. | Offers just a basic robocall protection. |
| Call queuing | Create customized call queues. Inbound calls are sorted in call queues based on predefined rules and steered to available agents within the right group. Personalized messages are available as well. | Does not offer this feature |
| Click to call | Initiate calls directly from your internet browser, CRM or helpdesk tool. This feature eliminates manual dialing to decrease the risk of errors. | Click-to-call refers to a type of Google Ads ad. When you click on it, it directly calls the business as opposed to linking to their website. |
| Auto-calling | A Predictive dialer ensures that you make more customer calls in a shorter time. When an agent is available, CloudTalk automatically dials the next call in line | Does not offer this feature. |
| | | |
I dati di confronto si basano su un'analisi del 1° trimestre 2022.
---
3 punti importanti che miglioreranno il tuo servizio clienti
Dati in tempo reale e report completi
Dati in tempo reale e report completi Nell'intefaccia CloudTalk, facile ed intuitiva, tutti i parametri disponibili sono visualizzati in tempo reale in una scheda separata del pannello di controllo. Queste metriche aiutano i manager a prendere delle decisioni chiave in tempo reale, ad aumentare l'efficienza del call center e la soddisfazione del cliente.
Ottimizza il servizio clienti con il monitoraggio delle chiamate
Ottieni una panoramica costante e approfondita delle tue telefonate. La funzionalità di monitoraggio delle chiamate di CloudTalk ti offre degli importanti approfondimenti sulle esigenze dei tuoi clienti in tempo reale. Questa funzionalità ti permette di scegliere il modo più adatto per monitorare le chiamate, come ascoltarle senza interromperle o sussurrare delle informazioni aggiuntive solo al tuo agente.
Vedi tutti i dati dei clienti durante la chiamata
Vuoi sapere chi sono i tuoi clienti e da dove vengono? Non aspettare i report. Con CloudTalk, hai tutte le interazioni precedenti a portata di mano. Come la cronologia delle chiamate (comprese le registrazioni), gli ordini precedenti e quelli attuali, i ticket e i ticket aperti, le note importanti o la cronologia delle comunicazioni da altri canali (chat, email, social media).
---
Non prenderci in parola. Guarda come funziona CloudTalk
Converti più lead con il giusto CRM
Stai cercando un modo per registrare automaticamente tutte le chiamate e i loro dettagli in un unico posto? CloudTalk offre le migliori integrazioni native, come Salesforce, Hubspot, Pipedrive, Zoho CRM e oltre altre 30. Grazie a queste integrazioni, tutti i dettagli e i dati dei clienti appaiono direttamente sullo schermo del telefono. Scegli il tuo preferito e con un solo clic, sei pronto a partire.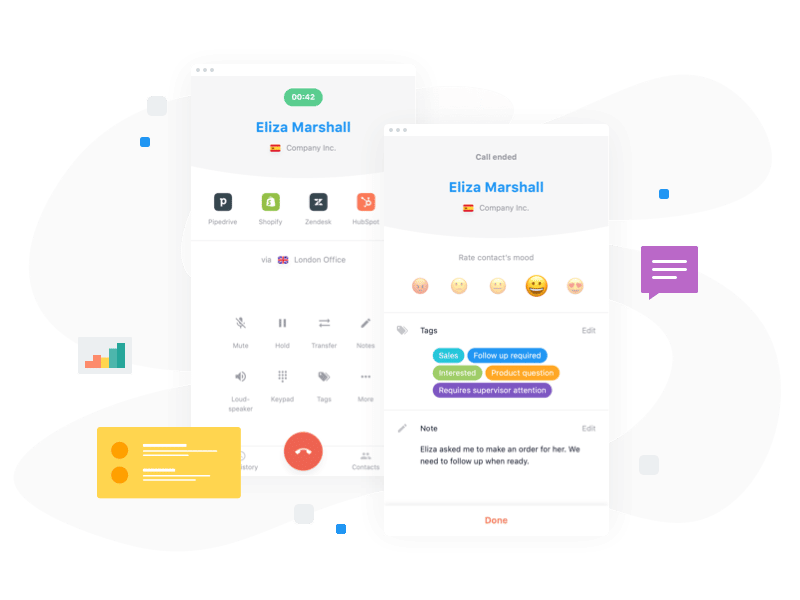 Le integrazioni aumentano la produttività e noi ne offriamo più di 40. Aumenta la tua efficienza a portata di mano
Interfaccia intuitiva e dashboard intelligente
Trova tutte le informazioni importanti di cui hai bisogno sulla nostra dashboard facile da usare. Fornisce degli aggiornamenti in tempo reale su ciò che sta accadendo nel tuo call center. Non preoccuparti di passare troppo tempo a cercare i dettagli chiave. Abbiamo reso la nostra interfaccia intuitiva, in modo che tu possa lavorare con tutte le funzionalità che vuoi contemporaneamente.
---
Funzionalità che sovralimentano il tuo flusso di lavoro
Panoramica dettagliata delle chiamate con tag e note
Con i tag e le note personalizzate, hai tutte le interazioni del lead a portata di mano. Queste funzionalità di etichettatura ti permettono di ordinare le chiamate in categorie e di identificare rapidamente il tipo di chiamata. Attraverso i tag di chiamata, puoi anche filtrare le chiamate. Permetti di cercare nella cronologia delle chiamate in base all'etichetta scelta.
Aumenta il numero di chiamate in uscita con Predictive dialer
Il Predictive dialer è uno strumento ideale per entrare in contatto con i tuoi clienti. Ti assicura di fare più chiamate ai clienti in un tempo più breve All'interno di ogni campagna, puoi anche configurare per quanto tempo un agente rimane non disponibile dopo la fine della chiamata (il tempo necessario per finire i compiti amministrativi).
Migliora le tue prestazioni con altre funzionalità avanzate
La funzionalità di richiamata, il Rilevamento intelligente delle chiamate perse risolte, il Ring on speakers, il Trasferimento a Caldo, l'Instradamento basato sulle competenze o la chiamata a 3, sono solo alcune delle molte funzionalità che ti aiutano a migliorare le tue prestazioni. Scopri i nuovi metodi adoperati per il servizio al cliente. Sorprendi i tuoi clienti con un'esperienza più personalizzata e veloce.
Have a question you need answered?
If you have any questions regarding CloudTalk Coverage or the phone numbers, please get in touch at
How does the free trial work?
Simply send us your contact information, and we will send you access to a free CloudTalk trial with no strings attached. You can immediately start making phone calls with CloudTalk.
What are your outbound call prices?
Each package includes one standard local or toll-free number for free. Prices of outbound calls vary, please contact us for more details.
Users work for your company and communicate with your existing and potential clients. You can add or remove users in just a few clicks anytime you need. As a user, you can imagine your agent, supervisor, analyst, administrator, etc.
Can I change my subscription plan anytime?
Plans billed annually can only upgrade to a higher tier plan (e.g., From Essential to Expert). It's not possible to downgrade annual billing.
Can I use CloudTalk for more activities?
Definitely. CloudTalk can be used in many different ways, be it customer support, contact center, virtual phone system, or active call center. Our solution is perfect for companies operating several e-commerce at the same time in need of separate customer support for each e-commerce.
The safety of your data is our topmost priority. CloudTalk uses third-party data centers with industry-standard certifications (Tier III+ or IV, ISO 27001, PCI-DSS). All facilities include physical protection. The interface is accessed through an encrypted SSL connection. You can read more on our page dedicated to Security.