Did Nice CXone (NICE inContact) let you down?
Switch to its alternative
Niente più chiamate rimosse. Facile da usare. Già amato da oltre 2500 SMB.
Ottieni GRATIS l'onboarding personalizzato e 2 settimane di prova GRATUITA
Numero illimitato di agenti in tutti i piani
Flusso di lavoro semplificato grazie a più di 40 integrazioni
Report personalizzati illimitati, compresi gli emotional analytics
Disponibile sia in versione desktop che mobile app
Centinaia di aziende sono già passate a CloudTalk.
Cosa ottieni quando passi
da CXone (NICE inContact) a CloudTalk?
Affidabilità. Chiamate di alta qualità. La produttività.
La migliore customer experience. E un po' di più qui nel grafico:
| | | |
| --- | --- | --- |
| Pricing | Starts at $25 per user/month, billed annually. | Starts at $100 a month. |
| Platform | Available across all devices and platforms. | Not supported on Mac, iPhone and iPad. |
| Missed call | | 24/7 chatbots or AI Voice interaction. |
| Integrations | 40+ | Specific CRM integrations can be installed in a couple of hours. |
| IVR and Flow Designer | | Uses AI to add virtual manpower through bots and virtual agents. |
| Analytics | | Limited number of reports, contact center analytics, and customer surveys. |
I dati di confronto si basano su un'analisi del 4° trimestre 2021.
#1 Software di call center
Basato su oltre 400 recensioni di CloudTalk su 6 piattaforme di software e mercati indipendenti
---
Work with what you know. Integrate with over 30+ CRM, eCommerce, helpdesk, and other systems
Ecco tutte le funzionalità
che ti aiutano a fornire la migliore customer experience
Con le funzionalità avanzate di CloudTalk, il tuo team di vendita raggiungerà un livello completamente nuovo di produttività.
Curioso di sapere come appare all'interno di CloudTalk?
Guarda più da vicino
---
Ottimizza la tua produttività
con le funzionalità uniche di CloudTalk
Peak hours might be hectic, we get that. With CloudTalk there is no need to worry about mishaps when recording selecting calls. We can plug you in with any major helpdesk, so all incoming calls are logged under particular customer profiles. Right by your hand.
We want you to deliver the best customer experience. With our integrations all calls are initiated directly from within any CRM to make sure, non of your customers get refused and contacted on time. CloudTalk helps you optimize your time and decide which tasks to prioritize.
Cerca dei modi per avvicinarti ai tuoi clienti? Al di sopra di tutte le funzionalità di analytics, CloudTalk ti offre delle emotion analytics uniche. Valutare l'umore dei clienti dopo ogni chiamata può essere uno strumento efficace per formare i tuoi agenti e può migliorare la customer experience complessiva.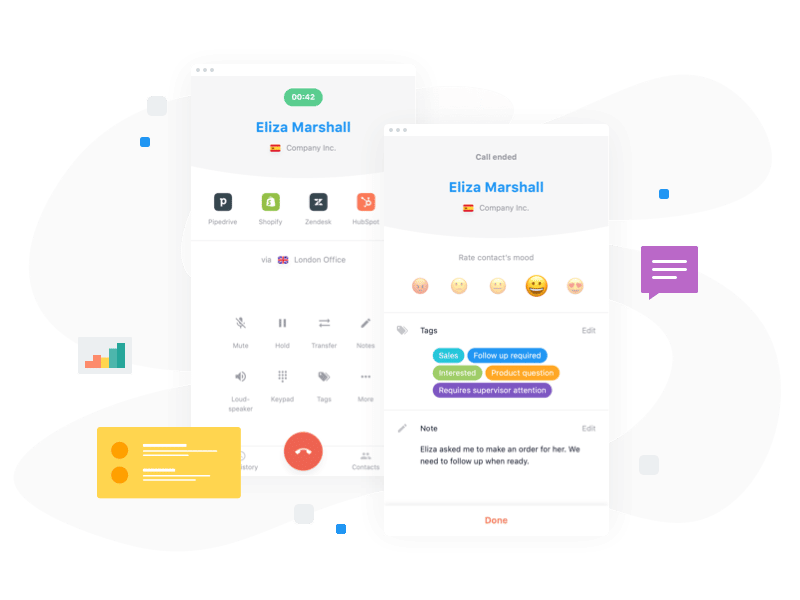 Non perdere mai una chiamata grazie alla funzionalità di richiamata CloudTalk
No more removed calls, no more angry customers. The callback feature automatically re-dials customers until connected to the right agent.
Migliora la customer experience con gli analytics delle chiamate in tempo reale
Traccia l'attività delle chiamate, lo stato dell'agente, il livello di servizio, i tempi di attesa e persino le emozioni dei clienti per garantire che i tuoi agenti soddisfino le esigenze dei clienti
Have a question you need answered?
If you have any questions regarding CloudTalk Coverage or the phone numbers, please get in touch at
How does the free trial work?
Simply send us your contact information, and we will send you access to a free CloudTalk trial with no strings attached. You can immediately start making phone calls with CloudTalk.
What are your outbound call prices?
Each package includes one standard local or toll-free number for free. Prices of outbound calls vary, please contact us for more details.
Users work for your company and communicate with your existing and potential clients. You can add or remove users in just a few clicks anytime you need. As a user, you can imagine your agent, supervisor, analyst, administrator, etc.
Can I change my subscription plan anytime?
Plans billed annually can only upgrade to a higher tier plan (e.g., From Essential to Expert). It's not possible to downgrade annual billing.
Can I use CloudTalk for more activities?
Definitely. CloudTalk can be used in many different ways, be it customer support, contact center, virtual phone system, or active call center. Our solution is perfect for companies operating several e-commerce at the same time in need of separate customer support for each e-commerce.
The safety of your data is our topmost priority. CloudTalk uses third-party data centers with industry-standard certifications (Tier III+ or IV, ISO 27001, PCI-DSS). All facilities include physical protection. The interface is accessed through an encrypted SSL connection. You can read more on our page dedicated to Security.