Incrementa i tuoi risultati con l'alternativa intuitiva di Avaya OneCloud
Offri il meglio grazie ad una moderna assistenza clienti. Provate CloudTalk GRATUITAMENTE con i nostri 14 giorni di prova. Scopri le opzioni a basso costo per le aziende di qualsiasi dimensione.
Interfaccia intuitiva per ogni attività di call center
Nessuna carta di credito richiesta
Flusso di lavoro più effciente con le nostre funzionalità di automazione
30+ integrazioni CRM e helpdesk
Statistiche intelligenti che ti permettono di prendere le decisioni giuste
2500+ call center e sistemi telefonici basati su CloudTalk e molto altro ancora
Entrate nel mondo dei moderni software per call center
e uffici in cloud
Con CloudTalk tutto sarà più facile Ci prendiamo cura delle tue necessità. Dall'installazione al lavoro di tutti i giorni.
CloudTalk vs. Avaya OneCloud
Free trial

Test CloudTalk's

user-friendly interface during a 14-day FREE trial

Avaya OneCloud does

not offer a free trial or free version

Pricing

CloudTalk starts at

25$ per user/per month

billed annually with numerous features to support the overall customer experience.

Upon request.

Based on the type of experience you want to deliver (digital, or voice).

Dialing feature

CloudTalk offers several smart features like

predictive dialer, power dialer, or smart dialer.

Take a closer look and choose the right one.

Avaya OneCloud offers some AI features and intelligent routing. But the

call queue or any type of dialer tools are missing.

Call forwarding / warm transfer

Automatically forwards calls to external phone numbers when your agents are busy. The warm transfer also allows you to

redirect a call to another agent.

With the

opportunity to speak with the customer first.

When receiving a call, Avaya forwards it to a physical phone, VoIP, cell phone, or voicemail.
Call distribution

The ACD (automatic call distribution) feature makes sure that

all inbound calls are directed to the most qualified agent

, based on available data. It works best with IVR, calls queuing, and business hours.

Offers you the call flow configuration, which allows setting a specific route for incoming inbound calls.
Call recording

Once the call ends, an

audio recording is automatically saved

in the client's contact details, call history, and statistics. You can listen to any call

directly from your internet browser anywhere

, and on any device.

Call recording feature available in Voicemail Pro. It allows the automatic/manual recording of calls for a variety of applications.
Conference calls

Invite your colleagues or external number users to a conference call. CloudTalk allows you to make not

not only audio but also video conference calls.

Integrates with several integrations which support conference calling.
Voicemail drops
Record and save your own voicemail messages. This pre-recorded message will then automatically play, allowing the agent to move on to the next call.
You can only divide calls into several groups by your needs.
Internal calls

Each user, agent, caller queue or department has their own personalized number or extension. This will allow you to

reach anyone in your company or seamlessly route a call to a different agent.

Internal communication is managed with converged communications.

I dati di confronto si basano su un'analisi del 4° trimestre 2021.
---
---
Raggiungi grandi risultati con il sistema telefonico che ha tutto
CloudTalk è qui per permetterti di ottenerla.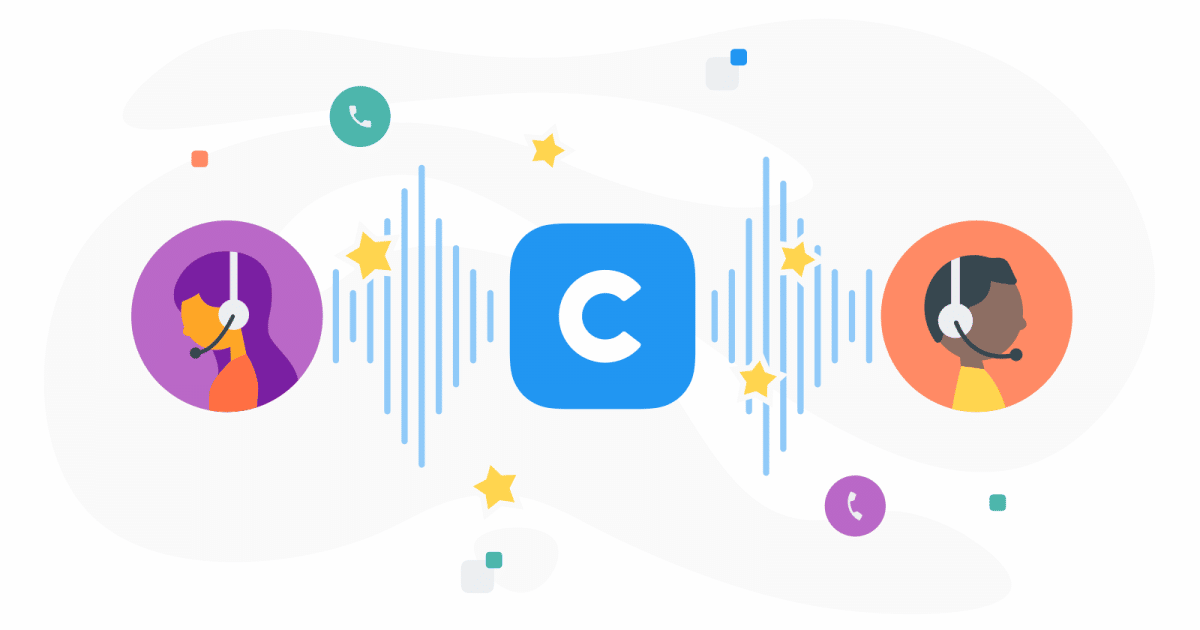 Qualità delle chiamate garantita dall'infrastruttura globale del server
Dimenticati delle chiamate interrotte o perse. Per noi di CloudTalk, la qualità viene prima di tutto. Per questo proteggiamo le tue chiamate con un server globale che permette connessioni molto solide. Non ti dovrai più preoccupare di chiamate interrotte o perse. Il monitoraggio in tempo reale della qualità delle chiamate modifica il percorso della chiamata in caso di rischio di compromissione.
Dashboard semplice con dati in tempo reale
Le decisioni importanti si prendono a mente lucida e basandosi sui dati. Approfitta dei vantaggi di un dashboard semplice e lineare, che ti permette di avere sempre sott'occhio cosa accadendo nel tuo call center cloud. Attiva la notifica desktop per sapere immediatamente chi sta chiamando.
Instradamento intelligente delle chiamate per migliorare l'efficienza dell'operatore
Con CloudTalk decidi tu il flusso della chiamata. Usa la funzionalità di "Trasferimento a caldo" e trasferisci la chiamata ad altri operatori. Con la funzionalità di chiamata a tre puoi invitare una terza persona a partecipare alla conversazione Vuoi ancora di più? La Distribuzione Automatica delle Chiamate gestisce tutte le chiamate in entrata e indirizza i clienti all'operatore più adatto.
Le integrazioni migliorano la produttività e l'efficienza. Ne offriamo oltre 30
---
L'installazione è semplice come bere un bicchier d'acqua
Spesso non c'è tempo da perdere. Specialmente se parliamo di lavoro. Installare CloudTalk è facile e occorrono solo 5 minuti. Te lo garantiamo. Puoi fare da solo, con il nostro portale di onboarding passo dopo passo, o farti aiutare dal nostro responsabile del supporto di onboarding.
---
Prova l'interfaccia CloudTalk.
Facile da usare, con funzionalità flessibili.
---
Migliora l'indirizzamento delle chiamate ottimizzando i processi aziendali
Con l'IVR e il sistema di indirizzamento delle chiamate in funzione, puoi impostare una strategia di indirizzamento personalizzata per far fronte a delle specifiche esigenze aziendali. Gestisci i tuoi clienti più importanti dedicandogli l'attenzione che meritano. Innalzali allo status di VIP. Questo gli permetterà di saltare la coda di chiamata.
Suggerimento: migliora la soddisfazione del cliente inoltrando la sua chiamata agli operatori che conosce.
Scarica l'app cellulare per iPhone e Android
Con CloudTalk Go, puoi stare connesso con i tuoi clienti da qualsiasi luogo. La nostra nuova versione dell'app cellulare offre tutte le funzionalità importanti e un'interfaccia aggiornata e facile da utilizzare
Rafforza il tuo team con l'approccio più moderno. Oggi.
Have a question you need answered?
If you have any questions regarding CloudTalk Coverage or the phone numbers, please get in touch at
How does free trial work?
Simply send us your contact information and we will send you access to a free CloudTalk trial with no strings attached. You can immediately start making phone calls with CloudTalk.
What are your outbound call prices?
Each package includes one standard local or toll-free number for free. Prices of outbound calls vary, please contact us for more details.
Users work for your company and communicate with your existing and potential clients. You can add or remove users in just a few clicks anytime you need. As a user you can imagine your agent, supervisor, analyst, administrator etc.
Can I change my subscription plan anytime?
Plans billed annually can only upgrade to a higher tier plan (e.g. From Essential to Expert). It's not possible to downgrade on annual billing.
Can I use CloudTalk for more activities?
Definitely. CloudTalk can be used in many different ways, be it customer support, contact center, virtual phone system or active call center. Our solution is perfect for companies operating several e-commerce at the same time in need of separate customer support for each e-commerce.
The safety of your data is our topmost priority. CloudTalk uses third-party data centers with industry-standard certifications (Tier III+ or IV, ISO 27001, PCI-DSS). All facilities include physical protection. Interface is accessed through an encrypted SSL connection. You can read more at our page dedicated to Security.
Do you provide discounts for new customers?
Yes, if you sign up for CloudTalk for 12 months in advance, you will get more than 30% discount on the price of your package.