Un'alternativa affidabile e conveniente ad Avoxi per il tuo call center
Stai cercando un software per call center che dia una marcia in più al tuo business? Scegli una soluzione affidabile con oltre 100 funzionalità integrate e un team di assistenza competente a portata di mano. Scopri le tue opportunità con la giusta soluzione a basso costo.
2500+ call center e sistemi telefonici basati su CloudTalk e molto altro ancora
Una scelta efficace ed economica
CloudTalk vs. Avoxi
| | | |
| --- | --- | --- |
| Platform | Available across any device or platform | Available only as a web-based app |
| Pricing | Starts at $25 per user/month, billed annually | Starts free with very limited options |
| Integrations | 35+ | 20+ |
| Set-up and Onboarding | | |
| Missed Calls | | Only allows callers to save their place in the call queue. |
| Smart Deception of Resolved Missed Calls | | |
| Conference Calls | Audio + video calls | Only audio calls |
| Predictive Dialer | | |
| Smart Dialer | | |
I dati di confronto si basano su un'analisi del 4° trimestre 2021.
Tre motivi per decidere di rinnovare il tuo call center
Siamo sicuri che ti piacerà lavorare con CloudTalk. Ecco perché:
Qualità della chiamata
La qualità delle chiamate è fondamentale, quando si connettono persone in tutto il mondo, Per garantire il miglior indirizzamento delle chiamate, CloudTalk opera con un'infrastruttura server distribuita a livello globale.
Installazione
L'installazione in 5 minuti di CloudTalk facilita l'adattamento al nuovo software. Il nostro team dedicato all'onboarding ti guida attraverso ogni funzionalità, preparandoti a lavorare con noi.
Clienti soddisfatti
Offri ai clienti la possibilità di comunicare con te senza attendere troppo. Con la funzionalità di Richiamata automatica, ridurrai la frequenza di abbandono chiamata, e risolverai ogni problematica anche quando gli operatori sono occupati.
---
---
L'interfaccia intuitiva ti consentirà di adattarti facilmente al nostro software
Il passaggio da un software all'altro può essere difficile. Non se passi a CloudTalk. Perché?
Il nostro team dedicato all'onboarding ti aiuterà in tutto ciò che ti serve
Il portale di onboarding mostra chiaramente tutti i passaggi
La nostra interfaccia intuitiva molto dettagliata offre tutte le informazioni necessarie, senza che tu le debba cercare.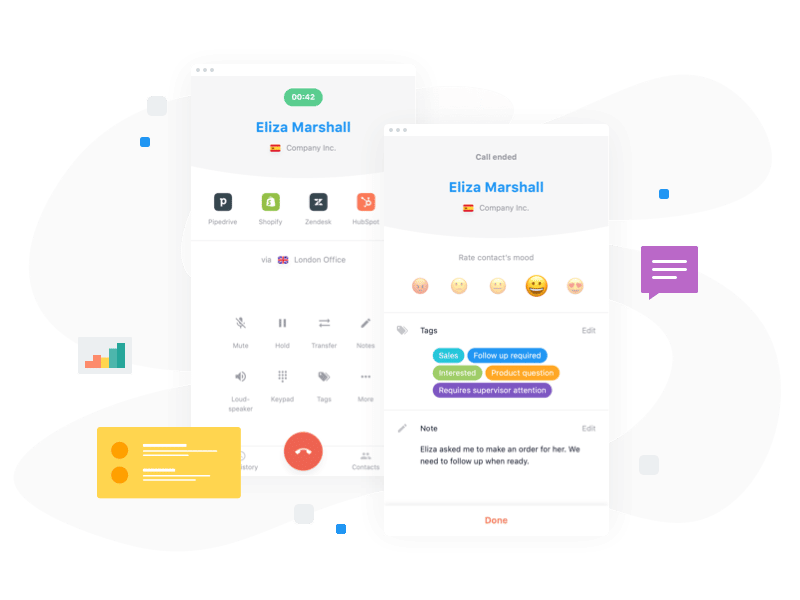 ---
Non affidarti solo alle nostre parole.
Scopri da solo com'è CloudTalk
---
Team di assistenza sempre disponibili
Hai avuto una customer experience scadente? Ti capiamo. La nostra priorità è servire i clienti e aiutarli a trovare rapide soluzioni ai loro problemi. Abbiamo diversi team di supporto che lavorano nei differenti fusi orari per rispondere a ogni richiesta in tempo reale. Sempre con un sorriso.
---
Lasciati stupire da ciò che puoi fare con oltre 30 integrazioni.
Ci sono anche altri motivi per cui passare a CloudTalk
è la scelta migliore
Abbiamo lavorato per farti lavorare meno. Ecco ciò che offriamo:
Diversi tipi di abbonamento che puoi scegliere in base alle tue esigenze: scegli quello che fa per te. I piani partono da 25 €, non ci sono costi nascosti e comprendono molte funzionalità avanzate. Vuoi di più? Contatta il nostro ufficio commerciale e creeremo una soluzione su misura per te.
Funzionalità di chiamata a 3 : in CloudTalk, amiamo la collaborazione! La funzionalità di chiamata a 3 migliora la produttività, con l'intervento di una terza persona. Avviare una chiamata a 3 è facile, puoi uscire quando vuoi e anche metterla in attesa se hai bisogno di parlare con il tuo collega.
Aumenta la produttività con le funzionalità automatiche: vogliamo farti lavorare bene. Risparmia tempo prezioso utilizzando delle funzionalità automatiche come l'IVR, la configurazione del flusso di chiamata, l'indirizzamento basato sulle competenze o la distribuzione automatica delle chiamate. Queste funzionalità lavorano insieme e ti permettono di risolvere le richieste ripetitive più velocemente.
Have a question you need answered?
If you have any questions regarding CloudTalk Coverage or the phone numbers, please get in touch at
How does the free trial work?
Simply send us your contact information, and we will send you access to a free CloudTalk trial with no strings attached. You can immediately start making phone calls with CloudTalk.
What are your outbound call prices?
Each package includes one standard local or toll-free number for free. Prices of outbound calls vary, please contact us for more details.
Users work for your company and communicate with your existing and potential clients. You can add or remove users in just a few clicks anytime you need. As a user, you can imagine your agent, supervisor, analyst, administrator, etc.
Can I change my subscription plan anytime?
Plans billed annually can only upgrade to a higher tier plan (e.g., From Essential to Expert). It's not possible to downgrade annual billing.
Can I use CloudTalk for more activities?
Definitely. CloudTalk can be used in many different ways, be it customer support, contact center, virtual phone system, or active call center. Our solution is perfect for companies operating several e-commerce at the same time in need of separate customer support for each e-commerce.
The safety of your data is our topmost priority. CloudTalk uses third-party data centers with industry-standard certifications (Tier III+ or IV, ISO 27001, PCI-DSS). All facilities include physical protection. The interface is accessed through an encrypted SSL connection. You can read more on our page dedicated to Security.