Verhoog de kwaliteit van je inkomende gesprekken met realtime gegevens
CloudTalk, het beste alternatief voor Callfire, biedt je de perfecte 2in1-oplossing: een toonaangevend cloudgebaseerd callcenter en gedetailleerde realtime gegevens.
Geavanceerde callcenterrapportage en realtime aanpasbaar dashboard
Realtime klantinformatie vlak voor je de oproep aanneemt
Vlekkeloze Hubspot-, Salesforce-, Pipedrive- en ZOHO CRM-integraties
Blacklist-functie om je medewerkers te beschermen tegen een ongevraagde oproep
2500+ callcenters en telefoonsystemen mogelijk gemaakt door CloudTalk en meer komende
Verbeter de manier waarop je inkomende oproepen afhandelt
CloudTalk vs. Callrail
Werk slim en vertrouw op gegevens. Vertrouw op de functies van CloudTalk om meer leads te om te zetten.
| | | |
| --- | --- | --- |
| Pricing | Starting at $25 per user/month billed annually, you'll get advanced analytics, reporting, and productivity features right at your hand. Custom membership is available. | Starting at $45 per month just for Call Tracking products. Other analytics features are available for an extensively high additional price. |
| Call management | Each of CloudTalk's memberships includes features like Automated call distribution, IVR, Call notes, tags, and Click to call. | For $95 per month, you can get a Conversation analytics product with some of the call management features. |
| Integrations | Automatically log your calls and lead into desired CRM. CloudTalk offers an open API, as well as over 30+ CRM and helpdesk integrations like Salesforce, Hubspot, Zapier, Zoho or Zendesk. | Callrail offers more integrations with tools for lead tracking, but integrations for logging and management are missing. It integrates with features like Facebook, Google Ads, Wix, VWO, or Slack. |
| Reporting | In-depth reporting offers filtering data by agent, phone number, queue or timeframe, inbound, outbound calls, and missed calls. Rely on real-time data to keep track. No additional price. | For $145 per month, you get the Analytics suite feature. |
| Report sharing | Easily download your custom in-depth reports as xlxs and share them with colleagues or clients. | Offers to share the dashboards as PDF or html. |
| Call recording | CloudTalk automatically captures a call in an audio file format with all client's information and previous integrations. Analyze, monitor, and download your call recordings whenever you need to. | CallRail allows you to automatically record phone calls received by your tracking numbers |
| Missed calls reminders | Handle a high volume of incoming calls with Smart detection of resolved missed calls. This feature reminds your agents to call back, and shows you the most recent missed calls. It also additionally filters those calls that have already been resolved and those which have not been resolved. | Does not offer this feature. |
| Spam call detection | CloudTalk allows you to compile a blacklist of phone numbers so that you can block any unsolicited calls. | Offers just a basic robocall protection. |
| Call queuing | Create customized call queues. Inbound calls are sorted in call queues based on predefined rules and steered to available agents within the right group. Personalized messages are available as well. | Does not offer this feature |
| Click to call | Initiate calls directly from your internet browser, CRM or helpdesk tool. This feature eliminates manual dialing to decrease the risk of errors. | Click-to-call refers to a type of Google Ads ad. When you click on it, it directly calls the business as opposed to linking to their website. |
| Auto-calling | A Predictive dialer ensures that you make more customer calls in a shorter time. When an agent is available, CloudTalk automatically dials the next call in line | Does not offer this feature. |
| | | |
Vergelijkingsgegevens zijn gebaseerd op een analyse van Q1, 2022.
---
3 hoogtepunten die je klantendienst zullen verbeteren
Realtime gegevens en uitgebreide rapporten
Vind al je belangrijkste statistieken binnen handbereik. In een gebruiksvriendelijke en intuïtieve CloudTalk-interface worden alle beschikbare statistieken weergegeven in een apart Real-time Dashboard-tabblad. Deze statistieken helpen managers om in realtime belangrijke beslissingen te nemen, de efficiëntie van het callcenter en de klantentevredenheid te verhogen.
Optimaliseer de klantenservice met Call monitoring
Altijd een diepgaand overzicht van al je telefoongesprekken. De Call Monitoring-functie van CloudTalk geeft je belangrijke inzichten in de behoeftes van je klant in realtime. Met deze functie kan je de meest geschikte manier kiezen om je gesprekken te volgen, bijvoorbeeld door ernaar te luisteren zonder je medewerker te onderbreken of aanvullende informatie te fluisteren.
Bekijk alle klantgegevens terwijl je aan het bellen bent
Wil je weten wie je klanten zijn en waar ze vandaan komen? Wacht niet op rapporten. Met CloudTalk heb je alle eerdere interacties binnen handbereik. Zoals een historie van gesprekken (inclusief opnames), eerdere bestellingen en lopende bestellingen, tickets en openstaande tickets, belangrijke notities of een communicatiehistorie uit andere kanalen (chats, e-mail, social media).
---
Geloof ons niet zomaar op ons woord. Bekijk hoe CloudTalk werkt
Converteer meer leads met de juiste CRM
Op zoek naar een manier om automatisch alle oproepen en hun gegevens op één plek vast te leggen? CloudTalk biedt de beste native integraties, zoals Salesforce, Hubspot, Pipedrive, Zoho CRM en 30+ andere. Dankzij deze integraties verschijnen alle details en klantgegevens direct op het telefoonscherm. Kies je favoriet en met een enkele klik ben je klaar om te starten.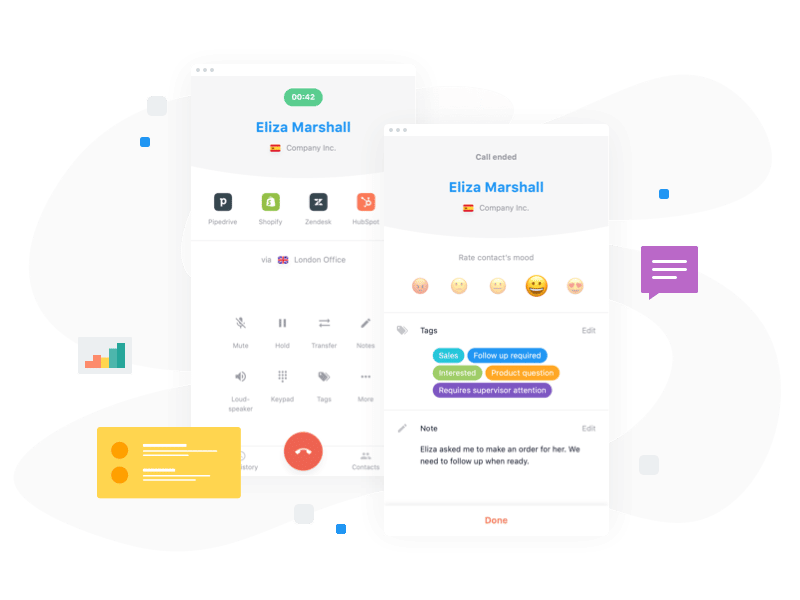 Integraties verhogen de productiviteit en we bieden er meer dan 40 aan. Verhoog je efficiëntie, binnen handbereik
Intuïtieve interface en slim dashboard
Vind alle belangrijke informatie die je nodig hebt op ons gebruiksvriendelijke dashboard. Het biedt realtime updates over wat er in je callcenter gebeurt. Maak je geen zorgen dat je te veel tijd besteedt aan het zoeken naar belangrijke details. We hebben onze interface intuïtief gemaakt, zodat je met elke gewenste functie tegelijk kunt werken.
---
Functies die je workflow een boost geven
Gedetailleerd oproepoverzicht met tags en notities
Met aangepaste tags en notities heb je alle interacties van de lead binnen handbereik. Met deze labelfuncties kan je oproepen in categorieën sorteren en snel een type oproep identificeren. Via oproeptags kan je ook oproepen filteren. Hiermee kan je de oproepgeschiedenis doorzoeken op basis van het door jou gekozen label.
Verhoog het aantal uitgaande gesprekken met Predictive dialer
Predictive dialer is een ideaal hulpmiddel om in contact te komen met je klanten. Het zorgt ervoor dat je meer klanten belt in een kortere tijd. Binnen elke campagne kan je ook configureren hoe lang een medewerker beschikbaar blijft nadat het gesprek is beëindigd (de tijd die nodig is om administratieve taken af te ronden).
Verbeter je prestaties met andere geavanceerde functies
Callback functie, Slimme detectie van opgeloste gemiste oproepen, Ring-op-luidsprekers, Warm Transfer, Op vaardigheden gebaseerde routering of 3-weg bellen zijn slechts enkele van de vele functies die je helpen je prestaties te verbeteren. Ontdek nieuwe manieren van klantenservice. Verras je klanten met een meer persoonlijke en snellere ervaring.
Have a question you need answered?
If you have any questions regarding CloudTalk Coverage or the phone numbers, please get in touch at
How does free trial work?
Simply send us your contact information and we will send you access to a free CloudTalk trial with no strings attached. You can immediately start making phone calls with CloudTalk.
What are your outbound call prices?
Each package includes one standard local or toll-free number for free. Prices of outbound calls vary, please contact us for more details.
Users work for your company and communicate with your existing and potential clients. You can add or remove users in just a few clicks anytime you need. As a user you can imagine your agent, supervisor, analyst, administrator etc.
Can I change my subscription plan anytime?
Plans billed annually can only upgrade to a higher tier plan (e.g. From Essential to Expert). It's not possible to downgrade on annual billing.
Can I use CloudTalk for more activities?
Definitely. CloudTalk can be used in many different ways, be it customer support, contact center, virtual phone system or active call center. Our solution is perfect for companies operating several e-commerce at the same time in need of separate customer support for each e-commerce.
The safety of your data is our topmost priority. CloudTalk uses third-party data centers with industry-standard certifications (Tier III+ or IV, ISO 27001, PCI-DSS). All facilities include physical protection. Interface is accessed through an encrypted SSL connection. You can read more at our page dedicated to Security.
Do you provide discounts for new customers?
Yes, if you sign up for CloudTalk for 12 months in advance, you will get more than 30% discount on the price of your package.