Did Nice CXone (NICE inContact) let you down?
Switch to its alternative
Gata cu apelurile eliminate. Ușor de utilizat. Iubit deja de 2500+ de IMM-uri.
Obține integrare personalizată GRATUITĂ și 2 săptămâni de probă GRATUITE
Număr nelimitat de agenți pentru toate planurile
Flux de lucru simplificat datorită celor 40+ integrări
Rapoarte personalizate nelimitate, inclusiv analize emoționale
Disponibil atât pe desktop, cât și pe mobil
Sute de afaceri au trecut deja la CloudTalk.
Ce primești când treci
de la CXone (NICE inContact) la CloudTalk?
Fiabilitate. Apeluri de înaltă calitate. Productivitate.
Cea mai bună experiență de client. Și chiar mai mult, vezi în tabel:
| | | |
| --- | --- | --- |
| Pricing | Starts at $25 per user/month, billed annually. | Starts at $100 a month. |
| Platform | Available across any device or platform. | Not supported on Mac, iPhone and iPad. |
| Missed call | The callback feature can automatically re-dial your customer. | 24/7 chatbots or AI voice interaction. |
| Integrations | 40+ integrations. | Specific CRM integration can be installed in a couple of hours. |
| IVR and flow designer | Smart IVR, intelligent routing, and call flow designer. | Uses AI to add virtual manpower through bots and virtual agents. |
| Analytics | Call monitoring, statistics, a real-time dashboard and many more. | Limited number of reports, contact center analytics, and customer surveys. |
Datele comparative se bazează pe o analiză din Q4, 2021.
Cel mai bun soft pentru call center
Pe baza a 400+ recenzii pentru CloudTalk de pe 6 piețe și platforme de soft independente
---
Work with what you know. Integrate with over 30+ CRM, eCommerce, helpdesk, and other systems
Iată toate funcțiile
care te ajută să oferi cea mai bună experiență pentru clienți
Cu funcțiile avansate de la CloudTalk, echipa ta de vânzări va atinge un alt nivel de productivitate.
Ești curios cum arată CloudTalk în interior?
Aruncă o privire
---
Optimizează-ți productivitatea
cu funcțiile unice de la CloudTalk
Peak hours might be hectic, we get that. With CloudTalk there is no need to worry about mishaps when recording selecting calls. We can plug you in with any major helpdesk, so all incoming calls are logged under particular customer profiles. Right by your hand.
We want you to deliver the best customer experience. With our integrations all calls are initiated directly from within any CRM to make sure, non of your customers get refused and contacted on time. CloudTalk helps you optimize your time and decide which tasks to prioritize.
Cauți metode să te apropii de clienții tăi? Pe lângă toate funcțiile de analiză, CloudTalk îți oferă și o analiză unică a emoțiilor. Evaluarea stării de spirit a clienților după fiecare apel poate fi un instrument eficient pentru instruirea agenților tăi și pentru îmbunătățirea experienței generale a clienților.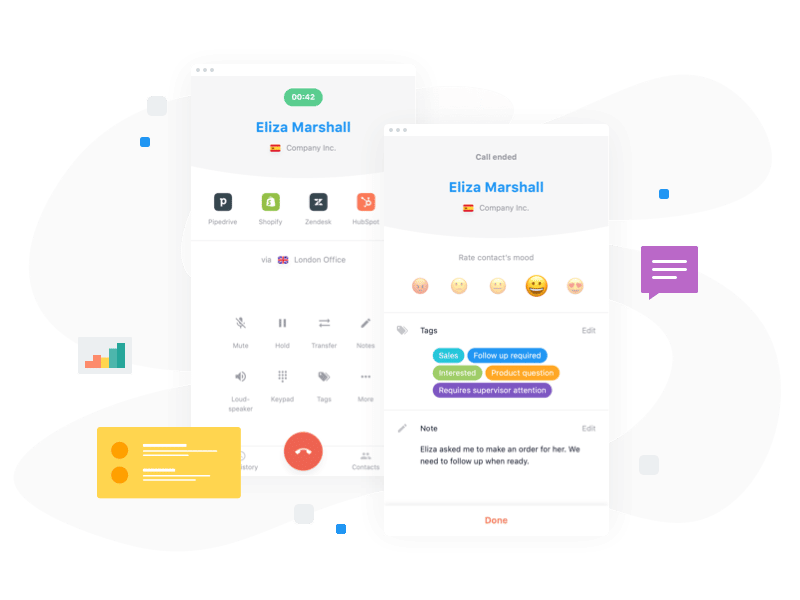 Nu mai rata nici un apel, datorită funcției de Reapelare de la CloudTalk
No more removed calls, no more angry customers. The callback feature automatically re-dials customers until connected to the right agent.
Upgradează experiența clienților cu ajutorul analizei apelurilor în timp real
Urmărește activitatea apelurilor, statusul agentului, nivelul serviciului, timpii de așteptare, chiar și emoțiile clienților pentru a te asigura că agenții tăi răspund nevoilor clienților.
Have a question you need answered?
If you have any questions regarding CloudTalk Coverage or the phone numbers, please get in touch at
How does free trial work?
Simply send us your contact information and we will send you access to a free CloudTalk trial with no strings attached. You can immediately start making phone calls with CloudTalk.
What are your outbound call prices?
Each package includes one standard local or toll-free number for free. Prices of outbound calls vary, please contact us for more details.
Users work for your company and communicate with your existing and potential clients. You can add or remove users in just a few clicks anytime you need. As a user you can imagine your agent, supervisor, analyst, administrator etc.
Can I change my subscription plan anytime?
Plans billed annually can only upgrade to a higher tier plan (e.g. From Essential to Expert). It's not possible to downgrade on annual billing.
Can I use CloudTalk for more activities?
Definitely. CloudTalk can be used in many different ways, be it customer support, contact center, virtual phone system or active call center. Our solution is perfect for companies operating several e-commerce at the same time in need of separate customer support for each e-commerce.
The safety of your data is our topmost priority. CloudTalk uses third-party data centers with industry-standard certifications (Tier III+ or IV, ISO 27001, PCI-DSS). All facilities include physical protection. Interface is accessed through an encrypted SSL connection. You can read more at our page dedicated to Security.
Do you provide discounts for new customers?
Yes, if you sign up for CloudTalk for 12 months in advance, you will get more than 30% discount on the price of your package.