Missade inte ett enda ring – byt det bästa alternativet till Might Call
Letar ni efter ett alternativ till MightyCall? CloudTalk är ett budgetvänligt val för företag i alla storlekar.
Högkvalitativa samtal med garanterad fördröjning och minimalt jitter
Smidigt arbetsflöde med våra intelligenta samtalsdirigeringsverktyg
Återringningsfunktionen ringer numret igen tills anslutnen med agenten
Omdirigering av samtal under hög belastning eller när utanför kontoret
Samtalsmaskeringsfunktionen håller era personliga nummer privata
Planerna börjar på 25 dollar/månad med en gratis provperiod eller demo.
2500+ kontaktcenter och telefonsystem som drivs av CloudTalk
Undrar ni exakt hur smidiga samtal känns som?
Cloudtalk är skapat för att stödja ert arbete på alla enheter, även när ni inte är på kontoret.
vs. MightyCall
Basic membership

20

$

per user/ per month

with unlimited users. Free inbound and internal calls and other features.

29,99

$

per month

with limited minutes. Only 10 clients are in the contact book.

Essential membership

25

$

per user/per month

with client real-time dashboard, open API, and other advanced features.

49,99$ per month

without call analytics and call statistics or any workflow automation.

Expert membership

40

$

per user/per month

, including IVR, open API, and smart routing.

99,99$ per month

, still missing workflow automation or IVR functions.

Dialing feature
The Click-to-call feature allows you to dial any number on the web with just one click.
The Dial-by-Name feature can connect you with a specific number, which is saved under the name.
Call forwarding / warm transfer
Automatically forwards calls to external phone numbers when your agents are busy. The warm transfer also allows you to redirect a call to another agent with the opportunity to speak with the customer first.
When receiving a call, MightyCall forwards it to a physical phone, VoIP, cell phone, or to a voicemail.
Call distribution
The ACD (automatic call distribution) feature makes sure that all inbound calls are directed to the most qualified agent, based on available data. Works best with IVR, call queuing, and business hours.
Offers you the call flow configuration, which allows setting a specific route for incoming inbound calls.
Call masking
CloudTalk protects your private number until you decide to share it with a specific customer.
Gives you a virtual phone number, but is not able to ensure that your personal one stays private.
Notification
When an incoming call comes in, CloudTalk automatically alerts you, so you know who is calling.
MightyCall does not offer desktop notification for any type of call.
Call queuing
Improve the on-hold experience with advanced call queuing strategies, personal greetings, or custom music. Sort incoming calls
You can only divide calls into several groups by your needs.

Jämförelsedata baseras på en analys från Q4, 2021.
3 höjdpunkter
som kommer att förbättra din kundservice
Välj en programvara som du kan lita på.
Högkvalitativa samtal
Glöm brutna samtal eller störningar. All samtalskvalitet övervakas i realtid, så att vi kan erbjuda starka anslutningar och omedelbart flytta er till den bästa möjliga samtalsrutten.
Personalisering
Vi vill att automatisering och personalisering ska gå hand i hand med din kundsupport. CloudTalk erbjuder anpassade hälsningar som spelas upp för uppringaren baserat på specifika situationer. Ni kan enkelt spela in välkomstmeddelanden, knappvalsmeny eller öppettidsnotifikationen.
Användarvänligt gränssnitt
För att leverera det bästa, behöver ni ha det bästa. När ni använder CloudTalk så hittar ni allt ni behöver direkt vid fingertopparna – 50+ avancerade samtalsverktyg, CRM och fler än 40 mest använda integrationer, samt 24/7 passionerad kundtjänst. Dom kommer att lyssna på er när ni än behöver hjälp.
---
Callcentermjukvaran #1
Baserat på 400+ CloudTalk-recensionerpå 6 oberoende mjukvarumarknadsplatser och plattformar
---
Integrationer ökar produktiviteten och vi erbjuder mer än 40 av dem. Öka din effektivitet direkt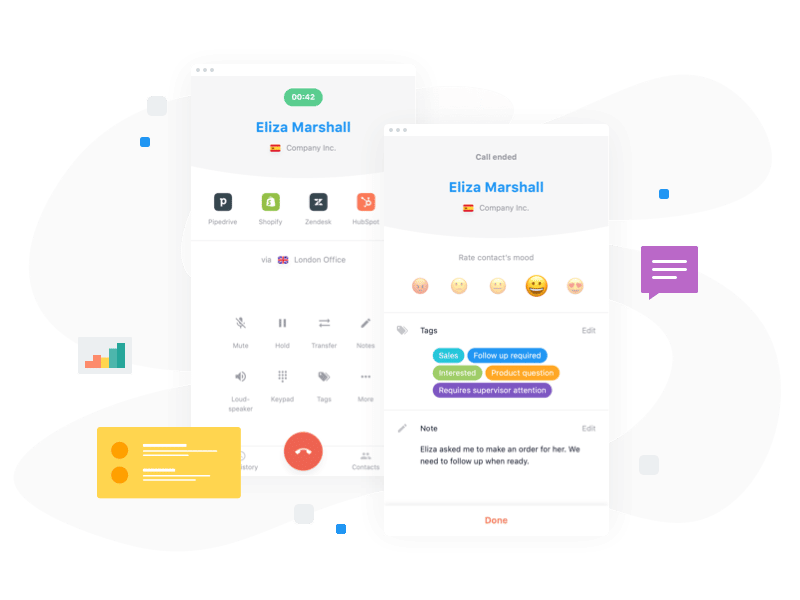 Se hur enkelt kan vara att ringa med en avancerad dirigeringsfunktion
Funktionerna för kunskapsbaserad dirigering och föredragen agent hjälper er leverera den bästa kundupplevelsen och förenklar arbetsflödet. Låt automationen välja inkommande samtal och dirigera dom till den mest kvalificerade agenten tillgänglig. Ni kan också välja föredragen agent för varje klient för att ge dom ännu behagligare support.
Förbättra kundupplevelsen
CloudTalk förvandlar medioker kundtjänst till en strömlinjeformad upplevelse. Vi hjälper er optimera er kundtjänst för att växa er verksamhet snabbaare. Bygg starka relationer med era kunder med:
personliga "tack"-anteckningar efter försäljningar med vår SMS-funktion.
tilltala kunder med deras namn, eftersom det visas på CloudTalks realtidskundkort
inbyggd enkätfunktion hjälper er få feedback
träna era agenter med verkliga situationer från era inspelade samtal
Have a question you need answered?
If you have any questions regarding CloudTalk Coverage or the phone numbers, please get in touch at
How does free trial work?
Simply send us your contact information and we will send you access to a free CloudTalk trial with no strings attached. You can immediately start making phone calls with CloudTalk.
What are your outbound call prices?
Each package includes one standard local or toll-free number for free. Prices of outbound calls vary, please contact us for more details.
Who is an user?
Users work for your company and communicate with your existing and potential clients. You can add or remove users in just a few clicks anytime you need. As a user you can imagine your agent, supervisor, analyst, administrator etc.
Can I change my subscription plan anytime?
Plans billed annually can only upgrade to a higher tier plan (e.g. From Essential to Expert). It's not possible to downgrade on annual billing.
Can I use CloudTalk for more activities?
Definitely. CloudTalk can be used in many different ways, be it customer support, contact center, virtual phone system or active call center. Our solution is perfect for companies operating several e-commerce at the same time in need of separate customer support for each e-commerce.
What about data safety?
The safety of your data is our topmost priority. CloudTalk uses third-party data centers with industry-standard certifications (Tier III+ or IV, ISO 27001, PCI-DSS). All facilities include physical protection. Interface is accessed through an encrypted SSL connection. You can read more at our page dedicated to 
Security
.