Mer data, mindre stress.
Utforska det bästa alternativet till Genesys Cloud CX
CloudTalk är ett smart och budgetvänligt val för företag i alla storlekar.
Smidiga samtal med globalt distribuerad infrastruktur
Out-of-the-box anpassade rapporter enligt era behov
Clear interface and dashboard and mobile app
Callcenterövervakning i realtid
Dedikerad support när ni än behöver det
2500+ företag väljer CloudTalk som deras callcentermjukvara
Letar ni efter ett budgetvänligt men ändå smart alternativ?
CloudTalk vs. Genesys Cloud CX
Pricing

The basic plan starts at

$20 per user/per month.

Genesys Cloud CX1 starts at

$75 per user/month.

Real time updates

The real-time dashboard shows key metrics like

call queue statistics, average wait time, active calls, and agent status.

Pre-defined templates for reports.

Performance dashboards and historical reporting are available.

Real time customer card

Know

who you are talking to before picking up the phone.

CloudTalk gathers all customer information like

history of interaction or notes

and lets you deliver a more personalized customer experience.

Shows your current performance dashboard with overall information about all call center activities.

No customer real-time card is available.

Number porting
Use your existing phone numbers by porting them to CloudTalk. Import geographic (local), national or mobile numbers with help from our Support team.
The process for porting DID phone numbers into PureCloud Voice is a manual procedure that our support technicians perform for you.
Local caller ID

The automatic outbound caller ID feature ensures that your agents

call your foreign-based clients from a local phone number.

Allows you to reach customers via their predefined channels, and implement automation features. Do not offer local caller ID.
Workflow designer
Create customer-specific business process flows even when using several different platforms. Customize your own workflow using our IVR, skill-based routing, or other features according to your needs.
Lets you optimize call center workflow with integrated agent and workflow capabilities to deliver an omnichannel customer journey.
Call tagging
Label each call with a self-made tag. This allows you to sort calls into categories and quickly identify what type of call it is.
Genesys Cloud CX is built on AI which does not allow agents to sort their tickets according to custom tags.
Call Notes
Make your work more efficient with custom notes to every call. Get a fast and detailed overview of interactions and sync it with a CRM or help desk tool of your choice.
Allows to view users, except for Status Notes like the specific status of forward, out of the office, or away.
User management

Manage your agents online.

Assign them to a specific call queue, and modify their details with one click.

Genesys Cloud CX lets you manage the dialer, workforce, or phone but

does not allow you to manage the user on your own.

Integrations
Make your work more productive with Cloudtalk's 40+ integrations. Salesforce, Hubspot, Pipedrive, Shopify, and many more.
Offers you several CRM and third-party integrations. Most of them for an additional cost.
Virtual call center
Create your virtual call center within 5 minutes. No need to invest in phone hardware or work with IT experts. All you need is your internet browser and a headset
Genesys Cloud CX does not allow you to create several profiles (virtual agents)
Jämförelsedata baseras på en analys från Q4, 2021.
Datadrivna beslut boostar affärsprestation
Vi tror på mänsklig touch och realtidsdata.
Anpassad rapportering
enligt era behov
Vill ni ha mer än vår standardstatistik? Vi kan hjälpa er. Använd olika filter, t.ex. efter agent, telefonnummer, eller tidsfönster, för att visa all data som verkligen är viktig för er. Anpassade filter kommer att generera rapporter relevanta för era affärsmål och hålla koll på viktiga KPI:er.
Känslomässig analys
hjälper er behålla ett mänskligt ansikte
Håll dig uppdaterad om de aktuella trenderna. Med hjälp av emotionsanalyser kan dina agenter med ett enda klick utvärdera sitt samtal eller kundens humör efter varje samtal. Teamledare kan få relevant feedback vilket hjälper dom vid enskilda möten med agenter. Denna datadrivna feedback förbättrar er övergripande kundupplevelse.
Realtidskontrollpanelen
håller er uppdaterade
Erbjud en effektivare kundtjänst med nyckelvärden som visas efter individuella samtalsköer och agenter. I ett användarvänligt och intuitivt CloudTalk-gränssnitt så finns alla värden visade i en separat flik i realtidskontrollpanelen. Detta hjälper er göra smartare beslut direkt och öka kundnöjdheten.
---
---
Callcentermjukvara ni kan lita på
CloudTalk skapades för att möta era affärsbehov. Vi har byggt en stark serverinfrastruktur så att era samtal kan vara så smidiga som möjligt utan några störningar eller oväntade avbrott. Dessutom så kan ni:
använd vår återringningsfunktion för att ringa tillbaka osvarade samtal.
Lita på smart detektering av lösta missade samtal för att hålla öga på låga missade samtalsnivåer.
Konfigurera öppettider för att låta era kunder veta när ni är tillgängliga.
Välj ett tidsspann när agenter inte är tillgängliga för att slutföra allt arbete efter samtal.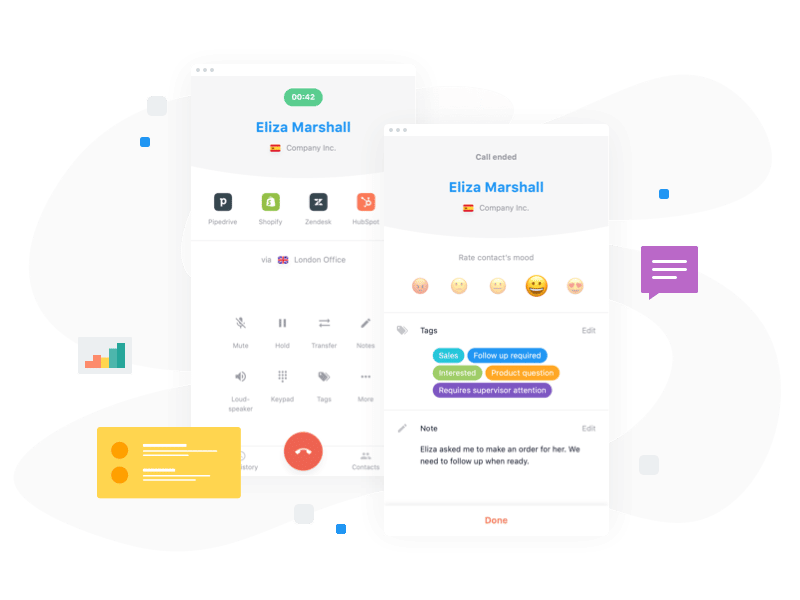 Smidigt utvärdering efter samtal utan någon tidspress
Att förbli organiserade kan vara svårt om ni har ett litet team och det är mycket som händer på ert callcenter. Ge era agenter lite mer tid att behandla och utvärdera samtalet när det avslutats. Funktionen för arbete efter samtal låter er välja mellan flera fördefinierade mänger tid inom vilka agenten inte kommer att kunna svara på nästa samtal.
---
Bli förvånade över vad ni kan göra med över 30+ integrationer
---
Vi har de bästa erbjudandena för företag i alla storlekar
Välj ett medlemskap som passar er bäst.
Grundläggande medlemskap gör dagliga uppgifter mer effektiva
Boosta er produktivitet samtidigt som ni betalar mindre. Grundläggande medlemskap låter er utforska alla röstfunktioner och intelligenta samtalsdirigieringsfunktioner, inklusive realtidskundkort. Gräv djupare med avancerade analysfunktioner med obegränsad historik. För $25 per användare/per månad.
Expertmedlemskap för fullservicekundtjänst
Gå bortom vad ni förväntade er. Expertmedlemskap erbjuder er alla våra toppfunktioner. Avancerad analys med anpassade rapporter och agentrapportering, Salesforce och över 40+ integrationer. Njut av enkel onboarding, enkel inloggning och anpassningsbar knappvalsmeny/samtalsflöde. Detta är allt vi erbjuder för $50 per användare/per månad.
Det skräddarsydda valet för dom som vet precis vad de vill ha
Det skräddarsydda valet för dom som vet precis vad de vill ha. Oavsett om ni kräver ett helautomatiserat callcenter eller stabila funktioner för att ge en utmärkt människodriven kundupplevelse så kan vi hjälpa er. Låt oss ta en snackis om era specifika önskemål. Priset kommer att sättas baserat på era förfrågningar.
Have a question you need answered?
If you have any questions regarding CloudTalk Coverage or the phone numbers, please get in touch at
How does free trial work?
Simply send us your contact information and we will send you access to a free CloudTalk trial with no strings attached. You can immediately start making phone calls with CloudTalk.
What are your outbound call prices?
Each package includes one standard local or toll-free number for free. Prices of outbound calls vary, please contact us for more details.
Who is an user?
Users work for your company and communicate with your existing and potential clients. You can add or remove users in just a few clicks anytime you need. As a user you can imagine your agent, supervisor, analyst, administrator etc.
Can I change my subscription plan anytime?
Plans billed annually can only upgrade to a higher tier plan (e.g. From Essential to Expert). It's not possible to downgrade on annual billing.
Can I use CloudTalk for more activities?
Definitely. CloudTalk can be used in many different ways, be it customer support, contact center, virtual phone system or active call center. Our solution is perfect for companies operating several e-commerce at the same time in need of separate customer support for each e-commerce.
What about data safety?
The safety of your data is our topmost priority. CloudTalk uses third-party data centers with industry-standard certifications (Tier III+ or IV, ISO 27001, PCI-DSS). All facilities include physical protection. Interface is accessed through an encrypted SSL connection. You can read more at our page dedicated to 
Security
.