Prenez des décisions éclairées en temps réel avec l'alternative à Cloudcall
Augmentez les performances de votre centre d'appels et la satisfaction de vos clients en gardant un œil sur tout ce qui se passe dans votre centre de contact. Explorez CloudTalk, la meilleure alternative à Cloudcall pour les entreprises de taille moyenne.
Wallboard en temps réel et rapports riches pour des décisions fondées sur les données
Conformité STIR/Shaken pour s'assurer que vos appels sont protégés contre le robocall.
Conférences audio/vidéo avec des contacts internes et externes
Une multitude de fonctions intelligentes, conçues pour une utilisation facile
Développez votre entreprise avec CloudTalk
vs. Cloudcall
| | | |
| --- | --- | --- |
| Pricing | Plans start at $25 per user/ month with features according to your needs, billed annually. Offers tailor-made options. Unlimited calls. | Starts at $15/user per month for 2 000 minutes and without key features, such as Voicemail, SMS, or Callback. Setup fees may apply. |
| Free trial | 14-days free trial with full onboarding. No credit card is required. | Offers a free trial but doesn't state for how long. |
| Real-time dashboard | In a user-friendly and intuitive CloudTalk interface, all available metrics are displayed in a separate Real-time Dashboard tab. | Available only as a web application. |
| Agents status | The agent status feature enables your agents to set up their availability. Managers can check the status of each agent easily and in real time. | Does not offer to display Agent status. |
| Real-time notification | When a call comes in, we automatically alert you with a notification, so you instantly know who is calling. | Does not offer real-time notifications. |
| Statistics and analytics | CloudTalk offers deep call center analytics for data-driven decisions. For example, call monitoring, agent reporting, emotional analytics, and custom reporting. | Allows you to monitor team's activity and to build data dashboard. |
| Voicemail | Create personalized greetings or group voicemail messages. If the caller leaves a voicemail, you can listen to it directly from the internet browser, anywhere and anytime. Voicemail drop feature also available. | Offers only voicemail-drop feature. |
| Aftercall work | Use the After Call Work (ACW) feature and allow your agents to complete all follow-up tasks after a call has ended. | Does not offer this feature. |
| Fax-to-email | ″Fax to Email″ feature allows you to receive fax messages quickly and easily in the form of emails. | Allows you to send a fax. |
| Auto-answer | The Auto-Answer feature assists in the handling of large call volumes. It enables you to grow your business faster, increases your capacity, and improve customer experience. | Does not offer this feature. |
| Video/audio conferencing | Schedule conference calls easily in a couple of minutes and invite external contacts. | Does not offer a conferencing feature. |
| | | |
Les données comparatives sont basées sur une analyse effectuée au 2nd trimestre 2022.
Augmentez la satisfaction de voq clients et les performances de votre centre d'appels
avec les bons outils
Rationalisez vos flux de travail avec un outil basé sur le cloud facile à utiliser.
---
Faites une visite rapide de l'interface CloudTalk
---
Joignez toujours vos clients. Les appels CloudTalk sont conformes aux protocoles STIR/SHAKEN
Cloudtalk est désormais conforme aux protocoles STIR/SHAKEN, un programme de la société qui filtre les numéros de téléphone avant qu'ils n'atteignent votre entreprise. De cette façon, nous voulons garantir la sécurité de nos clients. Nous nous assurons que tous nos opérateurs certifient les appels et luttent contre les robocalls frauduleux.
Améliorez votre travail d'équipe avec la téléconférence
La création de conférences téléphoniques dans CloudTalk nécessite très peu de temps et d'efforts. CloudTalk peut également vous aider à travailler à l'élaboration d'une expérience client optimale. Créez facilement une salle de conférence, obtenez un code PIN et invitez tout membre de l'équipe possédant un compte CloudTalk existant. Vous pouvez également ajouter des invités externes qui sont inclus dans votre liste de contacts. Par ailleurs, vous pouvez enregistrer chaque appel et l'écouter plus tard.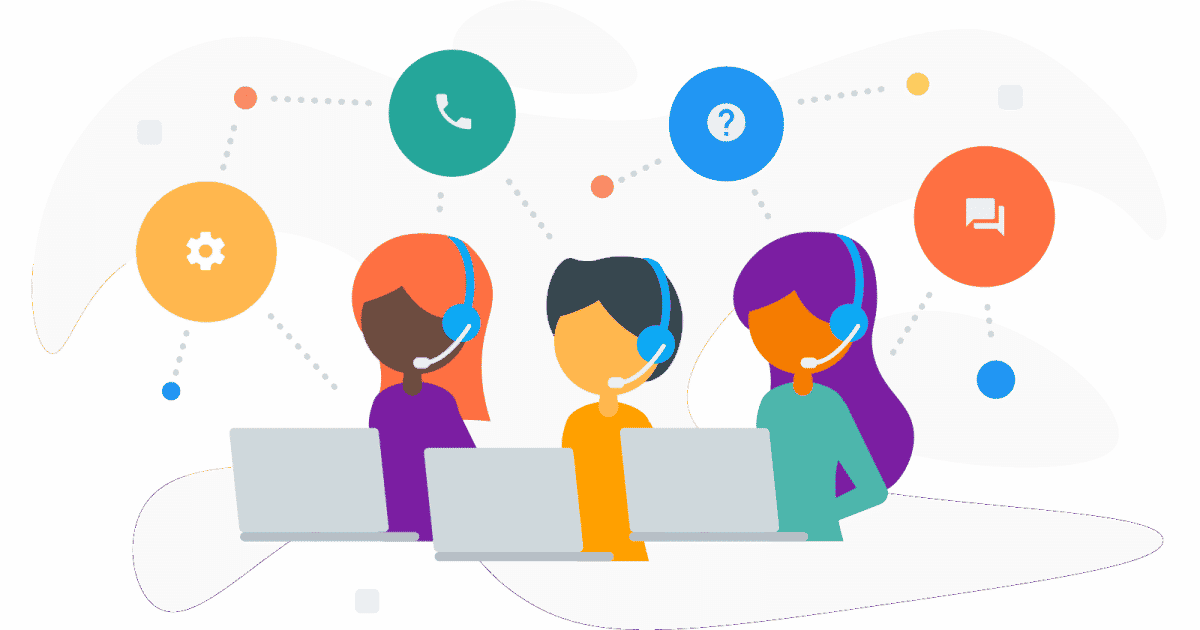 Harmonisez vos outils d'entreprise avec plus de 40 intégrations avancées
Grâce à une synchronisation automatique des données dans CloudTalk et le CRM de votre choix, vous pouvez toujours accéder à des données actualisées. En éliminant la nécessité de télécharger manuellement des informations ou d'extraire tous les contacts de votre CRM, CloudTalk permet à vos agents d'utiliser leur temps plus efficacement.
---
Have a question you need answered?
If you have any questions regarding CloudTalk Coverage or the phone numbers, please get in touch at
How does free trial work?
Simply send us your contact information and we will send you access to a free CloudTalk trial with no strings attached. You can immediately start making phone calls with CloudTalk.
What are your outbound call prices?
Each package includes one standard local or toll-free number for free. Prices of outbound calls vary, please contact us for more details.
Users work for your company and communicate with your existing and potential clients. You can add or remove users in just a few clicks anytime you need. As a user you can imagine your agent, supervisor, analyst, administrator etc.
Can I change my subscription plan anytime?
Plans billed annually can only upgrade to a higher tier plan (e.g. From Essential to Expert). It's not possible to downgrade on annual billing.
Can I use CloudTalk for more activities?
Definitely. CloudTalk can be used in many different ways, be it customer support, contact center, virtual phone system or active call center. Our solution is perfect for companies operating several e-commerce at the same time in need of separate customer support for each e-commerce.
The safety of your data is our topmost priority. CloudTalk uses third-party data centers with industry-standard certifications (Tier III+ or IV, ISO 27001, PCI-DSS). All facilities include physical protection. Interface is accessed through an encrypted SSL connection. You can read more at our page dedicated to Security.
Do you provide discounts for new customers?
Yes, if you sign up for CloudTalk for 12 months in advance, you will get more than 30% discount on the price of your package.