Öka kvaliteten på dina inkommande samtal med data i realtid
CloudTalk, det bästa Callfire-alternativet, ger dig den perfekta två-i-ett-lösningen – ett branschledande molnbaserat kontaktcenter och detaljerad realtidsdata.
Avancerad kontaktcenter-rapportering och anpassningsbar instrumentpanel i realtid
Kundinformation i realtid direkt innan du svarar på samtalet
Flawless Hubspot, Salesforce, Pipedrive, och ZOHO CRM integrationer
Svartlista-funktion för att skydda dina agenter från oönskade samtal.
2500+ kontaktcenter och telefonsystem som drivs av CloudTalk
Förbättra sättet du hanterar inkommande samtal
vs. Callrail
Arbeta smart och lita på data. Lita på CloudTalk's funktion att konvertera fler leads.
| | | |
| --- | --- | --- |
| Pricing | Starting at $25 per user/month billed annually, you'll get advanced analytics, reporting, and productivity features right at your hand. Custom membership is available. | Starting at $45 per month just for Call Tracking products. Other analytics features are available for an extensively high additional price. |
| Call management | Each of CloudTalk's memberships includes features like Automated call distribution, IVR, Call notes, tags, and Click to call. | For $95 per month, you can get a Conversation analytics product with some of the call management features. |
| Integrations | Automatically log your calls and lead into desired CRM. CloudTalk offers an open API, as well as over 30+ CRM and helpdesk integrations like Salesforce, Hubspot, Zapier, Zoho or Zendesk. | Callrail offers more integrations with tools for lead tracking, but integrations for logging and management are missing. It integrates with features like Facebook, Google Ads, Wix, VWO, or Slack. |
| Reporting | In-depth reporting offers filtering data by agent, phone number, queue or timeframe, inbound, outbound calls, and missed calls. Rely on real-time data to keep track. No additional price. | For $145 per month, you get the Analytics suite feature. |
| Report sharing | Easily download your custom in-depth reports as xlxs and share them with colleagues or clients. | Offers to share the dashboards as PDF or html. |
| Call recording | CloudTalk automatically captures a call in an audio file format with all client's information and previous integrations. Analyze, monitor, and download your call recordings whenever you need to. | CallRail allows you to automatically record phone calls received by your tracking numbers |
| Missed calls reminders | Handle a high volume of incoming calls with Smart detection of resolved missed calls. This feature reminds your agents to call back, and shows you the most recent missed calls. It also additionally filters those calls that have already been resolved and those which have not been resolved. | Does not offer this feature. |
| Spam call detection | CloudTalk allows you to compile a blacklist of phone numbers so that you can block any unsolicited calls. | Offers just a basic robocall protection. |
| Call queuing | Create customized call queues. Inbound calls are sorted in call queues based on predefined rules and steered to available agents within the right group. Personalized messages are available as well. | Does not offer this feature |
| Click to call | Initiate calls directly from your internet browser, CRM or helpdesk tool. This feature eliminates manual dialing to decrease the risk of errors. | Click-to-call refers to a type of Google Ads ad. When you click on it, it directly calls the business as opposed to linking to their website. |
| Auto-calling | A Predictive dialer ensures that you make more customer calls in a shorter time. When an agent is available, CloudTalk automatically dials the next call in line | Does not offer this feature. |
| | | |
Jämförelsedata baseras på en analys från Q1, 2022.
---
3 höjdpunkter som förbättrar din kundservice
Data i realtid och omfattande rapporter
Ha alla dina nyckeltal direkt till hands. I ett användarvänligt och intuitivt CloudTalk-gränssnitt visas alla tillgängliga mätvärden i en separat flik för Real-time Dashboard. Dessa mätvärden hjälper chefer att fatta viktiga beslut i realtid, öka callcentrets effektivitet och kundnöjdhet.
Optimera kundservicen med samtalsövervakning
Ha en ständig och djupgående överblick över dina telefonsamtal. CloudTalk's funktion för samtalsövervakning ger dig viktiga insikter om kundernas behov i realtid. Med den här funktionen kan du välja det lämpligaste sättet att övervaka dina samtal, t.ex. genom att lyssna på dem utan att avbryta eller genom att viska ytterligare information endast till din agent.
Se alla kunduppgifter under samtalet
Vill du veta vilka dina kunder är och var de kommer ifrån? Vänta inte på rapporter. Med CloudTalk har du alla tidigare interaktioner till hands. Till exempel samtalshistorik (inklusive inspelningar), tidigare beställningar och aktuella beställningar, biljetter och öppna biljetter, viktiga anteckningar eller kommunikationshistorik från andra kanaler (chattar, e-post, sociala medier).
---
Tro inte blint på oss. Se hur CloudTalk fungerar
Konvertera fler leads med rätt CRM
Letar du efter ett sätt att automatiskt logga alla samtal och deras detaljer på ett ställe? CloudTalk erbjuder de bästa integreringarna, t.ex. Salesforce, Hubspot, Pipedrive, Zoho CRM och mer än 30 andra. Tack vare dessa integrationer visas alla detaljer och kunduppgifter direkt på telefonskärmen. Välj din favorit och med ett enda klick är du igång.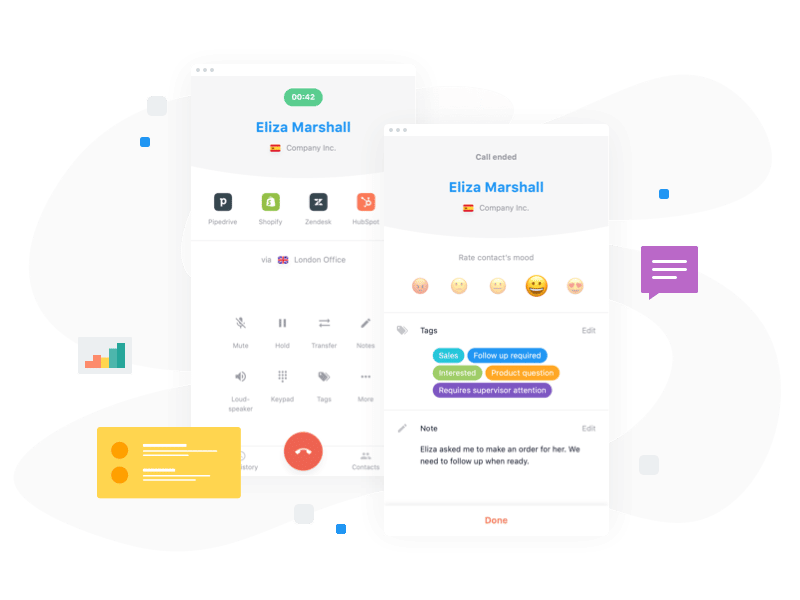 Integrationer ökar produktiviteten och vi erbjuder mer än 40 av dem. Öka din effektivitet direkt
Intuitivt gränssnitt och smart instrumentpanel
Hitta all viktig information du behöver på vår användarvänliga instrumentpanel. Den ger uppdateringar i realtid om vad som händer i ditt kontaktcenter. Oroa dig inte över att spendera för mycket tid letandes efter viktiga detaljer. Vi har gjort vårt gränssnitt intuitivt, så att du kan arbeta med alla funktioner du vill ha samtidigt.
---
Funktioner som förbättrar ditt arbetsflöde
Detaljerad samtalsöverblick med taggar och anteckningar
Med anpassade taggar och anteckningar har du alla interaktioner från dina leads nära till hands. Med dessa märkningsfunktioner kan du sortera samtalen i kategorier och snabbt identifiera samtalstypen. Med hjälp av samtalsmarkeringar kan du också filtrera samtal. Du kan söka i samtalshistoriken baserat på den etikett du valt.
Öka antalet utgående samtal med Predictive Dialer
Predictive Dialer är ett perfekt verktyg för att komma i kontakt med dina kunder. Det säkerställer att du ringer fler kundsamtal på kortare tid. Inom varje kampanj kan du också konfigurera hur länge en agent ska vara otillgänglig efter att samtalet avslutats (den tid som krävs för att avsluta administrativa uppgifter).
Öka din prestanda med andra avancerade funktioner
Callback-funktionen, Smart upptäckt av lösta missade samtal, Ringa på högtalare, Warm Transfer, Kompetensbaserad dirigering eller 3-vägssamtal är bara några av de många funktioner som hjälper dig att höja din prestanda. Utforska nya sätt att ge kundservice. Överraska dina klienter med en mer personlig och snabbare upplevelse.
Have a question you need answered?
If you have any questions regarding CloudTalk Coverage or the phone numbers, please get in touch at
How does the free trial work?
Simply send us your contact information, and we will send you access to a free CloudTalk trial with no strings attached. You can immediately start making phone calls with CloudTalk.
What are your outbound call prices?
Each package includes one standard local or toll-free number for free. Prices of outbound calls vary, please contact us for more details.
Users work for your company and communicate with your existing and potential clients. You can add or remove users in just a few clicks anytime you need. As a user, you can imagine your agent, supervisor, analyst, administrator, etc.
Can I change my subscription plan anytime?
Plans billed annually can only upgrade to a higher tier plan (e.g., From Essential to Expert). It's not possible to downgrade annual billing.
Can I use CloudTalk for more activities?
Definitely. CloudTalk can be used in many different ways, be it customer support, contact center, virtual phone system, or active call center. Our solution is perfect for companies operating several e-commerce at the same time in need of separate customer support for each e-commerce.
The safety of your data is our topmost priority. CloudTalk uses third-party data centers with industry-standard certifications (Tier III+ or IV, ISO 27001, PCI-DSS). All facilities include physical protection. The interface is accessed through an encrypted SSL connection. You can read more on our page dedicated to Security.