Increase the quality of your inbound calls with real-time data
CloudTalk, the best Callfire alternative, brings you the perfect 2in1 solution – an industry-leading cloud-based call center and detailed real-time data.
Advanced call center reporting and real-time customizable dashboard
Real-time customer information right before picking up the call
Flawless Hubspot, Salesforce, Pipedrive, and ZOHO CRM integrations
Blacklist feature to protect your agents from an unsolicited call
2500+ call centers and phone systems powered by CloudTalk and counting
Improve the way you handle incoming calls
CloudTalk vs. Callrail
Work smart and rely on data. Trust CloudTalk's features to convert more leads.
| | | |
| --- | --- | --- |
| Pricing | Starting at $25 per user/month billed annually, you'll get advanced analytics, reporting, and productivity features right at your hand. Custom membership is available. | Starting at $45 per month just for Call Tracking products. Other analytics features are available for an extensively high additional price. |
| Call management | Each of CloudTalk's memberships includes features like Automated call distribution, IVR, Call notes, tags, and Click to call. | For $95 per month, you can get a Conversation analytics product with some of the call management features. |
| Integrations | Automatically log your calls and lead into desired CRM. CloudTalk offers an open API, as well as over 30+ CRM and helpdesk integrations like Salesforce, Hubspot, Zapier, Zoho or Zendesk. | Callrail offers more integrations with tools for lead tracking, but integrations for logging and management are missing. It integrates with features like Facebook, Google Ads, Wix, VWO, or Slack. |
| Reporting | In-depth reporting offers filtering data by agent, phone number, queue or timeframe, inbound, outbound calls, and missed calls. Rely on real-time data to keep track. No additional price. | For $145 per month, you get the Analytics suite feature. |
| Report sharing | Easily download your custom in-depth reports as xlxs and share them with colleagues or clients. | Offers to share the dashboards as PDF or html. |
| Call recording | CloudTalk automatically captures a call in an audio file format with all client's information and previous integrations. Analyze, monitor, and download your call recordings whenever you need to. | CallRail allows you to automatically record phone calls received by your tracking numbers |
| Missed calls reminders | Handle a high volume of incoming calls with Smart detection of resolved missed calls. This feature reminds your agents to call back, and shows you the most recent missed calls. It also additionally filters those calls that have already been resolved and those which have not been resolved. | Does not offer this feature. |
| Spam call detection | CloudTalk allows you to compile a blacklist of phone numbers so that you can block any unsolicited calls. | Offers just a basic robocall protection. |
| Call queuing | Create customized call queues. Inbound calls are sorted in call queues based on predefined rules and steered to available agents within the right group. Personalized messages are available as well. | Does not offer this feature |
| Click to call | Initiate calls directly from your internet browser, CRM or helpdesk tool. This feature eliminates manual dialing to decrease the risk of errors. | Click-to-call refers to a type of Google Ads ad. When you click on it, it directly calls the business as opposed to linking to their website. |
| Auto-calling | A Predictive dialer ensures that you make more customer calls in a shorter time. When an agent is available, CloudTalk automatically dials the next call in line | Does not offer this feature. |
| | | |
Comparison data is based on an analysis from Q1, 2022.
---
3 highlights that will improve your customer service
Real-time data and comprehensive reports
Have all your key metrics right at your fingertips. In a user-friendly and intuitive CloudTalk interface, all available metrics are displayed in a separate Real-time Dashboard tab. These metrics help managers make key decisions in real-time, increase call center efficiency and customer satisfaction.
Optimize customer service with Call monitoring
Have a constant in-depth overview of your phone calls. CloudTalk's Call Monitoring feature gives you important insights into your customer's needs in real-time. This feature allows you to choose the most suitable way of monitoring your calls, such as listening to them without interrupting or whispering additional information only to your agent.
See all customer data while on the call
Want to know who your customers are and where they are coming from? Do not wait for reports. With CloudTalk, you have all the previous interactions right at your fingerprint. Such as a history of calls (including recordings), previous orders and current orders, tickets and open tickets, important notes or a communication history from other channels (chats, email, social media).
---
Don't simply take our word for it. See how CloudTalk works
Convert more leads with the right CRM
Looking for a way to automatically log all calls and their details in one place? CloudTalk offers the top native integrations, such as Salesforce, Hubspot, Pipedrive, Zoho CRM and 30+ others. Thanks to these integrations, all details and customer data appear directly on the phone screen. Choose your favorite one and with a single click, you are good to go.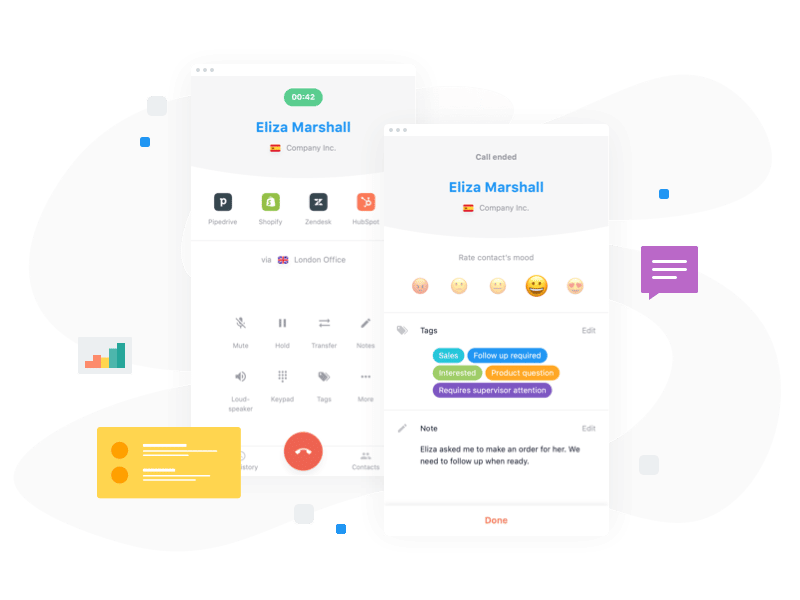 Integrations enhance productivity and we offer 40+ of them. Boost your efficiency right at your hand
Intuitive interface and smart dashboard
Find every important information you need on our user-friendly dashboard. It provides real-time updates about what is happening in your call center. Don't worry about spending too much time looking for key details. We made our interface intuitive, so you can work with every feature you want simultaneously.
---
Features that supercharge your workflow
Detailed call overview with tags and notes
With custom tags and notes, you have all the lead's interactions at your fingerprint. These labeling features allow you to sort calls into categories and quickly identify a type of a call. Through call tags, you can also filter calls. It lets you search through the call history based on your chosen label.
Increase the number of outbound calls with Predictive dialer
Predictive dialer is an ideal tool to get in touch with your clients. It ensures that you make more customer calls in a shorter time. Within each campaign, you can also configure for how long an agent remains unavailable after the call ends (the time necessary to finish administrative tasks).
Boost your performance with other advanced features
Callback feature, Smart detection of resolved missed calls, Ring on speakers, Warm Transfer, Skills-based routing or 3-way calling are just some of many features that help you level up your performance. Explore new ways of customer service. Surprise your clients with a more personalized and faster experience.
Have a question you need answered?
If you have any questions regarding CloudTalk Coverage or the phone numbers, please get in touch at
How does the free trial work?
Simply send us your contact information, and we will send you access to a free CloudTalk trial with no strings attached. You can immediately start making phone calls with CloudTalk.
What are your outbound call prices?
Each package includes one standard local or toll-free number for free. Prices of outbound calls vary, please contact us for more details.
Users work for your company and communicate with your existing and potential clients. You can add or remove users in just a few clicks anytime you need. As a user, you can imagine your agent, supervisor, analyst, administrator, etc.
Can I change my subscription plan anytime?
Plans billed annually can only upgrade to a higher tier plan (e.g., From Essential to Expert). It's not possible to downgrade annual billing.
Can I use CloudTalk for more activities?
Definitely. CloudTalk can be used in many different ways, be it customer support, contact center, virtual phone system, or active call center. Our solution is perfect for companies operating several e-commerce at the same time in need of separate customer support for each e-commerce.
The safety of your data is our topmost priority. CloudTalk uses third-party data centers with industry-standard certifications (Tier III+ or IV, ISO 27001, PCI-DSS). All facilities include physical protection. The interface is accessed through an encrypted SSL connection. You can read more on our page dedicated to Security.