A budget-friendly and reliable call center Avoxi alternative
Call Quality: Better sound quality and connectivity
Features: Advanced capabilities to serve any use case.
Country Coverage: 160+ options to expand internationally.
Let's talk! Book a strategy call today
| | | |
| --- | --- | --- |
| Platform | Available across any device or platform | Available only as a web-based app |
| Pricing | Starts at $25 per user/month, billed annually | Starts free with very limited options |
| Integrations | 35+ | 20+ |
| Set-up and Onboarding | | |
| Missed Calls | | Only allows callers to save their place in the call queue. |
| Smart Deception of Resolved Missed Calls | | |
| Conference Calls | Audio + video calls | Only audio calls |
| Predictive Dialer | | |
| Smart Dialer | | |
2500+ call centers and phone systems powered by CloudTalk and counting
Take care of your customers.
CloudTalk will do the rest.
#1 Rated call center software
Based on 400+ CloudTalk reviews on 6 independent software marketplaces & platforms
Integrate CloudTalk with tools
you love the most
Connect CloudTalk with powerful and easy one-click CRM and helpdesk integrations. Automatic 2-way synchronization makes that all your data are always up-to-date.


Trained support teams right at your hand
Have you experienced unreliable customer support? We got you. Our priority is to serve customers and help them find immediate solutions to their issues. We have several support teams working in different time zones to answer your questions in real-time. Always with a smile.
The user-friendly interface makes adjusting to the new system easier
Switching from one software to another can be rough. Not while switching to CloudTalk. Why?
Our dedicated onboarding team is here to show you around
The onboarding portal clearly covers every step
An intuitive interface shows you every important detail without the need to look for it.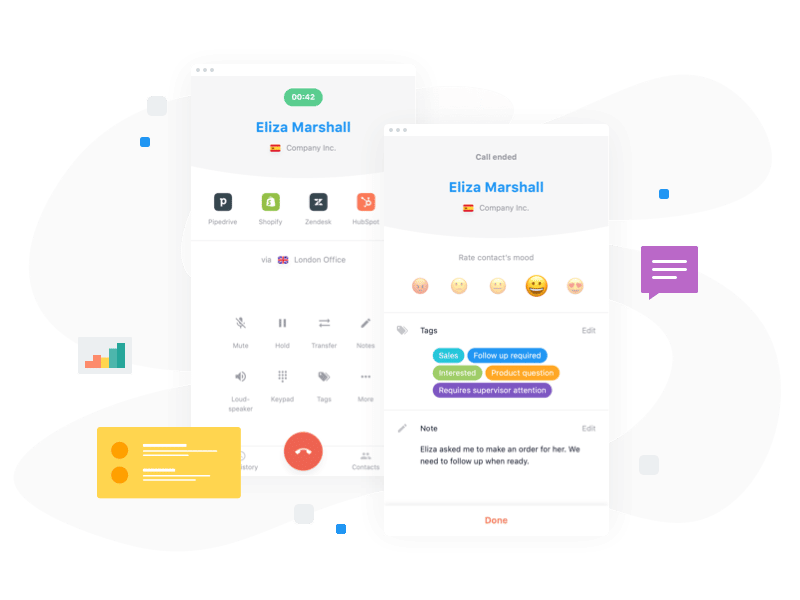 Look like a local anywhere in the world
Spread your customer care even further with CloudTalk's international numbers feature. You can acquire specific numbers with geographic or non-geographic codes from over 160 countries. These calls are more likely to be picked up and this option is also cheaper.
Watch how CloudTalk works
We will show you how to use the Cloudtalk desktop app, click to call feature and the smart dialer. We will also demonstrate CloudTalk's dashboard features
Switch from Avoxi
Looking for a Avoxi Alternative? Look no further!
You've seen the reasons why you should consider CloudTalk as your Avoxi alternative.
After all, Avoxi does have a number of limitations to worry about. The solution lacks several core VoIP features users may expect, including smart dialer, predictive dialer and smart deception of resolved missed calls.
But of course, there are plenty of fish in the sea, so to help you make a good and informed decision, we've collected the top X competitors on the market. In this article, we'll discuss their strengths, weaknesses, and prices.
8 Best Avoxi Alternatives
So, without further ado, let's take a look at the competition:
CloudTalk
Aircall
3CX
8×8
Five9
Genesys
Talkdesk
RingCentral
#1 CloudTalk
Here's why you should give CloudTalk a try:
High-quality calls with guaranteed latency and minimal jitter
Smooth workflow with our Intelligent call-routing tools
Callback feature that redials the number until connected with the agent
Redirecting calls during busy hours or when outside the office
The call masking feature keeps your personal number private
Plans start at $25/month with a free trial and demo.
Aircall is a calling software primarily targeted at small businesses. It offers a wide range of features and integrations, and is available at several different pricing tiers.
What makes Aircall unique?
Aircall excels when it comes to automations.
Aircall also features a great many useful integrations, including with:
Intercom,
Pipedrive
and Zapier.
What is Aircall missing?
Aircall lacks some essential video-calling features.
Webinar hosting and screen sharing capabilities are severely limited on the platform, which can lead to a fair amount of frustration on the part of users.
How is Aircall priced?
Aircall's most basic plan costs $30 per user per month.
Their intermediate plan costs $50 per user per month.
The most advanced plan requires prospective customers to contact one of their agents for pricing information.
Aircall Conclusion
Aircall is a good alternative for small businesses, but certainly not all of them. Think about how frequently your team uses smart dialers. If they're a core part of your day-to-day work, you might consider looking elsewhere.
3CX is a PBX phone system for office-based teams. It runs exclusively with Microsoft Windows or Linux, so MacBook users are out of luck. 
It's a relatively basic phone system, with simple features such as Live Chat and Call Recording. It does not however feature smart capabilities such as AI or real-time transcriptions.
What makes 3CX unique?
3CX's biggest strength is its affordability.
It's a bare-bones system, but one that can get the job done for small teams who aren't interested in the bells and whistles that come with most smart calling software.
What is 3CX missing?
3CX lacks some of the features and integrations most businesses have come to expect when hunting for virtual phone software. For example, users cannot integrate 3CX with Pipedrive or Zapier, two of the most popular business software on the market.
3CX also doesn't have any direct sales. It is only sold through distributors which can make the sales process, as well as the support process lengthy and costly.
How is 3CX priced?
3CX's most basic plan is free.
Their first paid plan comes in at 175 euros per user per month, and their more advanced plans cost 296 euros and 330 euros per user per month, respectively.
3CX Conclusion
As we've mentioned, 3CX is a virtual phone software for businesses who are only interested in the basics. It leaves a lot to be desired in a lot of areas, so we recommend thinking about whether or not you might need something it lacks — like integrations with Pipedrive and Zapier — at a later date.
8×8 is an evergreen telephony solution with a strong focus on integrations and analytics. The provider is well-suited for enterprises, but lower-tier subscriptions also work for smaller organizations.
What makes 8×8 unique?
There are 2 main advantages we want to highlight. 
Analytics. The provider went far with their focus on tracking large-scale business processes. 
The 8×8's reporting system centralizes all data in a single place, so managers can make their teams more organized and speed up their workflow. You'll also get real-time reports.
Comprehensive integrations with software like:
Salesforce,
Slack,
Microsoft Teams,
and many more.
Furthermore, 8×8 users get unlimited calling into 40+ countries. 8×8 telephony software comes with:
smart dialer,
click to call,
and call recording.
What is 8×8 missing?
Office is required: You need an office in the location where you want to call in order to get a number from there. 
Geographical restrictions for SMS: You can only use an SMS feature within the US and 8×8 does not cover costs for mobile numbers in Brazil.  
Integrations: 8×8 doesn't partner with telco companies, which means that users can't get native integration with certain solutions. For example, Whatsapp. Non-native integrations must be set up by the tech team.
Features: 8×8 is missing some features like call tagging for more efficient calling processes, call masking for protecting your personal information or API for connecting CloudTalk with any tool you love. Automation tools like IVR, skill-based routing or automated callback come only with high-tier plans. You have to pay extra in order to get call recording.
A crucial restriction, mainly for big international companies, is that there are regional constraints on unlimited calling. Users with the basic Express plan can only use unlimited calling in the US and Canada.
How is 8×8 priced?
The cheapest, Express 8×8 plan starts at $15 for both monthly and annual subscription. Though, it only comes with basic features.
Higher tier plans will cost you from $24 to $44 per month, billed annually, and $28 to $57 billed monthly. These include more advanced features, such as multi-level auto attendant, and data history.
8×8 Conclusion
8×8 shines in analytics and integrations but stays behind in the amount of productivity features. There's also a lack of flexibility to consider, and a few feature accessibility restrictions that may be dealbreakers for international companies. 
Price is affordable when you only need a basic Express pack, but for more advanced tools, you'll have to reach deeper into your wallet.
Five9 is a popular VoIP provider, offering a worldwide all-in-one solution for businesses looking for inbound and outbound omnichannel contact centers. Their mission is to help transform business communication in order to meet customers' heightened expectations. But do they succeed? Let's find out. 
What makes Five9 unique?
Five9 boasts an intuitive virtual call center interface with a wide variety of integration options. Agents will also be happy to find many features that help them streamline their daily operations, including:
Automatic Outbound Caller,
call queues,
Notifications,
call tagging,
Callback,
Transcriptions,
and more.
What is Five9 missing?
Despite its good selection of features, Five9 suffers from a limited amount of reporting options.
The mobile experience also leaves a lot to be desired, and the app does not support caller ID.
How is Five9 priced?
Despite its good selection of features, Five9 suffers from a limited amount of reporting options.
The mobile experience also leaves a lot to be desired, and the app does not support caller ID.
Five9 Conclusion
Five9 offers most of the things a call center could ever need. They do come up short when it comes to reporting capabilities, which could be an issue for sales managers and sales operation teams.
Furthermore, Five9's pricing favors larger companies and is less affordable for SMBs.
Genesys provides customers with the omnichannel platform they need to run an efficient call center operation, but it comes at a higher price than many of its competitors.
Some noteworthy features of the service include campaign management, escalation management, progressive dialers, and real-time chat.
What makes Genesys unique?
Genesys features robust 24/7 customer support that is generally praised by customers.
Genesys also features advanced AI capabilities and comprehensive omnichannel support.
What is Genesys missing?
Genesys has a 90-day implementation period which is carried out by one of their partners.
Getting started with this software is therefore time-consuming, and may not be the right move for a business looking for an out-of-the-box solution.
How is Genesys priced?
Genesys's most basic plan costs $75 per user per month.
Their intermediate plan costs $110 per user per month, and their most advanced plan costs $150 per user per month.
It's also important to note that Genesys requires a minimum of 20 users.
Genesys Conclusion
Genesys is a great software for remote teams, and they've developed a robust mobile interface, so agents can stay connected even when they're on the move.
The service is slightly more expensive than other options, so you should consider that when making your decision.
Talkdesk has been on the VoIP scene since 2011. Their smart-calling platform has improved the communication capabilities of over 1,800 sales and customer support teams through high-tech automation and reliable call quality.
What makes TalkDesk unique?
Talkdesk's wide range of Auto and Predictive dialers help sales agents stay on top of their calling lists and meet their monthly quotas with ease.
Their customer support system – which includes video tutorials and the possibility for in-person training –  is also highly-regarded.
What is TalkDesk missing?
Put simply, the scope of Talkdesk's communications capabilities is limited. It's designed to function as a call center platform but doesn't provide everything businesses need when it comes to messaging and video conferencing.
It also falls short in the integration department when compared to other VoIP software.
How is TalkDesk priced?
Talkdesk's most basic plan costs $75 per user per month.
Their intermediate plan costs $95 per user per month, and their most advanced plan costs $125 per user per month.
TalkDesk Conclusion
If you're someone who values high-quality customer service, then Talkdesk might be for you. As mentioned, their team is highly-regarded in the industry and is more than capable of attending to whatever issues their customers throw at them. That said, if you need a call center that covers all the business communication bases, you might be better off looking elsewhere.
When you think about VoIP telephony solutions, Ringcentral is probably among the first ones that comes to your mind. No wonder, the company has been on the market for over 20 years and it has built quite a reputation for itself.
RingCentral has a great variety of features, and offers HD quality voice and video. The provider is a good fit for enterprises, since it offers omnichannel experience, lead qualification tools, as well as management, collaboration and performance features – all in a single software.
Let's take a closer look at what makes RingCentral unique, what it's missing, and more.
What makes RingCentral unique?
The platform has excellent video conferencing capabilities. Users get tools like whiteboard, screen sharing, breakout rooms, and a seamless scheduling process.
RingCentral also extensively supports team cooperation. The software offers a native task management system, and integrates with collaboration software, such as Monday.com.
RingCentral offers real-time metrics, so users can monitor the quality of service and enhance team productivity. Voicemail transcriptions allow users to find all information you need without having to always re-listen it.
There are unlimited inbound/outbound calls, business SMS, internal chat option, and international numbers from over 100+ countries.
What is RingCentral missing?
Despite all the positives, RingCentral does lack quite many essential tools that modern businesses require.
Features like:
native sentiment analytics,
Speech-to-Text transcription,
smart dialers
or Skill-based routing
are only included in Contact Centre Solution. The same goes for some agent management features, like monitoring.
A Call recording tool and Toll-free numbers are only available as add-ons, for an additional cost.
Furthermore, RingCentral's implementation can take as much as 90 days and involves an implementation fee.
RingCentral UI is also not always the friendliest.
How is RingCentral priced?
RingCentral's pricing list starts with:
an Essential plan for $19,99 user/month billed annually, but it is limited to a maximum of 20 users.
Second cheapest, Standard plan will cost you $27,99 user/month,
and the list goes all the way up to an Ultimate plan for $49,99 user/month.
Keep in mind that in order to get all communication channels – phone calls, messaging and video conferencing – you'll have to purchase the second most expensive, Premium plan ($34.99).
RingCentral Conclusion
RingCentral is an established name on the VoIP market and a reliable solution. It has great video conferencing and performance tracking capabilities, yet several essential features are limited.
Avoxi Alternatives: The Final Verdict
We hope that you're now a step closer to choosing the right provider.
Regardless of your company's size or focus, CloudTalk is here for you. With 70+ features and integrations covering almost every niche, our affordable solution can help SMBs and enterprises alike. Give it a try free for 14 days and see for yourself!
And for more content like this, check out our site.
Have a question you need answered?
If you have any questions regarding CloudTalk Coverage or the phone numbers, please get in touch at
How does the free trial work?
Simply send us your contact information, and we will send you access to a free CloudTalk trial with no strings attached. You can immediately start making phone calls with CloudTalk.
What are your outbound call prices?
Each package includes one standard local or toll-free number for free. Prices of outbound calls vary, please contact us for more details.
Users work for your company and communicate with your existing and potential clients. You can add or remove users in just a few clicks anytime you need. As a user, you can imagine your agent, supervisor, analyst, administrator, etc.
Can I change my subscription plan anytime?
Plans billed annually can only upgrade to a higher tier plan (e.g., From Essential to Expert). It's not possible to downgrade annual billing.
Can I use CloudTalk for more activities?
Definitely. CloudTalk can be used in many different ways, be it customer support, contact center, virtual phone system, or active call center. Our solution is perfect for companies operating several e-commerce at the same time in need of separate customer support for each e-commerce.
The safety of your data is our topmost priority. CloudTalk uses third-party data centers with industry-standard certifications (Tier III+ or IV, ISO 27001, PCI-DSS). All facilities include physical protection. The interface is accessed through an encrypted SSL connection. You can read more on our page dedicated to Security.