| 8 Jun 2021
Remote work - Call Center
Remote Team Communication – how to make team communication in a remote work environment easy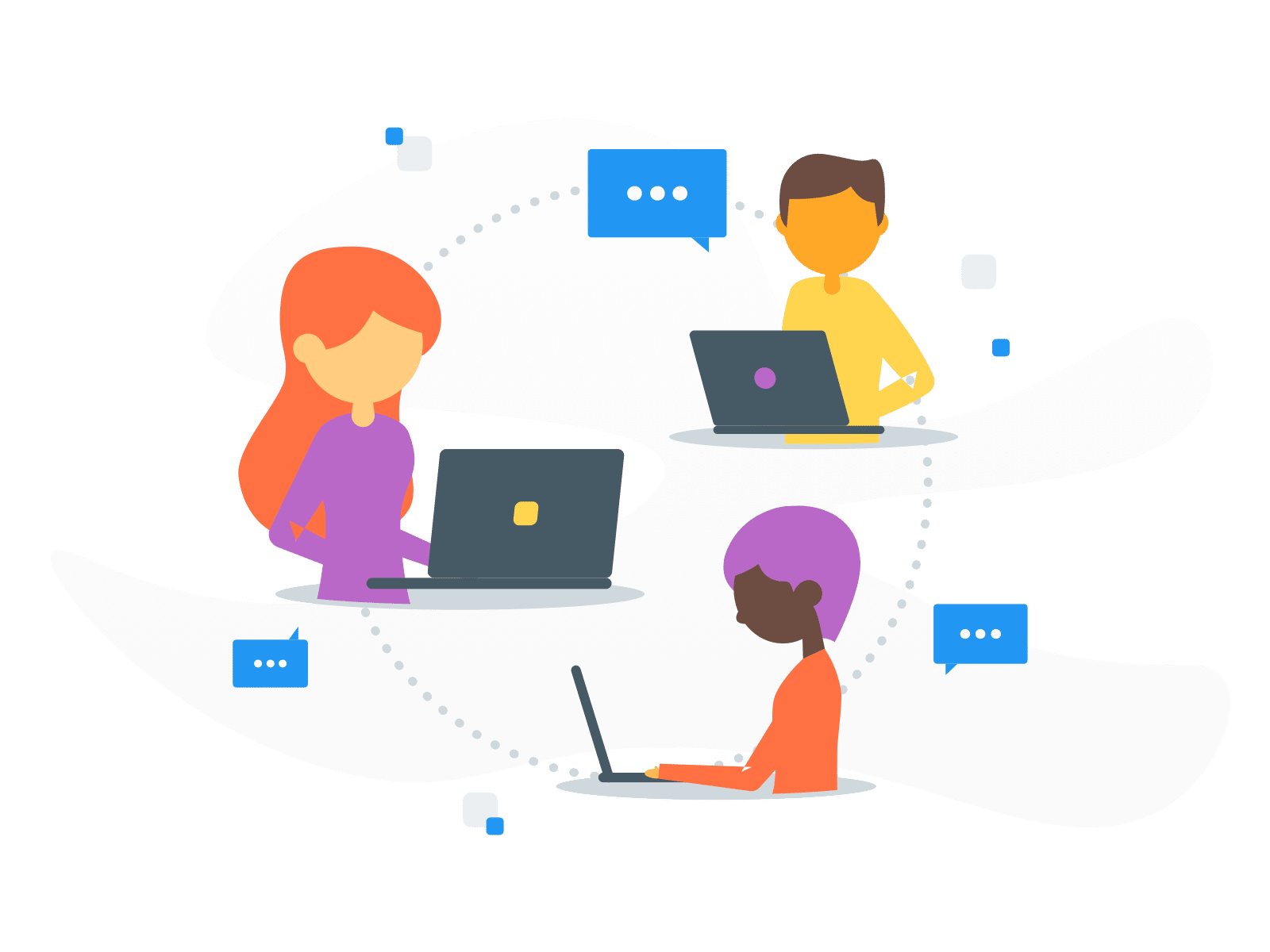 If you run a team that is totally new to working remotely or you have just launched a business and want to give remote work a try then keep reading because this article is for you. Communication, in general, is one of the biggest challenges for any business and it's considered to be a very important element of teamwork and collaboration by 75% of employers.
But what about the type of communication that occurs between teams, who are often located in different cities or even countries due to remote work?
There are major differences that need to be taken into account if you want remote team communication to happen smoothly. In this article, we will provide you with the most fundamental guidelines for making it easy to communicate with a remote team.
See How To Easily Fix Your Broken Team.
Let's check out the numbers first
The pandemic is setting trends
The pandemic caused a dramatic shift in the work culture. Now, many more people are working remotely compared to previous years.
Change in remote work trends due to COVID-19 in the United States in 2020
Employees are fans of remote work
77% of remote workers claim to be more productive when they're working from home. Furthermore, 74% of workers state that the possibility to work from home would make them less likely to quit a company. Further research shows that 99% of people wouldn't turn down an opportunity to work remotely at least some of the time for the rest of their careers.
Not everything is as perfect as it seems
Among the issues associated with remote work, people report loneliness, an inability to communicate effortlessly, and separating work from private life.
Now that you are aware of the rising demand for remote work, as well as its benefits and main disadvantages, let's have a look at 6 key strategies that will vastly enhance your experience of working with remote staff.
#1 Invest in the right tools
First and foremost, the key to success is investing in the right tools. Without them, you can forget about working well with your remote team. Why? Let's put it this way. How do you imagine talking to your team members without any video or audio conference tool? Or, even better, how do you expect your team to stay up to date with all your deadlines if there is no dedicated space for them to be easily tracked and accessed? Various tools for all these necessary tasks can make communication faster, easier, and more efficient. You will need:
Team chat tool
It is absolutely essential to have a place within your remote team group where you can talk, share ideas, discuss topics, and exchange opinions. Make sure everyone in your team is or will be well acquainted with the tool so that everyone can use it to its full potential, ensuring the most effective and productive collaboration possible.
Tools like Slack or Google Chat allow you to stay organized and focused with access to central spaces for conversations, tools, people, and files. Not only does Slack allows you to collaborate and communicate within your workspace, but also with other, external companies you cooperate with. Create rooms and groups or chats with your team members separately. For unlimited file, photo, and video storage, use solutions like Facebook Workplace or the slightly less popular Rocket.Chat. It is up to you what your strategy will be to achieve success, but one is certain – tools like these are extremely useful.
Customer communication tool
Communicating with your team members is one thing, but communicating with your clients cannot be forgotten either. Both are equally important in the process of developing a strong and healthy remote team communication strategy. One such tool dedicated to customer communication is a call center.
Having a call center solution allows you to split the responsibilities of each team member in a smooth and clear manner. A good call center tool should have features that allow actions such as call queuing and recording, internal calling, and extensions. Moreover, in times of remote work, often with people from different countries, features providing international calls, number porting (connecting any phone number to the software), and toll-free numbers are all absolute must-haves.
Other features that will make your customer communication memorable and valuable include voicemail, personalized greetings, and music, as well as allowing customers to choose their preferred agent to speak with. If you feel like all of these solutions would positively contribute to your business then you may wish to check out this useful tool provided by CloudTalk, which offers everything described above, and more!
Project management tool
What is effective collaboration without a dedicated space for managing your projects so that you can stay organized at work? Managers often have to handle multiple projects at the same time. When you add employees who work remotely and in different time zones into the mix, then chaos and disorganization are almost guaranteed.
Tools like Asana help to assist you for better collaboration, improved planning, and scheduling, easier integration with new members, effective risk mitigation, and more. You can say goodbye to creating dozens of subgroups, chats, and files in order to get everything organized. With a good project management tool, you will have everything in one place and won't need to worry about something going wrong.
In a similar fashion, another project management tool called Monday lets you track the progress of your projects, allocate resources effectively, and even create 'to-do' lists. If that isn't enough, you may want to check out some other, also highly recommended tools such as SmartSheet or TeamHood. One thing is certain with them – no more stressing over a chaotic work environment.
Video calls
There are times when, whether you like it or not, you can't discuss a project or an idea face to face in order to gauge someone's authentic reaction. This is when video call tools come in handy. The list of advantages of video calls is endless, especially if you're working remotely.
First of all, video calling opens the door for you to enable remote work. Without video calls, it would be very difficult to communicate with your team. A statistic from Microsoft shows that 62% of executives agree that video conferences significantly improve the quality of communication. Texting and sending emails is highly time-consuming in comparison.
In general, people can say 100 to 130 words per minute and write only 37 to 44. That is why a video calling tool is necessary. One of the most popular tools designed for such calls is of course Zoom, which experienced a surge in demand at the start of the pandemic in March 2020. If you're not a fan of Zoom, then there are plenty of other options to choose from, such as Skype, Google Meet, ClickMeeting, and LifeSize. The list goes on and on!
#2 Set guidelines for your team – they need them too!
You wouldn't be reading this article now if you didn't need help, right? Well, your team members might need help too. Make sure you clearly set out your work guidelines. You should determine which channel is used for what type of communication so that nobody gets confused. After all, you don't want to spend extra time searching for some piece of information that was originally supposed to be sent somewhere else. Having this sort of clarity among your co-workers will most definitely work in everyone's favor. Examples of doing so could include:
Establishing some ground rules regarding communication channels at the very beginning of collaboration on a project, plus explaining how they will make your cooperation easier and more effective!
Mentioning these rules during your weekly progress catch-ups with the team to ensure everyone remembers about them.
Keeping everything organized and clear, being able to distinguish strict work from some fun time during your cooperation, and ensuring your team is aware of that distinction.
#3 Over-communication is more than welcome
In a similar fashion, you should ensure that everyone understands what their job is so that unnecessary mistakes are not made. John Powell once said that "communication works for those who work at it". When we write, a lot of what we may wish to communicate can get lost due to the non-verbal nature of the message.
It's always better to over-communicate rather than under-communicate in the case of teams and employees who don't have a chance to talk face-to-face. It could be as small as double-checking that someone received an email you sent them or asking if they remember about a deadline you published in your team collaboration calendar tool. Such small gestures won't hurt nor take much time, but they will contribute to your effectiveness as a team/business.
#4 Get used to asynchronous communication
Asynchronous communication happens when two (or more) people communicate with each other without the need to be present at the exact same moment in time. This type of communication can take place through various channels like email, Asana, or Microsoft Teams.
At first, this may be difficult, especially if you have some time-sensitive projects in progress, but work on it. Being understandable is extremely useful in this case. Try being mindful of those co-workers who live in different time zones, as well as those who share their home offices with family members. Things to prepare for include accepting slower replies, as well as messages sent totally outside your office hours while you're sleeping due to the time differences.
#5 Schedule meetings with everyone in mind
Bear in mind that time differences are also key when you schedule meetings with your team. You should take into account that they may live in different places, and therefore finding the perfect time and date might be challenging.
Don't give up, though.
Work your way around this issue and encourage others to contribute. Find the best solution and make sure everyone will be able to make it on time. After all, the key to great communication in a remote team is ensuring that everyone stays connected and engaged. Ensuring that everyone is included in all plans will also be a sign for other team members that they are valued and appreciated.
#6 Record (some) meetings
Last but not least, record your meetings! As mentioned above, some of your team members may find it difficult to make it on time to your meetings. The reasons for this could include personal matters, last-minute emergencies, or even something as simple as device and connection problems. This is exactly why you should always be prepared to prevent a coworker from missing your presentation or group meeting.
Having access to tools that enable you to record your meetings can be a life-safer. It could be something as simple as basic screen-recording software. The point is clear, though – you don't want to leave anyone behind. Keep this in mind next time someone misses your online conference.
Summary
In short, this article provided you with the most vital tips to ensure smooth and trouble-free remote team communication. What you should remember is:
By all means, invest in the right tools
Be there to help each other out and try putting yourself in other people's shoes
Try to think of ways to avoid problems in the future and incorporate those solutions into your workflow
Last but not least, don't be scared of remote work! It sounds much more complex than it actually is. With the right set of tools and a positive attitude, you will become a master at remote work in no time. If you're looking for one tool that will work great with your remote teams and customers all around the World, make sure to check out CloudTalk.io!