| 23 Jun 2021
Customer Service - Service & Support
Why is it important to use phones for Customer Support?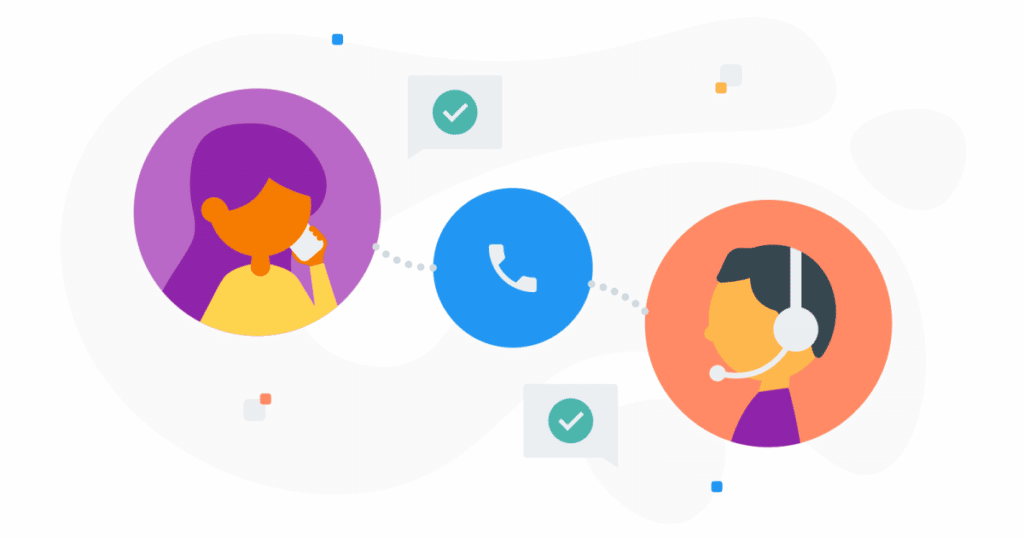 Customer service is an essential aspect of the user experience. Due to the growing expectations of your clients, you should simply go the extra mile and provide an experience the likes of which they have never enjoyed before.
Phone calls are one of the most profitable communication channels because… basically everyone has a phone. We spend countless hours using them, not only to communicate with others but also to keep up with all of the latest happenings in the world. So why not use this channel to offer customer support?
What customer support channels are available to me
Deliver faster tech support
There are many ways to offer customer support. Different people prefer different channels, and everybody can find one that suits them best. There are a wide range of possibilities, but the best choice depends on you and your customers' needs. What customer support channels are waiting to be used?
phone – a client calls with a problem, a customer support agent answers the call and helps. It is a real-time channel and it brings a human factor. Your agents can cover many types of problems over the phone, from missing orders to details of an offer.
e-mail – this one is a delayed channel of communication. When a customer writes an e-mail message to the support team, they need to wait for an answer. Coming up with the right solution this way may take some time. It is, however, ideal for advanced topics or more complicated issues as it can be used to add attachments like pictures or invoices, etc.
social media inbox – this is connected to a social media profile. To allow your clients to reach you via this channel, you have to be present on a given platform. It is a good way to ask and answer quick questions.
website chat – you can use live chat on your website to have a real-time conversation. It is a good choice if you want to support new users or answer questions related to your offer.
SMS – you can send a text message either with or without the possibility for recipients to reply. It can be a nice tool to promote your business too.
self-service like a knowledge base or FAQ – this requires some work at the beginning, as you need to step into customer's shoes and wonder what questions may come to their minds. It is a good way to provide some basics like how your service works or what to do if a payment problem occurs, etc.
You could choose just one of the above channels, but there is also the option of using a few and providing omnichannel customer support. The more, the merrier. But remember that quantity has to go hand in hand with quality. As mentioned, it is good to have one universal channel available to everybody, and the phone would be a choice in this case. Remember that your customer service should be accessible for everyone and this is the only way it can fulfill its duties.
9 reasons why the phone still matters in the age of the internet
We all live in a digital world. More than half of the World's population uses social media, and in 2020 the average user spent 2 hours and 24 minutes per day doing so. This shows that people spend a large portion of their time online nowadays.
In the era of the internet, the good old phone is still very popular though. There are so many different channels available these days, but people still make and answer calls. Why is this channel still so universally popular?
1. Phone calls bring emotions
Phone calls make conversations more human. They bring about feelings of empathy to a discussion, making it more open, honest, and calming. Thanks to using the phone, your support agents are able to calm the callers down and explain everything in detail. Furthermore, it is easier to read the mood of a client and use a suitable tone of voice. Moreover, phone calls are made in real-time, which means the caller can receive help straight away. Even though sometimes there are cases when one needs time to resolve an issue, phone calls can provide a sense of understanding to the customers and make them less stressed.
All of the above leads to one conclusion – phone calls decrease the possibility of providing a poor service. This is an important factor because about ⅓ of Americans admitted that they wanted to switch their company of choice because of the low level of customer service that they provided..
2. People still use phones
It may surprise you that a lot of people still make calls, and for many of them it is their preferred way of communication. Many users still dial a number and say a warm hello even in the digital era, with its option to make video calls or write messages. A little less than 70% of customers request support via the phone and they have the right to demand this option, which it is your job to provide. A client might be disappointed if they have an issue and request a phone call, but there is no possibility to receive one. It is highly likely that they won't come back to you and you will have just lost a customer.
3. Phones are known by all age groups
Some say that social media is a Millennial thing and e-mails are for gen X. What about phones? They are intergenerational. All age groups make calls and use the power of this channel. You don't need to check the preferred channel for your target audience. Phones cover basically all possible target audiences, so regardless of who you are aiming to reach, they probably have a phone.
4. Chatbots are OK but phones are better
Chatbots are a great solution, do not get us wrong. They offer 24/7 service and take some of the responsibilities away from agents. Nonetheless, their flaws include not being as smart as human beings and not knowing the answers to all questions unless you program them to do so. It is highly possible that if a client asks an uncommon question, the chatbot won't be able to help. In other words, it fails at the main aim of customer support. Chatbots are a nice solution for ordinary questions and issues like order tracking or estimated delivery time.
5. Your customers do not like waiting
Basically, most of us prefer not to wait. The phone has the best first response time of all channels, which amounts to three minutes. However, what is the first response time? It is the length of time that elapses from the moment of problem submission to an agent's response. Keep in mind that your customers' time is precious, so the less that time takes, the better. Waiting three minutes to receive an answer has no point if the agent is available straight away. Thanks to such a short FRT, your agents will be able to manage more calls and help more customers. That means more happy clients and higher user satisfaction!
6. It is easier to reducing waiting times to a minimum
Speaking of waiting – on average, customers wait for an agent for around 11 minutes to handle their case. This is a little long but, still better than 24 hours waiting for an e-mail response. To make this time as short as possible, you will need decent call-center software with a bunch of features. CloudTalk comes in handy here. It offers features such as IVR (Interactive Voice Response). This guides callers through a menu of options and makes the experience more interactive. Based on the caller's answers, IVR provides the necessary information (e.g. order status) or connects them to the right department and agent. Moreover, there is also a callback feature, which means that a missed call is returned automatically as soon as an agent is available. Sometimes the problem is more complicated than it first seems and more advanced knowledge is needed. Thanks to CloudTalk's transfer feature, the client can be switched between agents without having to wait many more long minutes.
7. Complex problems need complex solutions
The more complex a problem, the more people are needed. If an issue arises and there are many aspects to explain, nobody wants to write long e-mails or ask a chatbot. They prefer to speak with a human being who understands the problem and have the opportunity to ask a few follow-up questions. Sometimes it is better to come up with dialogue in real-time than wait anxiously for an e-mail reply. Communication with an agent also helps with emergencies, so it should be a must to provide a channel like phone calls that allow for this.
8. Global businesses need global staff
If you run a global business, it is important to offer support that meets all of your customers' needs regardless of where they are located and with no charges incurred by them. When it comes to e-mails or social media, customers may face the dilemma of whether they should write in English or their native language. Additionally, English is not universally known around the globe. Many people can only understand and write English on a basic level, while some may not know it at all. This is the reason why you should provide a call center with few branches in different countries. CloudTalk's international number feature allows you to acquire numbers from around 140 countries and set up numbers with geographical codes. What is even more important is that there will be no charges for your customers and they will be able to reach people who speak the same language.
9. Acquiring feedback is easier this way
Feedback is important to keep your business growing. The vast majority of consumers (77%) admit they perceive brands that ask for feedback and act upon it more positively than companies that do not. It is easier to obtain feedback over the phone than via e-mail or other channels. There is more chance of a call being successful than an agent sending an e-mail survey and waiting. It is harder to avoid such calls than disregard an e-mail or SMS. Moreover, it is easier to ask follow-up questions or react to the caller's answers via phone surveys. Thanks to acquiring first-hand feedback, you will be able to react quickly and grow. It is also possible to set up a feedback survey via IVR.
To sum up
Customer support via the phone can be a game-changer for your business. It can bring new value to your customer service teams and boost the user experience like ever before.
As you have read above, the phone is still a popular way to communicate despite not being a spring chicken. Even though technological progress is rapid, people still remain consistent with their feelings about using phones. Leverage this habit, and support your customers via the phone! Do it right by using CloudTalk.