| 27 May 2021
Call Center
First Call Resolution: Definition, Measurement, best practices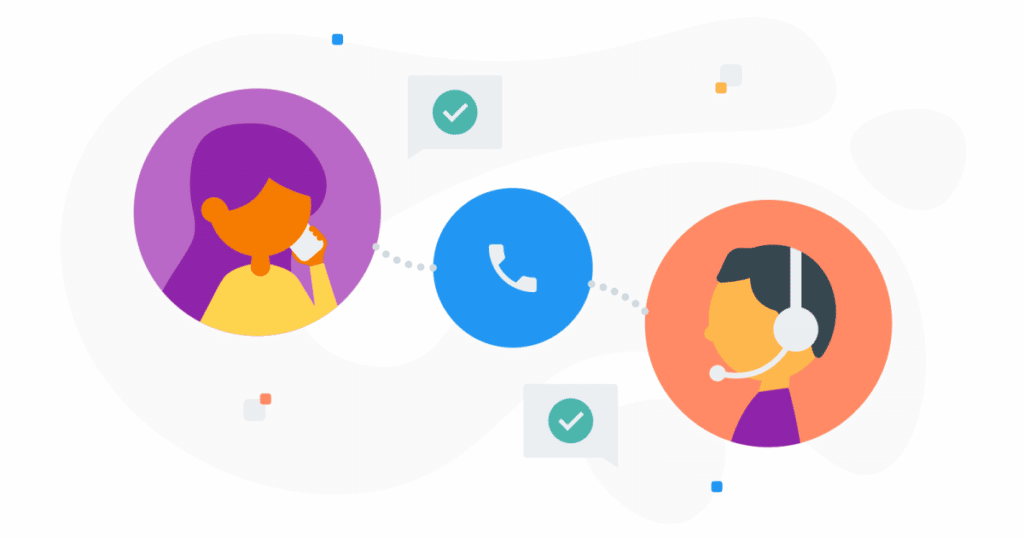 First Call Resolution is an essential element of an effectively functioning and efficient call center. What are the best methods to drive its improvement? What does the implementation and observation of this indicator tell us? How does customer service deal with the first contact with a customer? Fasten your seatbelts: we're starting with the answers right now.
Consider these 12 features when choosing your call center software
What is First Call Resolution?
In call centers, the percentage of cases addressed via First Call or First Contact Resolution (FCR), i.e., by resolving problems during the client's first call or contact with an agent, is an important indicator of success. There can be no dispute concerning its role in assessing the quality of work, yet attaining high levels of quality requires a coordinated effort.
FCR simply means addressing an issue during the first call or contact with a customer. And since increasingly more people don't want to use customer service departments at all, it is even more crucial to satisfy a client who has already made the effort to reach you.
How to calculate your First Call Resolution
Simply put, it is the percentage of clients whose issues were addressed during their first contact with one of your company's representatives. This means that those customers' problems were completely resolved on the first call, before they hung up the phone.
Let's say that a particular agent has answered 50 calls and 36 of them ended up with a First Call Resolution. There's no magic here, just the simple formula: 36 / 50 * 100% = 72%.
As a result, we can calculate an easy-to-read First Contact Resolution percentage.
Why does First Call Resolution even matter?
And here's where the numbers speak for themselves.
According to research carried out by the SQM Group, a very intriguing correlation exists between FCR and customer satisfaction. They found that for every 1% increase in First Contact Resolution there is a 1% increase in customer satisfaction, a 1% decrease in customer service expenses, and an up to 5% increase in employee satisfaction.
First Call Resolution has proven to be a critical metric for evaluating customer service. At the same time, it reveals more than just efficiency – it demonstrates a company's ability to operate as a whole.
The Benefits of Great First Call Resolution Rates
#1 Higher customer satisfaction
Higher customer satisfaction leads to increased customer loyalty. For clients, the advantages are clear – their issues get resolved in the shortest times possible, which is what they expect. They become more satisfied with and attached to the company, and therefore more willing to recommend its services to other people in the future.
#2 Time & monetary savings
Financially speaking, FCR reduces expenses on communication relating to the same matters in the future. Reduced costs per call may not necessarily sound particularly appealing on its own, however it can generate thousands of dollars in savings annually. Also, agents will have extra time for other work and so they can serve more clients better.
#3 Enhanced well-being, increased motivation, and reduced turnover
These metrics are linked to customer satisfaction actually! Clients' expectations play a major role in the speed at which agents burnout during regular contact. When First Call Resolution is low and especially when it's not their fault, agents' happiness and morale may be negatively affected.
#4 More (and better) sales opportunities
First Call Resolution can boost sales in many ways. While a call is underway, agents can leverage up-selling and cross-selling opportunities. Having solved an issue quickly they may have time for that, and such customers might be eager to use more services. Clients who had a great experience with these agents will probably still remember them after the call, so those agents can make contact again later and have a high chance of success.
It is interesting to note that this indicator appears to be a win-win-win. Benefits accrue for clients, the company, and its employees. It maintains customer satisfaction at a high level while keeping costs low.
Tips for improving First Call Resolution
#1 Analyze your mistakes and fix them
Your numbers and charts won't tell you anything if you don't analyze where the problems come from. First Contact Resolution is all about repetition. You must find what causes customers to keep coming back about the same issues. Rather than improving First Contact Resolution per se, you should strive to improve efficiency within your company, skyrocket customer satisfaction, and provide better service. Then, improvements to your First Call Resolution will be a natural outcome of your grassroots efforts.
#2 Analyze customer behaviour and predict their questions
If you know where your data and insights come from, it's high time for you to start analyzing them. Check how your clients behave, what their shopping habits are, and what touchpoints they stumble upon. Try to anticipate their questions before they arise (i.e.. gather them in a knowledge base). You may be able to use e.g. call center scripts to answer future calls and prepare your responses in advance. Analytical tools and recording customer sessions may reveal common user behaviour patterns that lead to several of the same questions being repeated. The sooner you get to know them, the sooner you can prepare answers and strive for an extraordinarily high First Call Resolution.
#3 Improve self-service options with interactive voice response
Interactive Voice Response system (IVR) is a voice announcement system that lets the consumer choose an option to reach out to a specific service department. Upon listening to the message, redirection takes place by contacting one of the numbers provided for a given department on the phone. When a client contacts the right department, chances are they can present their problem to the person best able to resolve it during the first call.
#4 Invest in a good VoIP solution
Sometimes, a call center agent is not the best person for solving a case. That's why it pays to make good tools to guide group communication informing about the availability of experts and how to contact them in real-time. It makes sense for the same information about customers to be available simultaneously for everyone who works together. Experts can then be reached by mobile or VOIP phones operating within the company network.
#5 Invest in even more self-service options
Would you consider a Zero Contact Resolution strategy? Leave it up to the clients. In order to accomplish this, proactive information about and communication with them are required, not only over the telephone but across all available channels.
And an FAQ is the perfect place for that.
Data on cases resolved at the first time of asking should be collected and analyzed. In turn, content on social networks and in different types of user groups can be analyzed to expand FAQ pages about the problems your customers encounter. With an extensive and rich FAQ page, customers will be able to find all the information that they need in order to expand their knowledge, solve their issues, and ultimately avoid contacting your agents.
An FAQ can also serve as a part of a knowledge base.
Your knowledge base does not have to be extensive from day one, but it is important to keep it constantly updated. It should contain product and service descriptions, manuals, guides, FAQs, and other materials that can help reduce the number of inquiries made to the service department and serve as reference points when clients talk to agents.
#6 Make sure everyone is on the same page
To improve the efficiency of the support department and therefore the First Call Resolution rate, it is necessary to cooperate with the organization as a whole. How? Customer service should be important to the entire organization, so all departments must cooperate to improve operational efficiency. Identify, analyze, and communicate the root causes for customers having to contact you more than once.
Educate staff members in as many ways as possible. It is worth investing in more than one type of training. Workshops on application processing procedures – not only for novices but also cyclical training for experienced agents – along with knowledge tests can support systemizing knowledge. On the other hand, training for customer service, adjusting tones of voice, analyzing specific customer service cases in the company, and encouraging the exchange of knowledge between agents are courses that strengthen empathy and help build meaningful and more understanding relationships with customers.
In order to maintain a high First Call Resolution rate, employees should therefore be trained in procedures for meeting customer's needs, awareness about the importance of the indicator, and analysis of specific examples.
#7 Don't be scared of automation
There are more solutions available to check out and use for automation in a call center for achieving better first call resolution.
For example, skills-based routing is nothing more than a call queueing system based on consultants' skills, thanks to which you can route redirect callers to consultants based on their expertise. Make sure that everyone in your team has access to contact history too, as it serves as a database of information about a specific customer and previous issues that have been solved for them.
And that's just to name one example.
Over to you
The effectiveness of a call center can be measured based upon many factors. The key conclusion is to maximize consumer satisfaction while reducing operating costs. The effort required by consumers is minimized when repeated information is eliminated, required contact time with the company is reduced, switching between consultants is avoided, and impersonal treatment is eradicated. Customer satisfaction can be enhanced only through tailored communication that increases the effectiveness and efficiency of the service.
Every aspect of an organization impacts the First Contact Resolution indicator, and the FCR is a measure of the efficiency of the enterprise as a whole.
Keep an eye on, optimize, and verify the First Contact Resolution rate in your customer service team. You can only achieve this by effective control of your customer service and ensuring that your customers are always satisfied.