Meer data, minder stress.
Ontdek het beste Genesys Cloud CX alternatief
CloudTalk is een slimme en budgetvriendelijke keuze voor bedrijven van elke omvang.
Soepel bellen via een wereldwijd verspreide infrastructuur
Out-of-the-box aangepaste rapportage volgens jouw behoeften
Clear interface and dashboard and mobile app
Real-time callcenter monitoring
Toegewijde ondersteuning wanneer je maar wilt
2500+ bedrijven kozen CloudTalk als hun callcenter software
Op zoek naar een budgetvriendelijke maar ook slimme keuze?
CloudTalk vs. Genesys CX
Pricing

The basic plan starts at

$20 per user/per month.

Genesys Cloud CX1 starts at

$75 per user/month.

Real time updates

The real-time dashboard shows key metrics like

call queue statistics, average wait time, active calls, and agent status.

Pre-defined templates for reports.

Performance dashboards and historical reporting are available.

Real time customer card

Know

who you are talking to before picking up the phone.

CloudTalk gathers all customer information like

history of interaction or notes

and lets you deliver a more personalized customer experience.

Shows your current performance dashboard with overall information about all call center activities.

No customer real-time card is available.

Number porting
Use your existing phone numbers by porting them to CloudTalk. Import geographic (local), national or mobile numbers with help from our Support team.
The process for porting DID phone numbers into PureCloud Voice is a manual procedure that our support technicians perform for you.
Local caller ID

The automatic outbound caller ID feature ensures that your agents

call your foreign-based clients from a local phone number.

Allows you to reach customers via their predefined channels, and implement automation features. Do not offer local caller ID.
Workflow designer
Create customer-specific business process flows even when using several different platforms. Customize your own workflow using our IVR, skill-based routing, or other features according to your needs.
Lets you optimize call center workflow with integrated agent and workflow capabilities to deliver an omnichannel customer journey.
Call tagging
Label each call with a self-made tag. This allows you to sort calls into categories and quickly identify what type of call it is.
Genesys Cloud CX is built on AI which does not allow agents to sort their tickets according to custom tags.
Call Notes
Make your work more efficient with custom notes to every call. Get a fast and detailed overview of interactions and sync it with a CRM or help desk tool of your choice.
Allows to view users, except for Status Notes like the specific status of forward, out of the office, or away.
User management

Manage your agents online.

Assign them to a specific call queue, and modify their details with one click.

Genesys Cloud CX lets you manage the dialer, workforce, or phone but

does not allow you to manage the user on your own.

Integrations
Make your work more productive with Cloudtalk's 40+ integrations. Salesforce, Hubspot, Pipedrive, Shopify, and many more.
Offers you several CRM and third-party integrations. Most of them for an additional cost.
Virtual call center
Create your virtual call center within 5 minutes. No need to invest in phone hardware or work with IT experts. All you need is your internet browser and a headset
Genesys Cloud CX does not allow you to create several profiles (virtual agents)
Gegevens zijn gebaseerd op een analyse van het vierde kwartaal van 2021..
Data gestuurde beslissingen verbeteren bedrijfsprestaties
Wij geloven in menselijk contact en real-time gegevens.
Custom reporting
naar jouw behoeften
Wil je meer dan onze standaard statistieken? We hebben je gedekt. Gebruik verschillende filters, bv. op contactcenter medewerker, telefoonnummer of tijdschema, om gegevens te bekijken die voor jou echt van belang zijn. Met aangepaste filters kan je rapporten genereren die relevant zijn voor jouw bedrijfsdoelstelling, en belangrijke KPI's bijhouden.
Emotionele analyse
helpen je om een menselijk gezicht te behouden
Blijf op de hoogte van de huidige trends. Emotion analytics stelt je medewerkers in staat om hun gesprek of de stemming van de klant na elk gesprek met een enkele klik te beoordelen. Teamleiders kunnen relevante feedback krijgen, wat hen helpt bij een-op-een gesprekken met contactcenter medewerkers. Deze gegevens gestuurde feedback verbetert je algehele klantenervaring.
De real-time dashboard
houdt je op de hoogte
Effectievere klantenondersteuning met kerncijfers die worden weergegeven door individuele wachtrijen en contactcenter medewerkers. In een gebruiksvriendelijke en intuïtieve CloudTalk interface, worden alle beschikbare metrieke weergegeven in een aparte Real-time Dashboard tab. Dit helpt jou om direct slimmere beslissingen te nemen en de klanttevredenheid te verhogen.
---
---
Callcentersoftware waarop je kunt vertrouwen
CloudTalk is gemaakt om aan jouw zakelijke behoeften te voldoen. Wij hebben een sterke serverinfrastructuur gebouwd, zodat jouw gesprek zo vlot mogelijk kan verlopen, zonder enige onderbreking of onverwachte dalingen. Daarnaast kan je:
gebruik onze terugbelfunctie om onbeantwoorde oproepen opnieuw te kiezen.
Reken op slimme detectie van opgeloste gemiste oproepen om een laag percentage gemiste oproepen in de gaten te houden.
Stel openingstijden in om jouw klanten te laten weten wanneer je beschikbaar bent.
Kies een tijdstip waarop contactcenter medewerkers niet beschikbaar zijn om al het nabellen af te werken.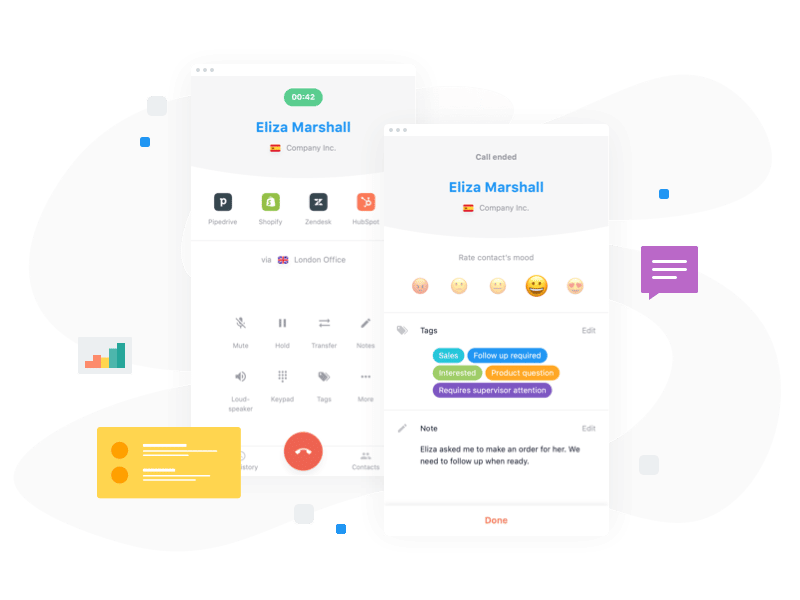 Vlotte evaluatie na het gesprek zonder tijdsdruk
Staying organized might be hard if you have a small team and a lot going on at your call center. Geef jouw agenten wat meer tijd om het gesprek te verwerken en te evalueren als het afgelopen is. Met de after-work functie kun je verschillende vooraf gedefinieerde tijdsbestekken kiezen waarbinnen de contactcenter medewerker niet beschikbaar zal zijn om het volgende gesprek aan te nemen.
---
Verbaas je over wat je kunt doen met meer dan 30 integraties
---
Wij hebben de beste aanbiedingen voor bedrijven van elke omvang
Kies een lidmaatschap dat het beste bij je past.
Essentieel lidmaatschap maakt dagelijkse taken effectiever
Verhoog jouw productiviteit terwijl je minder betaalt. Met een Essential-lidmaatschap kan je alle spraakfuncties en intelligente oproeprouteringsfuncties verkennen, waaronder real-time customer cards. Graaf dieper met geavanceerde analysefuncties met onbeperkte geschiedenis. Voor $25 per gebruiker/per maand.
Expert-lidmaatschap voor volledige klantenondersteuning
Ga verder dan wat je verwacht had. Expert-lidmaatschap biedt jou elk van onze topfuncties. Geavanceerde analyses met aangepaste rapportage en agent rapportage, Salesforce, en andere 40 + integraties. Geniet van soepele onboarding, single sign-on en aanpasbare IVR / call flow. Dit is alles wat we bieden voor $50 per gebruiker/per maand.
De keuze op maat voor wie precies weet wat hij wil
De keuze op maat voor wie weet wat hij wil. Of je nu een volledig geautomatiseerd callcenter wenst, of vaste functies om een uitstekende menselijke klantervaring te bieden, wij staan achter jou. Laten we eens praten over uw specifieke wensen. De prijs zal worden vastgesteld op basis van jouw verzoeken.
Have a question you need answered?
If you have any questions regarding CloudTalk Coverage or the phone numbers, please get in touch at
How does free trial work?
Simply send us your contact information and we will send you access to a free CloudTalk trial with no strings attached. You can immediately start making phone calls with CloudTalk.
What are your outbound call prices?
Each package includes one standard local or toll-free number for free. Prices of outbound calls vary, please contact us for more details.
Who is an user?
Users work for your company and communicate with your existing and potential clients. You can add or remove users in just a few clicks anytime you need. As a user you can imagine your agent, supervisor, analyst, administrator etc.
Can I change my subscription plan anytime?
Plans billed annually can only upgrade to a higher tier plan (e.g. From Essential to Expert). It's not possible to downgrade on annual billing.
Can I use CloudTalk for more activities?
Definitely. CloudTalk can be used in many different ways, be it customer support, contact center, virtual phone system or active call center. Our solution is perfect for companies operating several e-commerce at the same time in need of separate customer support for each e-commerce.
What about data safety?
The safety of your data is our topmost priority. CloudTalk uses third-party data centers with industry-standard certifications (Tier III+ or IV, ISO 27001, PCI-DSS). All facilities include physical protection. Interface is accessed through an encrypted SSL connection. You can read more at our page dedicated to 
Security
.