More data, less stress.
Explore the best Genesys Cloud CX alternative
CloudTalk is a smart and budget-friendly choice for businesses of any size.
Smooth calling through globally distributed infrastructure
Out-of-the-box custom reporting according to your needs
Clear interface and dashboard and mobile app
Real-time call center monitoring
Dedicated support whenever you need
2500+ companies chose CloudTalk as their call center software
Looking for a budget-friendly but smart choice?
CloudTalk vs. Genesys Cloud CX
Pricing

The basic plan starts at

$20 per user/per month.

Genesys Cloud CX1 starts at

$75 per user/month.

Real time updates

The real-time dashboard shows key metrics like

call queue statistics, average wait time, active calls, and agent status.

Pre-defined templates for reports.

Performance dashboards and historical reporting are available.

Real time customer card

Know

who you are talking to before picking up the phone.

CloudTalk gathers all customer information like

history of interaction or notes

and lets you deliver a more personalized customer experience.

Shows your current performance dashboard with overall information about all call center activities.

No customer real-time card is available.

Number porting
Use your existing phone numbers by porting them to CloudTalk. Import geographic (local), national or mobile numbers with help from our Support team.
The process for porting DID phone numbers into PureCloud Voice is a manual procedure that our support technicians perform for you.
Local caller ID

The automatic outbound caller ID feature ensures that your agents

call your foreign-based clients from a local phone number.

Allows you to reach customers via their predefined channels, and implement automation features. Do not offer local caller ID.
Workflow designer
Create customer-specific business process flows even when using several different platforms. Customize your own workflow using our IVR, skill-based routing, or other features according to your needs.
Lets you optimize call center workflow with integrated agent and workflow capabilities to deliver an omnichannel customer journey.
Call tagging
Label each call with a self-made tag. This allows you to sort calls into categories and quickly identify what type of call it is.
Genesys Cloud CX is built on AI which does not allow agents to sort their tickets according to custom tags.
Call Notes
Make your work more efficient with custom notes to every call. Get a fast and detailed overview of interactions and sync it with a CRM or help desk tool of your choice.
Allows to view users, except for Status Notes like the specific status of forward, out of the office, or away.
User management

Manage your agents online.

Assign them to a specific call queue, and modify their details with one click.

Genesys Cloud CX lets you manage the dialer, workforce, or phone but

does not allow you to manage the user on your own.

Integrations
Make your work more productive with Cloudtalk's 40+ integrations. Salesforce, Hubspot, Pipedrive, Shopify, and many more.
Offers you several CRM and third-party integrations. Most of them for an additional cost.
Virtual call center
Create your virtual call center within 5 minutes. No need to invest in phone hardware or work with IT experts. All you need is your internet browser and a headset
Genesys Cloud CX does not allow you to create several profiles (virtual agents)
Comparison data is based on an analysis from Q4, 2021.
Data-driven decisions boost business performance
We believe in human touch and real-time data.
Custom reporting
according to your needs
Want more than our standard statistics? We have got you covered. Use different filters, e.g. by agent, phone number, or timeframe, to view data that really matters to you. Custom filters will generate reports relevant to your business goal, and track important KPIs.
Emotional analytics
help you to keep a human face
Keep up with the current trends. Emotion analytics allows your agents to rate their conversation or customer's mood after every call with a single click. Team leaders can get relevant feedback, which helps them in terms of one-on-one meetings with agents. This data-driven feedback improves your overall customer experience.
The real-time dashboard
keeps you up-to-date
Provide more effective customer support with key metrics displayed by individual call queues and agents. In a user-friendly and intuitive CloudTalk interface, all available metrics are displayed in a separate Real-time Dashboard tab. This helps you to make smarter decisions immediately and increase customer satisfaction.
---
---
Call center software you can rely on
CloudTalk was made to serve your business needs. We built a strong server infrastructure, so your call can be as smooth as possible, without any interruption or unexpected drops. Besides that, you can:
use our callback feature to redial unanswered calls.
Count on smart detection of resolved missed calls to keep an eye on low missed calls rate.
Set up business hours to let your customers know when you're available.
Pick a time range when agents are not available to finish all after call work.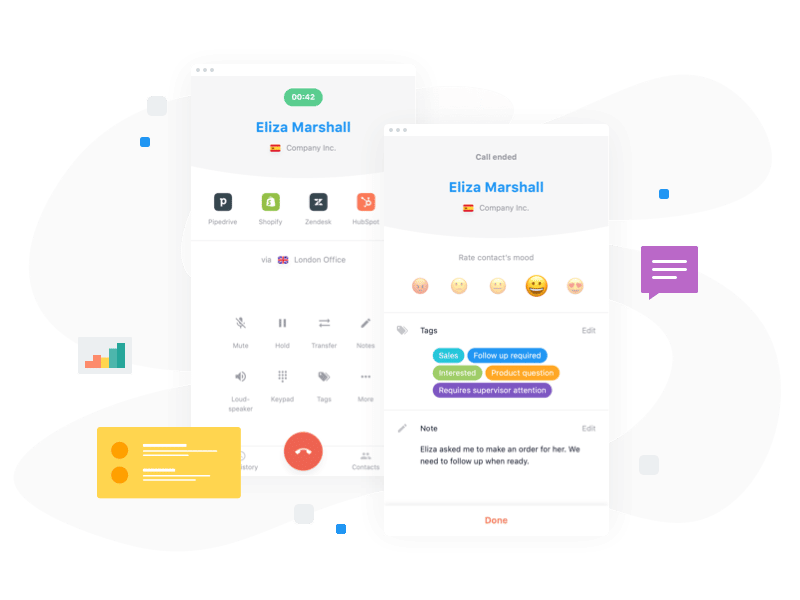 Smooth after call evaluation with no time pressure
Staying organized might be hard if you have a small team and a lot going on at your call center. Give your agents a little more time to process and evaluate the call when it ends. The after-work feature allows you to pick several predefined amounts of time within which the agent won't be available to accept the next call.
---
Be amazed by what you can do with over 30+ integration
---
We have the best offers for businesses of any size
Choose a membership that suits you best.
Essential membership makes day-to-day tasks more effective
Boost your productivity while paying less. Essential membership lets you explore all voice features and intelligent call routing features, including real-time customer cards. Dig deeper with advanced analytics features with unlimited history. For $25 per user/per month.
Expert membership for full-powered customer support
Go beyond what you have expected. Expert membership offers you each of our top features. Advanced analytics with custom reporting and agent reporting, Salesforce, and other 40+ integrations. Enjoy smooth onboarding, single sign-on, and customizable IVR /call flow. This is all we offer for $50 per user/per month.
The tailor-made choice for those who know just what they want
The tailor-made choice for those who know what they want. Whether you require a fully automated call center, or steady features to provide an excellent human-powered customer experience, we've got your back. Let's have a chat about your specific wishes. The price will be set based on your requests.
Have a question you need answered?
If you have any questions regarding CloudTalk Coverage or the phone numbers, please get in touch at
How does free trial work?
Simply send us your contact information and we will send you access to a free CloudTalk trial with no strings attached. You can immediately start making phone calls with CloudTalk.
What are your outbound call prices?
Each package includes one standard local or toll-free number for free. Prices of outbound calls vary, please contact us for more details.
Users work for your company and communicate with your existing and potential clients. You can add or remove users in just a few clicks anytime you need. As a user you can imagine your agent, supervisor, analyst, administrator etc.
Can I change my subscription plan anytime?
Plans billed annually can only upgrade to a higher tier plan (e.g. From Essential to Expert). It's not possible to downgrade on annual billing.
Can I use CloudTalk for more activities?
Definitely. CloudTalk can be used in many different ways, be it customer support, contact center, virtual phone system or active call center. Our solution is perfect for companies operating several e-commerce at the same time in need of separate customer support for each e-commerce.
The safety of your data is our topmost priority. CloudTalk uses third-party data centers with industry-standard certifications (Tier III+ or IV, ISO 27001, PCI-DSS). All facilities include physical protection. Interface is accessed through an encrypted SSL connection. You can read more at our page dedicated to Security.
Do you provide discounts for new customers?
Yes, if you sign up for CloudTalk for 12 months in advance, you will get more than 30% discount on the price of your package.