| 1 Jan 2023
Remote work - Call Center
Top 6 collaboration tools for remote teams in 2023
Due to the spread of the COVID-19 virus around the world, many companies have been forced to quickly adopt a 100% digital routine as a means of enabling work from home.
At CloudTalk, we've been going through the same challenging processes and have succeeded at overcoming a few obstacles related to switching to remote working almost overnight.
To support other businesses in their transformation to remote work, we've curated a list of 6 battle-tested tools and applications that will help you move your operations online. We will also share a few tips about how to choose the best tools for your business.
What to keep in mind when choosing tools for remote teams?
Before we share a list of the remote work-friendly tools that we can recommend, let's discuss what you should pay attention to when completing your teleworking tech stack.
Before you decide to purchase any digital solution, you need to analyse at least four variables: usability, available features, security and support.
Why should you do this in the first place? Well, since using tools that are not a perfect fit for your team may result in wasted money, service delivery gaps, and demotivation among users who work with these solutions.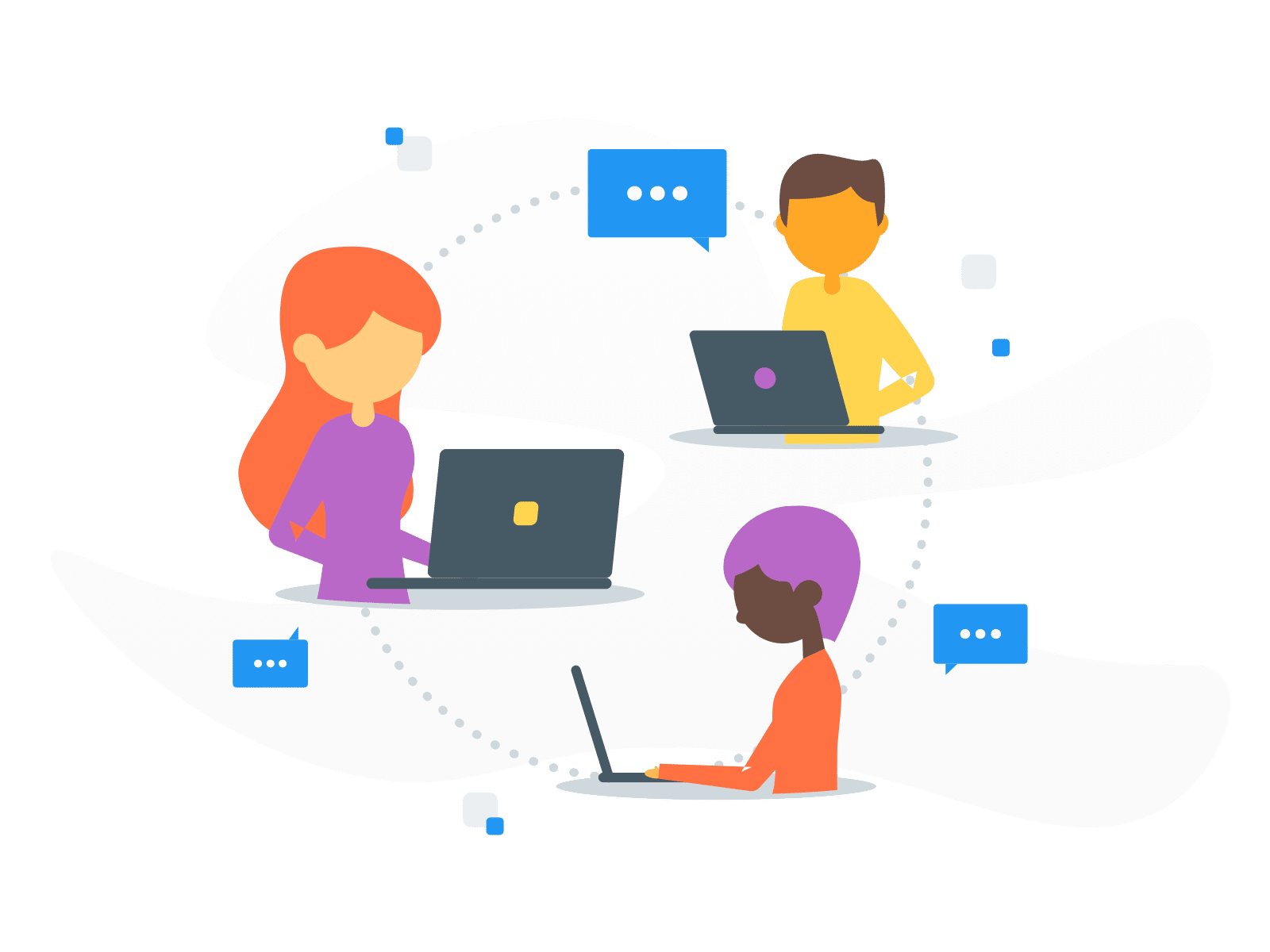 Usability
Not all members of your remote team have to be IT experts with a vast understanding of complex technological solutions. What's more, none of them, except developers of course, necessarily have the coding skills that would help them with automating processes, or with building simple integrations to streamline workflows and expansive processes.
That's why it's important to choose tools and apps that have rather simple and user-friendly interfaces, so that every team member, even if they are not particularly tech-savvy, can quickly learn how to use them.
Find the best cloud-based contact center system
Features
Most of the digital solutions available on the market offer a wide variety of advanced features. On the one hand, this is a good thing because you have plenty of options to choose from, but on the other, it may lead to confusion and make it really hard for you to decide which tool is the perfect fit for your team.
To choose a tool with just enough features and functionalities, this is what you should focus on:
compatibility with various operational systems,
exclusive access,
availability of use on various devices at the same time,
possibility to regularly configure parameters that enable changes to the way remote teams are managed and controlled,
speed of file and information transfers,
and the possibility to manage files remotely (including the option to remove files).
Security
Solutions used by remote teams must be exceptionally secure because your organization won't have a great deal of control over the devices that your employees use to access these solutions. So before selecting any tool, check the following aspects:
Has this tool even been a victim of any security breach that resulted in customer data being compromised?
Are there any well-known companies that already use this solution?
Can a user have total control over remote connections?
What measures have this tool provider taken to protect the security of their users?
Invest time in checking opinions about each tool that you are planning to implement in your future remote tech stack.
Keep digging until you find enough positive reviews, if they indeed exist, to be certain that this particular solution will meet your expectations regarding security.
Support
It's more than likely that at some point, yourself or a team member will need a little support when using a new tool. The need for assistance may be related to a simple software reconfiguration and adapting it to your needs, learning how to use certain features, or resolving some technical issue.
That's why you should purchase a tool that offers excellent customer support, ideally which is available 24/7.
If you are already aware that one particular solution is known for its outstanding customer support team that is always there for its customers, treat this as a convincing enough reason to invest in that tool.
Choose solutions that will be the perfect fit for your remote teams
Every team is different, so it's important to conduct a thorough analysis of your team's working habits before sitting down to pick a remote-work solution. Once you have a good understanding of what makes your team tick, you can pick tools that will help them excel — and produce top-tier material for your company from the comfort of their homes.
#1 Communication between team members who work remotely
A tool that enables the communication between team members is one of the most critical elements of any remote work tech stack. Having an internal chat can speed up processes and will help you to avoid lengthy email chains. In addition, internal chats are the professional versions of messenger apps like WhatsApp and Telegram, so these solutions can be left for personal use.
Hangouts. This tool is handy for those who already use Gmail since it enables access to a chat directly from the inbox. Just select a contact from your list, open the chat tab and start talking. Hangouts can also be used to make video calls.
Slack. A chat for large or small teams, which allows you to create different groups and multiple channels within the same organization. Slack can be used for quick, written conversations. Most often, it's used to communicate matters that are urgent but simple.
Discord. A channel for exchanging information verbally, Discord offers both chat and video call options. You can also share your screen with other users. This solution helps teams to feel more united with good communication, despite being physically spread out around a city, country or even the world.
Chanty. Communication between team members who work remotely. Super easy to setup, use and loved by their customers.
#2 Platforms for organizing and planning e-meetings during remote work
#3 Project management tools to organize remote teams
One of the most complicated tasks during working from home is keeping track of everything each team member is doing. The ability to keep up with each project can be affected by the new conditions.
Sometimes it can be difficult to adjust to them, especially if the decision to operate fully remotely had to be made quickly. For this reason, we will also share with you a number of tools for project and task management below:
#4 Cloud-based solutions for customer support and sales operations
CloudTalk. It's a comprehensive solution offering cloud-based phone systems for remote teams, call centers, customer service, sales teams, and many more. Your employees won't need a landline connection or any phone hardware to connect with prospects or customers. Read this article to learn how our team uses CloudTalk while working remotely.
Salesforce. A cloud-based customer relationship management platform that allows you to handle all customer interactions and store data about these interactions online, using an extensive and secure system.
LiveChat by LiveAgent. It's an end-to-end live chat solution that enables your website visitors to connect with customer service agents quickly. All conversations are stored in a cloud-based dashboard, so your reps can be based anywhere in the world and still will be able to assist your customers within seconds.
#5 Support software for teleworking employees
When we work as a team that has all of its members present at the office every single working day, we are not used to working from a distance. Because of that, sometimes even small problems become difficult to overcome when working remotely.
One such problem could be maintaining proper functionality of all the devices that have to be used every day. In larger companies, there is usually a department or professional that takes care of this, while in smaller companies there should at least be the possibility to ask a colleague sitting nearby for help.
But when there's no one to lend a hand when working remotely, your team needs software to support them.
TeamViewer. Remote support software for larger companies and more complex systems. In addition to desktop support, TeamViewer has an Augmented Reality tool, and it also offers support for mobile devices.
LogmeIn. A program that allows the access and handling of computers from a distance in a safe way. With LogmeIn, it's also possible to automate technical routines, plus it's used to help teams that are located in different offices within the same company. With this tool, it's not necessary to hire a professional who would be responsible for helping only a few employees.
#6 Solutions to manage and store information or files
Google Drive. Google's platform for creating and sharing different types of documents. Here you can create text files, Excel sheets, presentations, images and more. It's also very useful because many people can use it at the same time to open documents simultaneously from any device. It is also possible to edit as a group by sharing permissions with each user.
Dropbox. Software that allows us to store documents in the cloud and manage folders intelligently. In addition to securing the uploaded data, it allows you to access it from anywhere.
iCloud. Cloud storage for Apple users. This system is extremely useful for those who work with several Apple devices. Much of your information, including photos were taken with your iPhone, can be saved automatically and accessed later with your Apple ID. This solution is intended more for companies that offer design and marketing services.
Filecamp – A digital asset management system that helps you to manage all of your digital resources in the cloud and collaborate on them with your team easily.
One Drive. Microsoft's solution for storing and sharing documents in the cloud. In addition to having an online Office suite, OneDrive can provide links with an expiration date for higher data security.
Sum Up
Moving all business operations online is not an easy task, and it simply can't be done without the right tools or apps. By implementing reliable digital solutions, you can help to ensure that productivity is maintained while working from home.
The right tech stack will also support yourself and your team with planning your time appropriately, in order to balance teleworking with your personal life and other activities. Choose your favourite tools and try them out today, but remember: stay home!