Looking for a (Mitel) MiCloud Connect alternative? Choose a reliable provider
What will you get if you choose a real partner?
14-days of free trial to test everything we have
Smooth calling through globally distributed infrastructure
Out-of-the-box custom reporting and advanced analytics
CloudTalk mobile app to go
2500+ call centers and phone systems powered by CloudTalk and counting
Looking for a budget-friendly but smart choice?
CloudTalk vs. MiCloud Connect
Pricing

The basic plan

starts at $25 per user/per month

with unlimited calls, 140+ international numbers, and a bunch of productivity features.

Price disclosed upon request. Offers 3 plans, starting at $20.99 per user per month. This includes telephony plus collaboration and conferencing capabilities.
Free trial

A 14-days period

to see that CloudTalk is the best go-to solution for your business.

Does not offer a free trial.
Integrations
CloudTalk plays well with others. Pick your favorite CRM or helpdesk out of our 40+ one-click integrations, or install your own with an open API.
MiCloud Connects offers a separate collaborative platform, so you can opt to enable the integration.
Reporting
Advanced analytics with custom reports for data-driven decisions. No extra costs.
Fixed number of reports with extra fees for modifying or adding new ones. Requires integration with third-party products to get the analytics you might prefer.
Notifications
Make sure to never miss a call with real-time desktop notification. When a call comes in, CloudTalk will alert you so you know who is calling.
Does not offer a desktop notification feature.
Commenting/notes
Add notes and tags for each customer after a call has ended. This way, you and your colleague will know the status of the case and see what to do next.
Does not offer to add notes or tags.
Dialers
Boost your productivity with Smart Dialer, Power dialer, Predictive dialer, and Click-to-call feature.
Offers predictive and progressive dialer.
Real-time updates
CloudTalk keeps you up to date with real-time notifications on your desktop. It tells you - what is going on in your call center via wallboard.
Does not offer real-time updates.
Call flow management
Create your own call flow with our Designer. Implement IVR, voicemail feature, call back tool, personalized messages, and more to get the best out of your productivity.
Offers IVR and music on hold.
Contact history
Complete customer interactions history always within easy reach. CloudTalk will automatically display previous calls, orders, chats or notes, so agents don't have to look them up in multiple systems.
Does not offer a contact history preview.

Comparison data is based on an analysis from Q4, 2021.
Take care of your customers.
CloudTalk will do the rest.
Better call routes and strong connections all over the globe let you focus on delivering the best experience possible. Boost your work, even more, thanks to modern interface and smart technology.
Globally distributed server infrastructure
Instead of relying on a single partner, we offer you the reliability of strong relationships with telco partners all across the world. Therefore, we are able to secure better calling routes and offer stronger connections. In addition, CloudTalk itself is a registered operator in multiple countries.
Never miss a call warranty
Don't let your prospects down by not answering their calls. CloudTalk's Callback feature helps you reduce the call abandonment rate by 32%. Give your customers a chance to reach you without lengthy waiting. With this feature, they have the ability to opt out of your queue and get a callback later instead.
40+ powerful integrations love CloudTalk
We want you to work with tools you love and know well. CloudTalk offers more than 40 CRM and helpdesk integrations, which can be installed with a simple click. Did not find your system? Install it easily with our API feature.
Choose what you love. Take a look at all integrations CloudTalk supports
---
---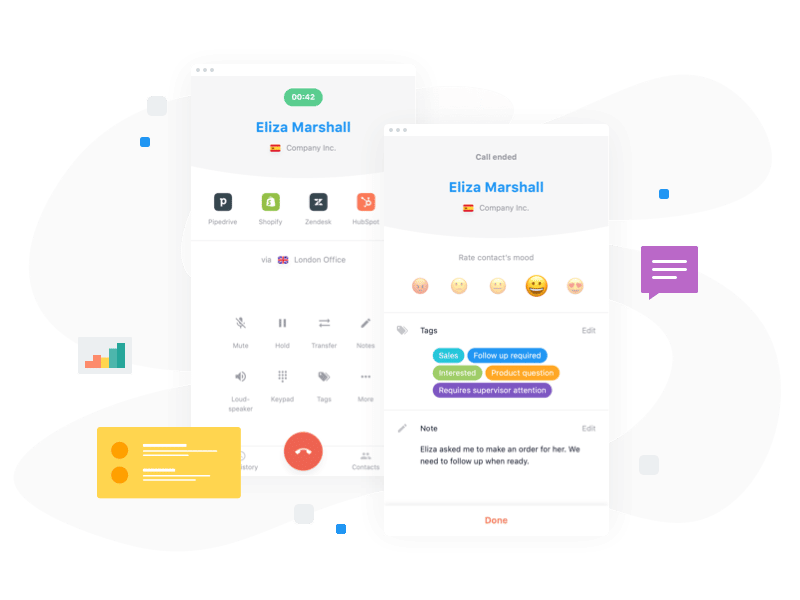 User-friendly interface with a pinch of a modern look
CloudTalk was made to serve your business needs. We have created an intuitive dashboard that will show you everything you need, with real-time data and all your favorite features at the hand. CloudTalk's responsive interface allows you to use our software on a device of your choice. All features, including account administration, are 100% compatible with your laptop, tablet, or smartphone.
Make important decisions based on data that matter to you.
Wish to create a report that matters to you without the need of installing third-party tools? CloudTalk allows you to create custom reports based on agent reporting, call monitoring, call statistics, and even emotional analytics. You can get this and more if you choose to work with us.
CloudTalk is here to ease your work
and help you deliver the best customer experience.
We have created reliable productivity features that complement each other
and help you boost productivity.
Bring order and clarity to your call data
The key to personalized and effective work is the right system. After a call has ended, allow your agents to complete all follow-up tasks. The after-call-work feature offers you to pick from predefined amounts of time (from several seconds up to 15 minutes) during which the agent will not be available to accept calls. Add notes, tags, and evaluations for each customer, so you always know where you left off.
Take the "Never miss a call" to the next level
Happy customers are your aim, right? Provide them with prompt answers thanks to the desktop notification. When an incoming call comes in, CloudTalk will automatically alert you, so you instantly know who is calling. This works best with the Ring on speakers feature and Ring groups tool.
Personalize the communication from the very beginning
CloudTalk's Caller ID feature enables your agents to view the caller's name and phone number the moment the call comes in. This allows them to address the caller by their name. For example: "Hello Michael, how can I help you today?" The caller will be pleasantly surprised and the agent can provide them with even more personalized service.
Have a question you need answered?
If you have any questions regarding CloudTalk Coverage or the phone numbers, please get in touch at
How does free trial work?
Simply send us your contact information and we will send you access to a free CloudTalk trial with no strings attached. You can immediately start making phone calls with CloudTalk.
What are your outbound call prices?
Each package includes one standard local or toll-free number for free. Prices of outbound calls vary, please contact us for more details.
Who is an user?
Users work for your company and communicate with your existing and potential clients. You can add or remove users in just a few clicks anytime you need. As a user you can imagine your agent, supervisor, analyst, administrator etc.
Can I change my subscription plan anytime?
Plans billed annually can only upgrade to a higher tier plan (e.g. From Essential to Expert). It's not possible to downgrade on annual billing.
Can I use CloudTalk for more activities?
Definitely. CloudTalk can be used in many different ways, be it customer support, contact center, virtual phone system or active call center. Our solution is perfect for companies operating several e-commerce at the same time in need of separate customer support for each e-commerce.
What about data safety?
The safety of your data is our topmost priority. CloudTalk uses third-party data centers with industry-standard certifications (Tier III+ or IV, ISO 27001, PCI-DSS). All facilities include physical protection. Interface is accessed through an encrypted SSL connection. You can read more at our page dedicated to 
Security
.