Looking for a (Mitel) MiCloud Connect alternative? Choose a reliable provider
Call Quality: Better sound quality and connectivity
Features: Advanced capabilities to serve any use case.
Country Coverage: 160+ options to expand internationally.
Let's talk! Book a strategy call today
| | | |
| --- | --- | --- |
| Pricing | Starts at $25 per user/month | Prices upon request |
| Free trial | 14-days, no credit card required. | |
| Integrations | 40+ | |
| International Numbers | 160 | 18 |
| Reporting | Advanced analytics with custom reports. No extra costs. | Fixed number of reports with extra fees. |
| Notifications | | |
| Commenting | | |
| Dialers | Smart Dialer, Power Dialer and Predictive Dialer. | Predictive and Progressive Dialer. |
| Real-time Updates | | |
| Call Flow Management | Implement IVR, voicemail, call back and many more. | IVR and music on hold. |
| Contact History | | |
2500+ call centers and phone systems powered by CloudTalk and counting
Take care of your customers.
CloudTalk will do the rest.
---
#1 Rated call center software
Based on 400+ CloudTalk reviews on 6 independent software marketplaces & platforms
---
Integrate CloudTalk with tools
you love the most
Connect CloudTalk with powerful and easy one-click CRM and helpdesk integrations. Automatic 2-way synchronization makes that all your data are always up-to-date.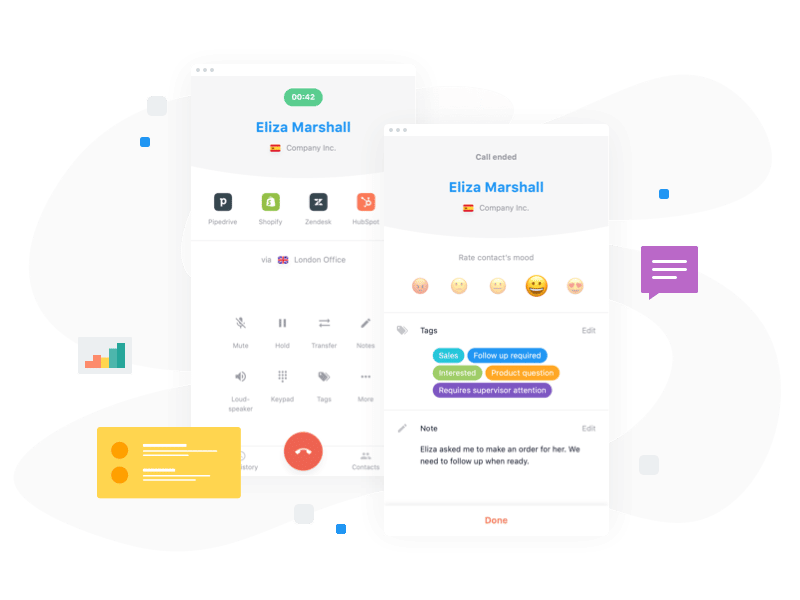 User-friendly interface with a pinch of a modern look
CloudTalk was made to serve your business needs. We have created an intuitive dashboard that will show you everything you need, with real-time data and all your favorite features at the hand. CloudTalk's responsive interface allows you to use our software on a device of your choice. All features, including account administration, are 100% compatible with your laptop, tablet, or smartphone.
Make important decisions based on data that matter to you
Wish to create a report that matters to you without the need of installing third-party tools? CloudTalk allows you to create custom reports based on agent reporting, call monitoring, call statistics, and even emotional analytics. You can get this and more if you choose to work with us.
Handling a high volume of phone calls?
Do so with grace! CloudTalk's softphone allows you to make and receive calls seamlessly, on any device with an internet connection. Explore all the features that a desktop phone lacks. Enjoy the flexibility of CloudTalk's remote-ready solution and always deliver the best customer service possible.
Watch how CloudTalk works
We will show you how to use the Cloudtalk desktop app, click to call feature and the smart dialer. We will also demonstrate CloudTalk's dashboard features
Switch from MiCloud (Mitel)
Looking for a MiCloud (Mitel) Alternative? Look no further!
You've seen the reasons why you should consider CloudTalk as your MiCloud (Mitel) alternative.
After all, MiCloud (Mitel) does have a number of limitations to worry about. The solution lacks essential features for outbound sales teams, for example, auto-dialers, such as a power dialer or a predictive dialer. They also don't offer a free trial, although a 90-day money-back guarantee is available.
But of course, there are plenty of fish in the sea, so to help you make a good and informed decision, we've collected the top X competitors on the market. In this article, we'll discuss their strengths, weaknesses, and prices.
9 Best MiCloud (Mitel) Competitors
So, without further ado, let's take a look at the competition:
CloudTalk
8×8
Ringcentral
Nextiva
Vonage
Skype
Dialpad
Avaya
Cisco
#1 CloudTalk
Here's why you should give CloudTalk a try:
High-quality calls with guaranteed latency and minimal jitter
Smooth workflow with our Intelligent call-routing tools
Callback feature that redials the number until connected with the agent
Redirecting calls during busy hours or when outside the office
The call masking feature keeps your personal number private
Plans start at $25/month with a free trial and demo.
MiCloud (Mitel) Alternatives: The Final Verdict
We hope that you're now a step closer to choosing the right provider.
Regardless of your company's size or focus, CloudTalk is here for you. With 70+ features and integrations covering almost every niche, our affordable solution can help SMBs and enterprises alike. Give it a try free for 14 days and see for yourself!
And for more content like this, check out our site.
Have a question you need answered?
If you have any questions regarding CloudTalk Coverage or the phone numbers, please get in touch at
How does the free trial work?
Simply send us your contact information, and we will send you access to a free CloudTalk trial with no strings attached. You can immediately start making phone calls with CloudTalk.
What are your outbound call prices?
Each package includes one standard local or toll-free number for free. Prices of outbound calls vary, please contact us for more details.
Users work for your company and communicate with your existing and potential clients. You can add or remove users in just a few clicks anytime you need. As a user, you can imagine your agent, supervisor, analyst, administrator, etc.
Can I change my subscription plan anytime?
Plans billed annually can only upgrade to a higher tier plan (e.g., From Essential to Expert). It's not possible to downgrade annual billing.
Can I use CloudTalk for more activities?
Definitely. CloudTalk can be used in many different ways, be it customer support, contact center, virtual phone system, or active call center. Our solution is perfect for companies operating several e-commerce at the same time in need of separate customer support for each e-commerce.
The safety of your data is our topmost priority. CloudTalk uses third-party data centers with industry-standard certifications (Tier III+ or IV, ISO 27001, PCI-DSS). All facilities include physical protection. The interface is accessed through an encrypted SSL connection. You can read more on our page dedicated to Security.