Never miss a single ring-switch to CloudTalk
Looking for a MightyCall alternative? CloudTalk is a budget-friendly choice for businesses of any size.
High quality calls with guaranteed latency and minimal jitter
Smooth workflow with our Intelligent call routing tools
Callback feature that redials the number until connected with the agent
Redirecting calls during busy hours or when outside the office
Call masking feature keeps your personal number private
Plans start at $25/month with a free trial or demo.
2,500+ call centers and phone systems powered by CloudTalk and counting
Wondering how exactly smooth calling feels like?
Cloudtalk is made to support your work across all devices, even when you are outside of the office.
CloudTalk vs. MightyCall
Basic membership

20

$

per user/ per month

with unlimited users. Free inbound and internal calls and other features.

29,99

$

per month

with limited minutes. Only 10 clients are in the contact book.

Essential membership

25

$

per user/per month

with client real-time dashboard, open API, and other advanced features.

49,99$ per month

without call analytics and call statistics or any workflow automation.

Expert membership

40

$

per user/per month

, including IVR, open API, and smart routing.

99,99$ per month

, still missing workflow automation or IVR functions.

Dialing feature
The Click-to-call feature allows you to dial any number on the web with just one click.
The Dial-by-Name feature can connect you with a specific number, which is saved under the name.
Call forwarding / warm transfer
Automatically forwards calls to external phone numbers when your agents are busy. The warm transfer also allows you to redirect a call to another agent with the opportunity to speak with the customer first.
When receiving a call, MightyCall forwards it to a physical phone, VoIP, cell phone, or to a voicemail.
Call distribution
The ACD (automatic call distribution) feature makes sure that all inbound calls are directed to the most qualified agent, based on available data. Works best with IVR, call queuing, and business hours.
Offers you the call flow configuration, which allows setting a specific route for incoming inbound calls.
Call masking
CloudTalk protects your private number until you decide to share it with a specific customer.
Gives you a virtual phone number, but is not able to ensure that your personal one stays private.
Notification
When an incoming call comes in, CloudTalk automatically alerts you, so you know who is calling.
MightyCall does not offer desktop notification for any type of call.
Call queuing
Improve the on-hold experience with advanced call queuing strategies, personal greetings, or custom music. Sort incoming calls
You can only divide calls into several groups by your needs.

Comparison data is based on an analysis from Q4, 2021.
3 highlights
that will improve your customer service
Choose a call software you can rely on.
High-quality calls
Forget dropped calls or interruptions. All call quality is monitored live, so we are able to offer a strong connection and immediately switch you to the best possible calling route.
Personalization
We want automation and personalization to go hand in hand with your customer support. CloudTalk offers customized greetings, played to the caller based on specific situations. Easily record welcome messages, IVR menu, or out of the business hours notification.
User-friendly interface
To deliver the best, you need to have the best. When using CloudTalk, you find everything you desire right on hand – 50+ advanced calling tools, CRM, and over 40 most-used integration, as well as 24/7 passionate customer support. They will hear you out whenever you need assistance.
---
#1 Rated call center software
Based on 400+ CloudTalk reviews on 6 independent software marketplaces & platforms
---
Integrations enhance productivity and we offer 40+ of them. Boost your efficiency right at your hand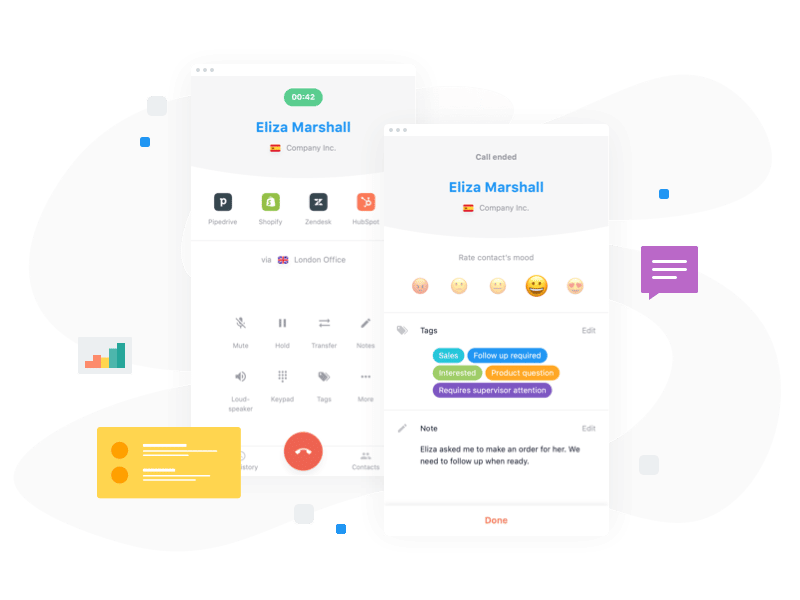 See how easy calling can be with an advanced routing feature
The skills-based routing and preferred agent feature help you deliver the best customer experience and simplify workflow. Let the automation select inbound calls and route them to the most qualified agent available. You can also set the preferred agent for each client to provide them with even more pleasant support.
Improve customer experience
CloudTalk turns mediocre support into a smooth experience. We help you optimize your customer service in order to grow your business faster. Build strong relationships with your customers with:
personalized "thank you" notes after sales with our SMS/text message feature
calling customers by their name, since it is displayed on CloudTalk Customer real-time card
built-in survey feature that helps you get feedback
training your agents with the real situations from your recorded calls
Better experience for your customers
Start 14 days free trial
Fill in the form and experience cloud-based contact center for innovative businesses by yourself. Be the company your customers want you to be. Set up takes just 5 minutes.