Use CloudTalk to discover the potential of your business with Zoom Phone Alternative
Overcome your expectations and rely on the best Zoom Phone alternative.
Easy setup within 5 minutes
ISO 27001:2013 certified data protection
Power trio dialers for smarter and easier calling
Personalized communication with Caller ID
Powerful integrations, including Salesforce
Don't settle for good.
Aim for the best VoIP alternative
CloudTalk vs. Zoom Phone
| | | |
| --- | --- | --- |
| Pricing | 3 types of membership according to your needs. Plans start at $25 per user/month. Offers tailor-made options. | Zoom Phone starts at $89,28 per user/year. Does not allow purchasing only audio service, video service is required. |
| Features in membership | CloudTalk provides three types of memberships with a greater number of features. Choose a membership according to your needs and never pay more. | Simple features are offered in every membership. For advanced features like international calling and toll-free numbers, there is a significant add on. |
| Call Routing | Deliver the best customer experience. Rely on Skills-based or agent routing to connect the customer with the right agent. It works best with automated call distribution. | Manage rules to redirect calls to internal users and external phone numbers |
| Click to call | Dial any phone number on the web with a single click. Make calls instantly from a web browser to boost your team productivity. | Does not offer this feature. You need to manually click each digit before making a call. |
| Call masking | The Call Masking feature ensures that your personal phone number stays private. No need to share it with everyone you are calling — show it only to the callers you choose. | Does not offer this feature. |
| Outbound caller ID | Set an automatic outbound caller ID, based on the call destination country. Your clients abroad will receive a local phone call instead of an international one. | Does not offer this feature. |
| Real-time notifications | Desktop notification will automatically alert you when a call comes in, so you instantly know who is calling. An additional feature "Ring on speakers" reduces the risk of accidentally missing calls. | You can monitor, troubleshoot, and diagnose Zoom Phone call quality and network issues with quality dashboards. Real-time data is not available. |
| Call notes and tagging | Assign a custom tag to each call. Use call notes for better call center organization, and team performance. | Does not offer this feature |
| Video and audio conferencing | Improve teamwork with conference calls. You can schedule conference calls easily in a couple of minutes and invite external contacts, e.g. your clients, suppliers, etc. | Video and audio conference calls come as Zoom Phone's key product. But does not offer to save the video conference footage and view it later. |
| Dialers | Power dialer is useful for telemarketing campaigns, Smart dialer automatically compiles a list of numbers, and when an agent is available, a Predictive dialer automatically dials the next call-in line. Choose one or all of them. | Zoom Phone does not offer any of these features. |
| Creating tasks | Add new contacts. Create tickets and tasks. Edit orders in your CRM, helpdesk, or e-commerce solution directly in CloudTalk. Streamline your workflows with our effective solution for customer calls. | Assign the privilege to make and receive calls to administrative assistants on behalf of executives |
| | | |
Comparison data is based on an analysis from Q4, 2021.
#1 Rated call center software
Based on 400+ CloudTalk reviews on 6 independent software marketplaces & platforms
Make it personal.
Choose CloudTalk to deliver the best customer experience
Individualized voicemail messages for your virtual phone
Make sure that no inbound calls remain unanswered. Even outside of your business hours or when all agents are busy. Give your clients the option to leave a message that is automatically sent to the appropriate agents or group of agents who respond to the query. For example, if your customer wishes to talk to your tech support, the message will be sent directly to a specific tech support agent.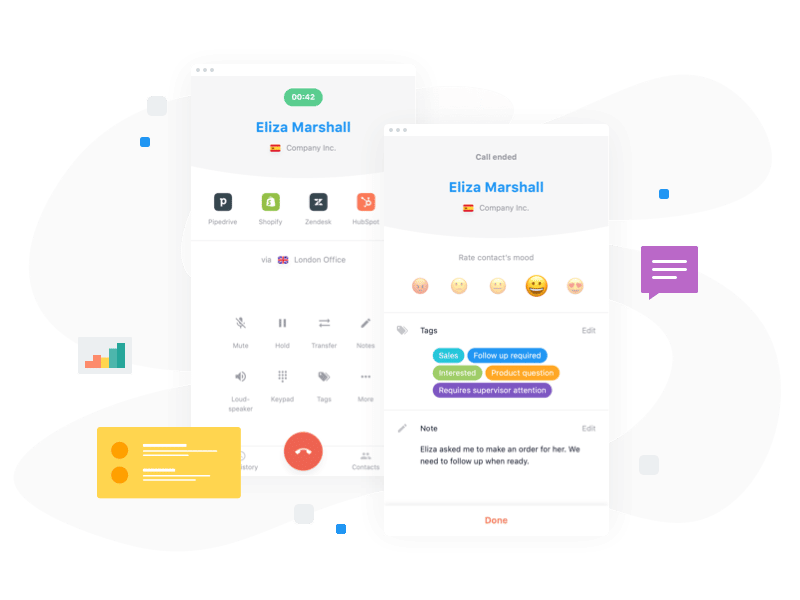 Personalized customer service with caller ID
"Hi Michael, how can I help you today?" sounds much better than "You have reached the support department, what is your issue?" Improve customer interactions by delivering something extra from the very first second. CloudTalk will show you the name of the caller, their phone number, and much more. Even before the call connects.
Customized greetings based on specific situations
Our PBX solution allows you to create personalized greetings and messages tailored to your business needs. CloudTalk's intuitive and user-friendly interface includes a Messages tab, where you can create as many customized messages as you wish – welcome message, outside business hours message, personalized voicemail greetings, and many more.
---
Don't take only our word for it.
See how CloudTalk looks like
---
Salesforce and other 40+ one-click integrations to boost your performance
With CloudTalk, you can integrate Salesforce, Hubspot, Zapier, Pipedrive, and more. Get a modern call center inside your favorite CRM. Convert more deals with smart, automated dialing and handle incoming queries with ease. Automatic data synchronization in both systems means that you always have access to up-to-date information.
Work with apps you love. CloudTalk offers 40+ integration to enhance your workflow
---
Dedicated customer service is always at your hand
Whether you have a Starter or Expert membership, we are here for you. We take every customer as our number one priority, even during weekends and holidays. Enjoy smooth workflow while being supported by the best professionals across different time zones.
Wondering how to start with Cloudtalk? We've got you covered! Our dedicated onboarding specialist is here to walk you through everything you need.
What else do you get with CloudTalk?
We offer more than 100 features to level up your performance. Choose the ones that suit you best. For example:
Call flow designer
Create your own workflow and manage your inbound calls step by step. No time for response limitations. Call flow designer works best when paired with IVR, callback feature, voicemail, and others.
Click-to call feature and power dialers
Tired of manually clicking the numbers when dialing? Forget this outdated way. Spare your precious time. With our Click to call feature, you can initiate calls directly from your internet browser, CRM, or helpdesk tool. Aiming for more? CloudTalk lets you choose from three compelling dialers – Power dialer, Smart dialer, and Predictive dialer.
Google Single sign-on
Don't want to log back in every time you leave your device? Then you are in the right place! CloudTalk offers your employees a smart, easier, and more secure way of signing up to various apps. Just with their Google account credentials. On any device, in any web browser, without risking an information breach.
---
Over 2500 call centers and phone systems
are powered by CloudTalk
READ THE LATEST CUSTOMER STORIES →
Have a question you need to be answered?
If you have any questions regarding CloudTalk Coverage or the phone numbers, please get in touch at
How does a free trial work?
Simply send us your contact information and we will send you access to a free CloudTalk trial with no strings attached. You can immediately start making phone calls with CloudTalk.
What are your outbound call prices?
Each package includes one standard local or toll-free number for free. Prices of outbound calls vary, please contact us for more details.
Who is a user?
Users work for your company and communicate with your existing and potential clients. You can add or remove users in just a few clicks anytime you need. As a user you can imagine your agent, supervisor, analyst, administrator etc.
Can I change my subscription plan anytime?
Yes. With CloudTalk, there are no strings attached. Your plan can be upgraded or downgraded anytime you need.
Can I use CloudTalk for more activities?
Definitely. CloudTalk can be used in many different ways, be it customer support, contact center, virtual phone system or active call center. Our solution is perfect for companies operating several e-commerce at the same time in need of separate customer support for each e-commerce.
What about data safety?
The safety of your data is our topmost priority. CloudTalk uses third-party data centers with industry-standard certifications (Tier III+ or IV, ISO 27001, PCI-DSS). All facilities include physical protection. Interface is accessed through an encrypted SSL connection. You can read more at our page dedicated to 
Security
.
Do you provide discounts for new customers?
Yes, if you sign up for CloudTalk for 12 months in advance, you will get more than 30% discount on the price of your package.