| 29 Jul 2021
Sales - Call Center
Cold Calling Software: Do's and Don'ts for Outbound Sales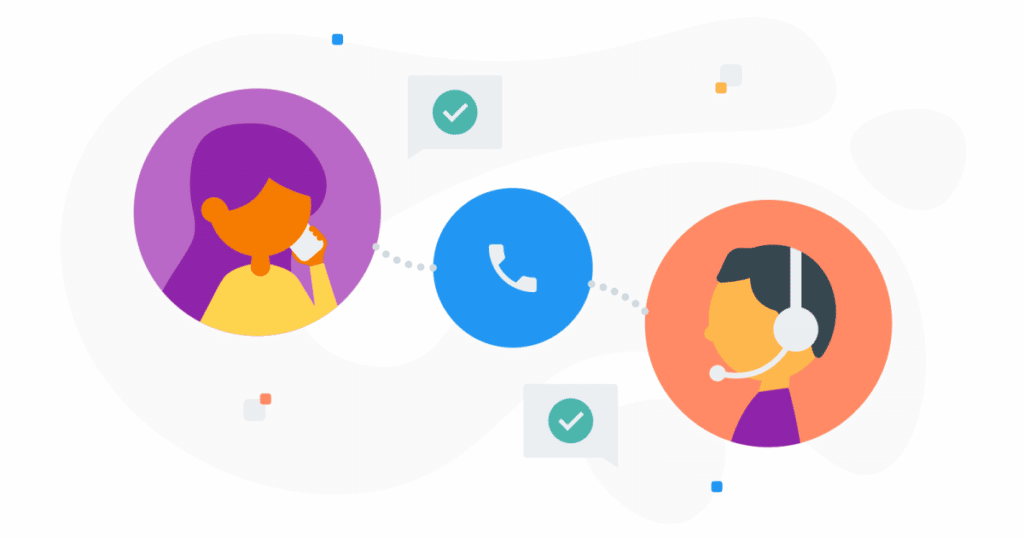 Cold calling software makes hard work easy and keeps your agents productive and happy. Learn about the do's and don'ts of cold calling for your outbound sales team.
Cold calling doesn't work.
Is this something you've heard before?
This statement is far from true. According to the latest research, 49% of buyers prefer to be contacted through phone calls.
Cold calls may not be the problem here, but rather the way in which your sales team tries to reach out to prospects. What about investing in cold calling software? Is it going to solve the problem?
If you have any doubts, this piece will show you why cold calling software could be a good way to improve the effectiveness of your calls. We'll show you the best and worst practices of using this type of software. Learn how this solution can help your agents get the most out of their work.
Master cold calling with these 7 templates
What is cold calling software and should I use it?
Cold calling software are solutions that are designed to streamline sales teamwork by managing leads and making calls more efficient. This type of software makes automating calls possible, which helps with reaching out to more prospects.
Having access to many metrics that the software gives us, including sales activity and call performance, can provide your business with deeper insights into agents' productivity to help you improve.
What are the other benefits of such a solution? Here are some of the main ones:
Streamlines workflow – by using automated dialling, you and your team will be able to run through calls much faster while increasing your productivity.
Increases chances of closing a deal – it helps with tracking leads and getting information about your potential clients, which you can use to lead conversations better.
Saves time – it helps organize and optimize your time, which is essential for boosting your performance.
Makes calls more personal – by integrating cold calling software with CRM systems, your agents will have more information about their leads so they can personalize their pitches.
Contributes to development – cold calling software provides advanced call statistics that help you identify areas for improvement and determine friction points.
Now that you know the advantages of cold calling software, you need to learn some best practices to give you the most value. Get a grasp on cold calling strategies and learn what to do and what to avoid (primarily from a legal aspect).
Do's of using cold calling software
The following are a few tips you can follow to ensure that you use cold calling software effectively and, more importantly, safely.
Choose reliable software
Let's start with aspects that you should take into account when choosing cold calling software. The one you pick should definitely be trustworthy. Ultimately, it will somehow hold the key to your business. Is there any way to guarantee you are making a good choice?
There are certain steps you should not skip, because they might tell you a lot about the potential provider:
Make sure you carry out thorough research and check references, not only on the company website but also on forums and platforms like G2 or Capterra.
Verify the safety of their software, whether they adhere to the highest security standards. Make sure the company regularly audits their data centers and that all information is encrypted.
Cold calling software must also follow GDPR guidelines (For example, Cloudtalk.io uses them for clients outside of the EU, who are not directly affected by these regulations, to improve the overall safety of the product).
Choosing the right software is quite difficult. Clearly, you have to consider more than just a good price and a wide range of features.
Research your local laws
Cold calls are a legitimate way to reach new customers if you follow specific rules. Not doing so can lead to problems. Laws vary by country and in the USA, each state has different rules regarding cold calling.
Countries must establish such limitations to prevent harassing residents or gaining access to sensitive information about them illegally. Otherwise, some companies could exploit such data. What should you do to make sure that you have covered every aspect of applicable laws in your country?
Some countries impose time restrictions in which a caller can try to reach out to new customers. These limitations don't apply to people who are already a particular company's customer.
There are also specific rules about how callers should introduce themselves, what information must be given, etc. There is also a thin line for automatic connections. In some cases, they're forbidden entirely. Remember to get to know the local laws and see how restrictions look in your country.
Create a script
How about the next "Do"? You need to be prepared for the conversation and create a cold calling script. This means you should:
Introduce yourself
State which company you're calling from
Establish contact by asking some questions first
Use a positioning statement to show your prospects that you understand their problems
Even if you have a well-prepared script, remember that people can sense if you read from written notes or artificially try to proceed with a conversation. As a result, they will assume that what you're saying is a waste of time. Try to give your voice a natural tone and be energetic – people will appreciate you not sounding like a robot.
Remember to practice the script before you start calling. Prepare yourself for the questions that people might ask you. Try to intrigue and interest the prospect right at the beginning of the conversation.
If you use cold calling software with the right script, you will be able to easily have interactions that make your prospects feel heard. This will give you the confidence to close deals.
Create specific lists for calling
As you probably know, you can easily integrate your cold calling software with CRM systems. Be careful, though.
Choose your prospects carefully rather than calling everyone from your database. Put them in specific groups to increase the effectiveness of your sales team. By doing so, conversations can take priority over entering data.
Prioritize your leads. Start by contacting those who are more likely to be interested in your offer. Cold-calling data indicates that if you reach a contact within the minute they are tagged as a lead, you increase your chances of conversion by almost 400%.
DON'Ts of using cold calling software
Now let's discover which things you need to avoid at all costs. Here are some of the worst practices and tips on how to keep away from them.
Don't spend most of the time talking – listen instead
All sales agents focus on talking. What should they say, how to say it, and in what tone, etc. However, most of them forget about one of the most important things. There is a person on the other side of the phone who you should listen to carefully.
Listening to your prospects carefully is the key to success. Sounds too deep? It shouldn't. Give your prospects the opportunity to speak. There is no doubt that you need to communicate a lot, but try to keep your monologue short (and not by throwing words out at the speed of light).
Listening is an easy way to build trust and make people feel more valued. It's also a great way to get to know more about prospects' needs and expectations. 93% of buyers believe that the ability to collaborate during a call is a deciding factor for their purchasing decision.
Cold calling is a two-way conversation. Make sure you ask open-ended questions to make prospects feel comfortable speaking up.
Don't use any number
The next thing that you should avoid is using the same number for all countries that you operate in. A phone number being unfamiliar or from abroad makes people suspicious that it is a scam. Because of that, it is essential to use local numbers.
Furthermore, local numbers allow your customers to call you at standard local rates or for free from abroad. So if your company operates in more than one country, you should use a feature that gives access to international phone numbers.
Cloudtalk can help you with this. It gives you access to numbers from more than 140 countries around the World. Additionally, you can select between geocodes and non-geographic codes (which tend to be more familiar to users because they know it will be charged locally).
It is beneficial to use international phone numbers in the long term since fewer calls will go unanswered.
Don't call unprepared
Before you even think about calling a particular number, research the prospect thoroughly to ensure you have enough information to start a conversation. Luckily, cold calling software integration with CRM systems lets you quickly verify details with one click. There is nothing more frustrating than receiving a call that was not intended for you.
Look up the data about your prospect in advance to make your conversation more personal. This should be your ritual before a call. Thorough research will ensure that you are communicating with the right person within the organization.
Cold calling software allows you to gather information such as caller ID. You may want to begin a conversation with "Hello, Beth", for example. Also, such integrations will grant you access to contact history and possible past engagement.
By conducting proper research, you will appear unprofessional and selfish, so make sure you find out as much as you can about your prospects.
Don't be unclear
"Excuse me, can you repeat that please?" Don't waste your and your prospects' time by speaking too fast or being unclear. Trying to fit as many words into as little time as possible isn't a good idea.
Explain the purpose of your call from the very beginning. Prepare a strong opening sentence. Think about something that will differentiate your call from other companies.
With each call, you will gain more confidence. Did you know that people can "hear" a smile when you speak? Be positive, talk clearly, briefly, and to the point. You will notice the difference.
Conclusion
It might seem that cold calling is outdated, but if you choose the right software solution, you can empower your sales team and make cold calling an effective way to gain new customers.
Integrating a good piece of cold calling software with a CRM system will make the cold call process seamless. Do you want to give it a try?
Want to see CloudTalk's magic?