Looking for a fresh Nextiva alternative? Go for CloudTalk, it's comfortable to use
We can help you make your work lovable. CloudTalk, a remote-ready cloud-based software, takes your customer support to another level!
SMS/text messages to send personalized or general notifications
40+ CMS and helpdesk one-click integrations
Virtual call center ready to use in 5 minutes
High-quality calls secured via a globally distributed network
2500+ call centers and phone systems powered by CloudTalk and counting
CloudTalk is intuitive and simple to use.
See how a simple switch can ease your work
CloudTalk vs. Nextiva
| | | |
| --- | --- | --- |
| Pricing | CloudTalk plans start at 25$ per user/per month with numerous features and an unlimited number of users. No credit card is required in a free trial. | The basic plan starts at $23.95, with a maximum of 4 users. The final price depends on the number of users and types of membership. Requires a credit card in a free trial. |
| Call quality | To ensure you connect with your stakeholders worldwide without any issues, we have established a strong network of telco partners across the globe. | Call quality level depends on your internet connection. |
| Missed calls | To never miss a call, we've created the Callback feature. It automatically redials the customer until connected with the right agent. Works best if combined with Detection of resolved missed calls, and Ring groups. | Does not offer a Callback feature. |
| Customer information | Deliver the most personalized customer experience possible. The caller ID feature shows you the name of the caller, their phone number, and much more even before the call connects. | Does not offer a Caller ID feature. |
| Call automation | We offer intelligent call routing with pre-defined criteria based on your needs and preferences. With our Call Flow Designer feature, you can manage your inbound calls step by step. | Offers a certain level of call automation and also sends automated messages. |
| IVR | The multi-level interactive voice response (IVR) menu guides the caller through different options. IVR helps you solve issues faster and convert more leads. | Offers IVR. |
| Call tags/comments | Add notes and tags for each customer after a call has ended. This way, you and your colleague will know the status of the case and see what to do next. | Does not offer a built-in Call notes/tags feature. You can add call comments via third-party integration. |
| Messaging | The SMS/text messaging feature allows you to send personalized messages or general notifications to your customers without the need for them to contact you first. | Can't initiate SMS texts unless the customer texts you first. |
| Voicemail | Create individualized or group voicemail messages for your virtual phone system. Give your clients the option to leave a message which is automatically sent to your agents. | The shared voicemail inbox gathers all messages at one place as they come in. |
| Group calling | CloudTalk offers you to make video and audio Conference calls. Unique 3-way-calling allows you to bring another person to a call whenever needed. | Allows you to create a group call. |
| API | Didn't find the integration you wish for? Use our open API feature to install the preferred one within a few clicks. | Does not offer an open API feature. |
| | | |
Comparison data is based on an analysis from Q4, 2021.
---
---
Get your real-time updates within an intuitive interface
Bring a smooth experience to your day-to-day work. CloudTalk's interface is easy to use and offers a detailed overview of what is going on in your call center. A real-time dashboard monitors your call center activities in real-time. All important data on inbound calls and agent productivity is always at your disposal.
Worrying about missing a call? With CloudTalk, you don't have to. Real-time desktop notifications and the "Ring on speakers" feature will notify you the second a call comes in. It also provides a customer ID, so you know exactly who is calling.
Work remotely and enjoy flexibility with Cloudtalk
Setting up your virtual call center has never been easier. CloudTalk replaces your outdated business phone system and lets you scale with ease. You don't have to invest in phone hardware or work with IT experts. All you need is an internet browser and a headset. Then, you're ready to make your first call.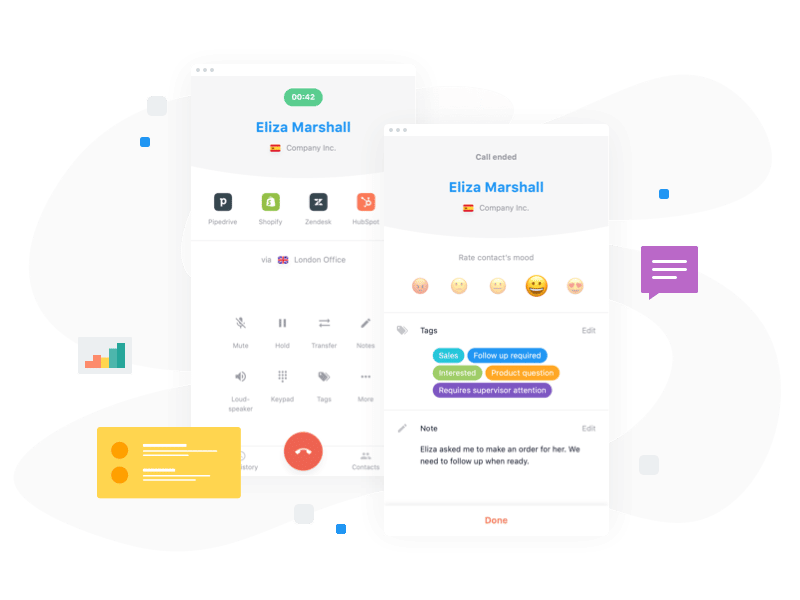 Get a local phone number from 160+ countries for your virtual call center. Allow your team to work from anywhere in the world while maintaining a local presence. If you already have a phone number, we can easily port it to CloudTalk.
Speech to text and Transcripts feature helps you improve your workflow and allow you to get more from collected data. Companies can highly benefit from this. Especially financial institutions. When having your calls transcripted into written form, you can easily search through the information.
Integrate your virtual call center software with more than 1500 tools into your existing CRM, e-commerce, or helpdesk tools, such as Salesforce, Hubspot, Freshdesk, and more. Our 2-way integrations make sure your agents have instant access to the right data and stay effective.
Work with apps you love. CloudTalk offers 30+ integration to enhance your workflow
---
Smooth connection, advanced features,
and powerful integrations
3 main reasons to consider smarter call center software alternative:
Use only those features you want
CloudTalk has established a strong network of telco partners across the globe. Enjoy crystal-clear calls with guaranteed latency and minimal jitter. If the call quality drops, CloudTalk changes the call route in real-time.
Solve issues effectively by getting a quick assistance
Sometimes an agent needs that little extra something to successfully provide a solution or close a deal. Oftentimes that extra something is the help of another agent or manager. CloudTalk's 3-way calling feature makes adding a 3rd party to an ongoing call easier than ever. That results in happier customers and more closed deals.
Use Voicemail to show customers that you listen
CloudTalk's Voicemail feature will ensure that no inbound calls remain unanswered, even outside of your business hours or when all agents are busy. Inbound calls will be routed to voicemail, allowing your callers to leave a message at times when your virtual phone system is not available.
#1 Rated call center software
Based on 400+ CloudTalk reviews on 6 independent software marketplaces & platforms
Have a question you need answered?
If you have any questions regarding CloudTalk Coverage or the phone numbers, please get in touch at
How does free trial work?
Simply send us your contact information and we will send you access to a free CloudTalk trial with no strings attached. You can immediately start making phone calls with CloudTalk.
What are your outbound call prices?
Each package includes one standard local or toll-free number for free. Prices of outbound calls vary, please contact us for more details.
Who is an user?
Users work for your company and communicate with your existing and potential clients. You can add or remove users in just a few clicks anytime you need. As a user you can imagine your agent, supervisor, analyst, administrator etc.
Can I change my subscription plan anytime?
Plans billed annually can only upgrade to a higher tier plan (e.g. From Essential to Expert). It's not possible to downgrade on annual billing.
Can I use CloudTalk for more activities?
Definitely. CloudTalk can be used in many different ways, be it customer support, contact center, virtual phone system or active call center. Our solution is perfect for companies operating several e-commerce at the same time in need of separate customer support for each e-commerce.
What about data safety?
The safety of your data is our topmost priority. CloudTalk uses third-party data centers with industry-standard certifications (Tier III+ or IV, ISO 27001, PCI-DSS). All facilities include physical protection. Interface is accessed through an encrypted SSL connection. You can read more at our page dedicated to 
Security
.