Ett prisvärt och pålitligt alternativ till Avoxi
Letar du efter en callcenter-mjukvara som kan ta ditt företag till nästa nivå? Välj en pålitlig lösning med 100+ inbyggda funktioner och ett erfaret supportteam som alltid står redo. Utforska era möjligheter med rätt budgetvänliga lösning.
2500+ kontaktcenter och telefonisystem som drivs med CloudTalk
Ett prisvärt och kraftfullt alternativ
CloudTalk vs. Avoxi
| | | |
| --- | --- | --- |
| Platform | Available across any device or platform. | Available only as a web-based app. |
| Pricing | Starts at $25 per user/month, billed annually. | Starts for free with very limited options. |
| Integrations | 35 Integrations | 20 Integrations |
| Set up and onboarding | | |
| Missed calls | The callback feature automatically detects missed calls and redial customers until successfully connected to a specific agent. | Only allows callers to save their place in the call queue. |
| Smart deception of resolved missed calls | | |
| Conference calls | Audio + video calls. | Only audio calls. |
| Predictive dialer | | |
| Smart dialer | | |
Jämförelsedata baseras på en analys från Q4, 2021.
3 skäl att överväga att byta callcenter
Vi är säkra på att du kommer gilla att jobba med CloudTalk. Här ser du varför:
Samtalskvalitet
När du kopplar ihop folk runt hela världen, är samtalskvalitet avgörande. CloudTalk jobbar via en global server-infrastruktur för att se till att du alltid får bästa möjliga samtalsrutt.
Installation
CloudTalks fem minuters-installation låter dig slippa frustrationen som kan uppstå när du byter mjukvara. Vårt hängivna onboarding-team vägleder dig genom varje funktion och gör dig redo för nästa äventyr.
Nöjda kunder
Låt dina kunder nå dig snabbt, utan att behöva vänta länge. Med vår automatiska callback-funktion minskar du enkelt antalet avbrutna samtal, och löser dina problem även när dina agenter är upptagna.
---
---
Det användarvänliga gränssnittet gör det enkelt att vänja sig vid det nya systemet
Det kan vara knepigt att byta mjukvara. Men inte när du byter till CloudTalk. Varför?
Vårt hängivna onboarding-team hjälper dig att snabbt komma på fötter
Onboarding-portalen visar tydligt hur varje steg går till
Vårt intuitiva gränssnitt visar dig varje viktig detalj utan att du behöver leta efter den.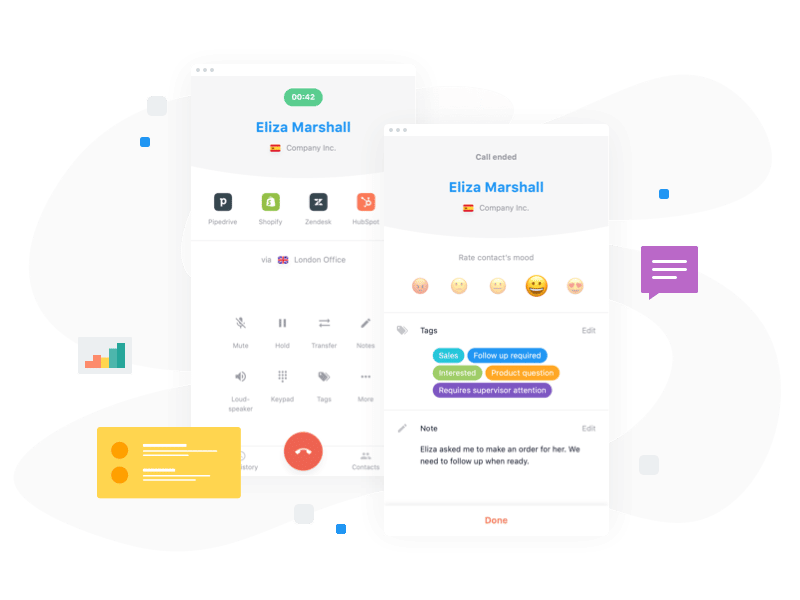 ---
Ta inte enbart oss på orden.
Se hur CloudTalk ser ut
---
Utbildad kundtjänst nära till hands
Har du erfarenhet av opålitliga kundtjänster? Vi är här för dig. Vår prioritet är att hjälpa våra kunder och hjälpa dem att hitta omedelbara lösningar på sina problem. Vi har flera supportteam som arbetar i olika tidszoner för att besvara dina frågor i realtid. Alltid med ett leende på läpparna.
---
Bli förvånad över vad ni kan göra med över 30+ integrationer
Fler skäl till att CloudTalk
är det bästa beslutet
Vi har jobbat hårt för att du ska kunna slappna av. Vi erbjuder:
Olika medlemskap beroende på dina behov: välj den prenumeration som passar dig bäst. Abonnemang från 25$. Avancerade funktioner utan dolda avgifter. Behöver du något extra? Kontakta vår försäljningsavdelning så skapar vi en skräddarsydd lösning enligt dina önskemål.
3-delad samtalsfunktion: på CloudTalk älskar vi samarbete! Vår 3-vägs funktion ökar din produktivitet genom att lägga till en tredje person i samtalet. Starta ett 3-delat samtal, lämna samtalet när du vill, eller koppla till och med ifrån en stund om du behöver prata med en kollega.
Ökad produktivitet med automatiserade funktioner: vi vill se dig jobba smart. Spara dyrbar tid genom att använda våra automatiserade funktioner, som t.ex. knappvalsmeny, samtalsflödesdesigner, färdighetsbaserad koppling, eller automatisk samtalsfördelning. Alla dessa funktioner stöder varandra och låter dig lösa repetetiva problem snabbare.
Have a question you need answered?
If you have any questions regarding CloudTalk Coverage or the phone numbers, please get in touch at
How does free trial work?
Simply send us your contact information and we will send you access to a free CloudTalk trial with no strings attached. You can immediately start making phone calls with CloudTalk.
What are your outbound call prices?
Each package includes one standard local or toll-free number for free. Prices of outbound calls vary, please contact us for more details.
Users work for your company and communicate with your existing and potential clients. You can add or remove users in just a few clicks anytime you need. As a user you can imagine your agent, supervisor, analyst, administrator etc.
Can I change my subscription plan anytime?
Plans billed annually can only upgrade to a higher tier plan (e.g. From Essential to Expert). It's not possible to downgrade on annual billing.
Can I use CloudTalk for more activities?
Definitely. CloudTalk can be used in many different ways, be it customer support, contact center, virtual phone system or active call center. Our solution is perfect for companies operating several e-commerce at the same time in need of separate customer support for each e-commerce.
The safety of your data is our topmost priority. CloudTalk uses third-party data centers with industry-standard certifications (Tier III+ or IV, ISO 27001, PCI-DSS). All facilities include physical protection. Interface is accessed through an encrypted SSL connection. You can read more at our page dedicated to Security.
Do you provide discounts for new customers?
Yes, if you sign up for CloudTalk for 12 months in advance, you will get more than 30% discount on the price of your package.