Più dati, meno stress.
Scopri la migliore alternativa a Genesys Cloud CX
CloudTalk è una scelta intelligente e conveniente per aziende di qualsiasi dimensione.
Chiamate regolari grazie a un'infrastruttura distribuita a livello globale
Report personalizzati e fuori dagli schemi in base alle tue esigenze
Interfaccia e dashboard chiari e app mobile
Monitoraggio del call center in tempo reale
Assistenza dedicata sempre disponibile
2500+ aziende hanno scelto CloudTalk come software per call center
Stai cercando una scelta economica e intelligente?
CloudTalk vs. Genesys Cloud CX
Pricing

The basic plan starts at

$20 per user/per month.

Genesys Cloud CX1 starts at

$75 per user/month.

Real time updates

The real-time dashboard shows key metrics like

call queue statistics, average wait time, active calls, and agent status.

Pre-defined templates for reports.

Performance dashboards and historical reporting are available.

Real time customer card

Know

who you are talking to before picking up the phone.

CloudTalk gathers all customer information like

history of interaction or notes

and lets you deliver a more personalized customer experience.

Shows your current performance dashboard with overall information about all call center activities.

No customer real-time card is available.

Number porting
Use your existing phone numbers by porting them to CloudTalk. Import geographic (local), national or mobile numbers with help from our Support team.
The process for porting DID phone numbers into PureCloud Voice is a manual procedure that our support technicians perform for you.
Local caller ID

The automatic outbound caller ID feature ensures that your agents

call your foreign-based clients from a local phone number.

Allows you to reach customers via their predefined channels, and implement automation features. Do not offer local caller ID.
Workflow designer
Create customer-specific business process flows even when using several different platforms. Customize your own workflow using our IVR, skill-based routing, or other features according to your needs.
Lets you optimize call center workflow with integrated agent and workflow capabilities to deliver an omnichannel customer journey.
Call tagging
Label each call with a self-made tag. This allows you to sort calls into categories and quickly identify what type of call it is.
Genesys Cloud CX is built on AI which does not allow agents to sort their tickets according to custom tags.
Call Notes
Make your work more efficient with custom notes to every call. Get a fast and detailed overview of interactions and sync it with a CRM or help desk tool of your choice.
Allows to view users, except for Status Notes like the specific status of forward, out of the office, or away.
User management

Manage your agents online.

Assign them to a specific call queue, and modify their details with one click.

Genesys Cloud CX lets you manage the dialer, workforce, or phone but

does not allow you to manage the user on your own.

Integrations
Make your work more productive with Cloudtalk's 40+ integrations. Salesforce, Hubspot, Pipedrive, Shopify, and many more.
Offers you several CRM and third-party integrations. Most of them for an additional cost.
Virtual call center
Create your virtual call center within 5 minutes. No need to invest in phone hardware or work with IT experts. All you need is your internet browser and a headset
Genesys Cloud CX does not allow you to create several profiles (virtual agents)
I dati di confronto si basano su un'analisi del 4° trimestre 2021.
Le decisioni prese in base ai dati migliorano i risultati
Noi crediamo nell'intuito umano unito ai dati in tempo reale
Reporting personalizzato
secondo le tue esigenze
Vorresti ancora di più, oltre alle nostre statistiche standard? Non c'è problema. Puoi utilizzare diversi filtri per visualizzare i dati che ti interessano di più, ad es. per operatore, numero di telefono o periodo di tempo, I filtri personalizzati genereranno dei report rilevanti per i tuoi obiettivi aziendali e terranno traccia dei più importanti KPI.
Gli emotional analytics
ti aiutano a mantenere un approccio umano
Stai al passo con le tendenze del momento. Gli emotion analytics permettono agli operatori di valutare sia la loro prestazione durante la conversazione, sia la condizione emotiva del cliente dopo ogni chiamata, con un solo clic. I team leader possono ottenere un importante feedback, che li aiuta nei colloqui di valutazione individuale con gli operatori. Questo si riflette in una migliore customer experience.
Il dashboard in tempo reale
ti tiene aggiornato
I parametri visualizzati per code di chiamata e operatore ti permettono di offrire un servizio clienti molto efficiente. Tutti i parametri disponibili nell'interfaccia CloudTalk, intuitiva e di facile utilizzo, sono visualizzati in una scheda separata del Pannello di Controllo in tempo Reale. In questo modo, puoi prendere le tue decisioni più accuratamente e aumentare la soddisfazione del cliente.
---
---
Un software per call center del quale ti puoi fidare
CloudTalk è stato creato per soddisfare le tue esigenze aziendali. Abbiamo una solida infrastruttura di server, per facilitare al massimo le chiamate, senza interruzioni o cadute impreviste. Inoltre, puoi:
utilizzare la funzionalità di richiamata per ricomporre le chiamate senza risposta.
Contare sul rilevamento intelligente delle chiamate perse risolte per tenere d'occhio il basso tasso di chiamate perse.
Stabilire degli orari di lavoro per far sapere ai tuoi clienti quando sei disponibile.
Scegliere un intervallo di tempo in cui gli agenti non sono disponibili per terminare tutto il lavoro post-chiamata.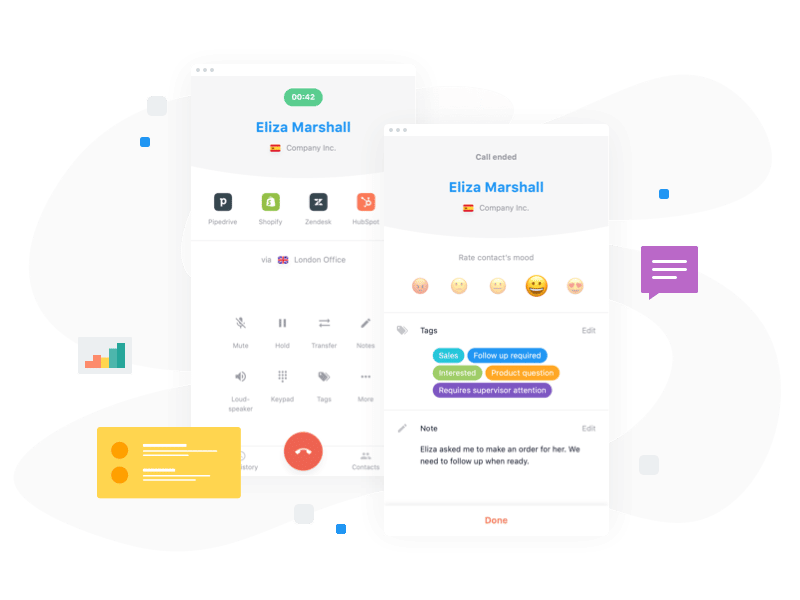 Valutazione
Se hai un piccolo team e molto da fare, può non essere facile mantenere un flusso di lavoro coerente Lascia più tempo ai tuoi operatori al termine della conversazione, per elaborare e valutare la chiamata. La funzionalità di "after-work" ti permette di scegliere degli intervalli di tempo predefiniti entro i quali l'operatore non sarà disponibile per accettare la prossima chiamata.
---
Lasciati stupire da ciò che puoi fare con oltre 30 integrazioni.
---
Abbiamo le migliori offerte per aziende di ogni dimensione
Scegli l'abbonamento più adatto a te.
L'abbonamento Essential aumenta l'efficacia del flusso di lavoro di tutti i giorni
Migliora la produttività spendendo meno. L'abbonamento Essential ti consente di utilizzare tutte le funzionalità vocali e di di indirizzamento intelligente delle chiamate, comprese le schede cliente in tempo reale. Approfondisci con le funzionalità di analytics avanzate con cronologia illimitata A 25€/utente/mese.
Abbonamento Expert per un'assistenza clienti completa
Vai oltre le aspettative L'abbonamento Expert ti offre tutte le nostre funzionalità più importanti. Statistiche avanzate con report personalizzati e sugli operatori, Salesforce e oltre 40 integrazioni. Approfitta del semplice onboarding, del single sign-on e del flusso di chiamata/IVR personalizzabili. Offriamo tutto questo per 50€ ad utente/mese.
La scelta su misura per chi sa esattamente quello che vuole
La scelta su misura per chi sa esattamente quello che vuole Sia che tu abbia bisogno di un call center completamente automatizzato, sia che tu abbia bisogno di funzionalità costanti per fornire un'eccellente assistenza ai clienti, noi ti copriamo le spalle. Facci sapere le tue esigenze specifiche Stabiliremo il prezzo in base alle tue richieste.
Have a question you need answered?
If you have any questions regarding CloudTalk Coverage or the phone numbers, please get in touch at
How does free trial work?
Simply send us your contact information and we will send you access to a free CloudTalk trial with no strings attached. You can immediately start making phone calls with CloudTalk.
What are your outbound call prices?
Each package includes one standard local or toll-free number for free. Prices of outbound calls vary, please contact us for more details.
Who is an user?
Users work for your company and communicate with your existing and potential clients. You can add or remove users in just a few clicks anytime you need. As a user you can imagine your agent, supervisor, analyst, administrator etc.
Can I change my subscription plan anytime?
Plans billed annually can only upgrade to a higher tier plan (e.g. From Essential to Expert). It's not possible to downgrade on annual billing.
Can I use CloudTalk for more activities?
Definitely. CloudTalk can be used in many different ways, be it customer support, contact center, virtual phone system or active call center. Our solution is perfect for companies operating several e-commerce at the same time in need of separate customer support for each e-commerce.
What about data safety?
The safety of your data is our topmost priority. CloudTalk uses third-party data centers with industry-standard certifications (Tier III+ or IV, ISO 27001, PCI-DSS). All facilities include physical protection. Interface is accessed through an encrypted SSL connection. You can read more at our page dedicated to 
Security
.