Non perderti mai una chiamata – passa alla migliore Alternativa Mighty Call
Cerchi un'alternativa a MightyCall? CloudTalk è una scelta economica per aziende di qualsiasi dimensione.
Chiamate di alta qualità con latenza garantita e jitter minimo
Flusso di lavoro fluido con i nostri strumenti di instradamento delle chiamate intelligenti
La funzionalità di Richiamata, richiama il numero fino a quando si collega con l'agente
Reindirizzamento delle chiamate durante le ore di punta o quando si è fuori dall'ufficio
La funzionalità di call masking mantiene il tuo numero personale privato
I piani partono da $25/mese con una prova gratuita o una demo.
2500+ call center e sistemi telefonici basati su CloudTalk e molto altro ancora
Ti stai chiedendo come ci si sente esattamente a chiamare senza problemi?
Cloudtalk è fatto per supportare il tuo lavoro su tutti i dispositivi, anche quando sei fuori dall'ufficio.
CloudTalk vs. MightyCall
Basic Plan

20

$

per user/ per month

with unlimited users. Free inbound and internal calls, and other features.

29,99

$

per month

with limited minutes. Only 10 contacts available.

Essential Plan

25

$

per user/per month

with client real-time dashboard, open API, and other advanced features.

49,99$ per month

without call analytics and call statistics or any workflow automation.

Expert Plan

40

$

per user/per month

, including IVR, open API, and smart routing.

99,99$ per month

, still missing workflow automation or IVR functions.

Dialing Feature
The Click-to-call feature allows you to dial any number on the web with just one click.
The Dial-by-Name feature can connect you with a specific number, which is saved under the name.
Call Forwarding / Warm Transfer
Automatically forwards calls to external phone numbers when your agents are busy. The warm transfer also allows you to redirect a call to another agent with the opportunity to speak with the customer first.

When receiving a call, MightyCall forwards it to a physical phone, VoIP, cell phone, or voicemail.

Call Distribution

The ACD (automatic call distribution) feature ensures that all inbound calls are directed to the most qualified agent based on available data. Works best with IVR, call queuing, and business hours.

Offers you the call flow configuration, which allows setting a specific route for incoming inbound calls.
Call Masking
CloudTalk protects your private number until you share it with a specific customer.
Gives you a virtual phone number but cannot ensure your personal one stays private.
Notifications
When an incoming call comes in, CloudTalk automatically alerts you so you know who is calling.
MightyCall does not offer desktop notifications for any calls.
Call Queuing
Improve the on-hold experience with advanced call queuing strategies, personal greetings, or custom music. Sort incoming calls
You can only divide calls into several groups by your needs.

I dati di confronto si basano su un'analisi del 4° trimestre 2021.
3 punti fondamentali
che miglioreranno il tuo servizio clienti
Scegli un software per le chiamate su cui puoi fare affidamento.
Chiamate di alta qualità
Dimentica le chiamate perse o le interruzioni.Tutta la qualità delle chiamate è monitorata dal vivo, quindi siamo in grado di offrire una connessione forte e di passare immediatamenteal miglior percorso di chiamata possibile
Personalizzazione
Vogliamo che l'automazione e la personalizzazione vadano di pari passo con il tuo supporto clienti. CloudTalk offre dei saluti personalizzati, riprodotti al chiamante in base a situazioni specifiche. Registra facilmente dei messaggi di benvenuto, il menu IVR o delle notifiche fuori dall'orario di lavoro.
Interfaccia facile da usare
Per offrire il meglio, devi avere il meglio. Quando si usa CloudTalk, si trova tutto ciò che si desidera a portata di mano – più di 50 strumenti di chiamata avanzati, CRM, e oltre 40 integrazioni più utilizzate, oltre a un'assistenza clienti appassionata 24 ore su 24, 7 giorni su 7. Ti ascolteranno ogni volta che avrai bisogno di assistenza.
---
Software di call center numero 1
Basato su oltre 400 recensioni di CloudTalk su 6 piattaforme di software e mercati indipendenti
---
Le integrazioni aumentano la produttività e noi ne offriamo più di 40. Aumenta la tua efficienza a portata di mano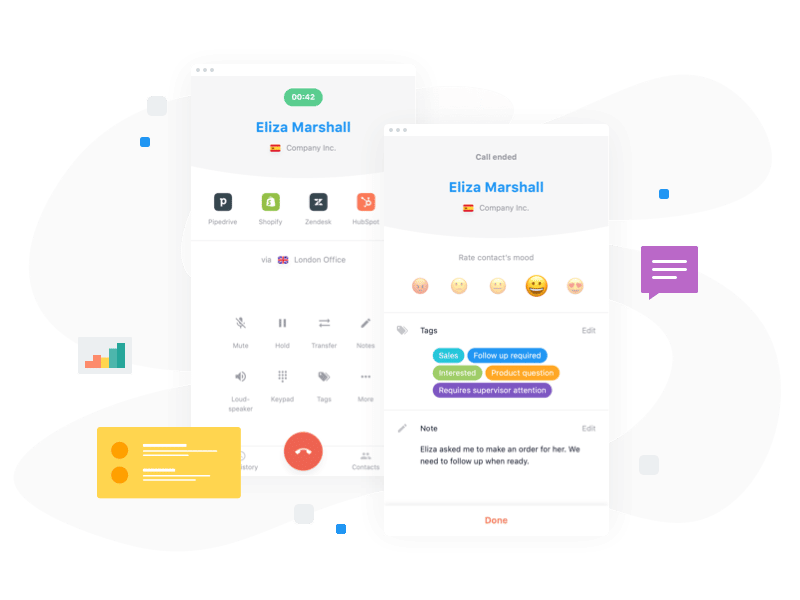 Guarda come può essere facile chiamare con una funzionalità di routing avanzata
Il routing basato sulle competenze e la funzionalità di agente preferito ti aiutano a fornire la migliore customer experience e a semplificare il flusso di lavoro. Lascia che l'automazione selezioni le chiamate in entrata e le indirizzi all'agente più qualificato disponibile. Puoi anche impostare l'agente preferito per ogni cliente per fornire loro un supporto ancora più piacevole.
Migliora la customer experience
CloudTalk trasforma il supporto mediocre in un'esperienza senza problemi. Ti aiutiamo a ottimizzare il tuo servizio clienti per far crescere il tuo business più velocemente. Costruisci delle forti relazioni con i tuoi clienti con:
personalized "thank you" notes after sales with our SMS/text message feature
calling customers by their name, since it is displayed on CloudTalk Customer real-time card
built-in survey feature that helps you get feedback
training your agents with the real situations from your recorded calls
Have a question you need answered?
If you have any questions regarding CloudTalk Coverage or the phone numbers, please get in touch at
How does the free trial work?
Simply send us your contact information, and we will send you access to a free CloudTalk trial with no strings attached. You can immediately start making phone calls with CloudTalk.
What are your outbound call prices?
Each package includes one standard local or toll-free number for free. Prices of outbound calls vary, please contact us for more details.
Users work for your company and communicate with your existing and potential clients. You can add or remove users in just a few clicks anytime you need. As a user, you can imagine your agent, supervisor, analyst, administrator, etc.
Can I change my subscription plan anytime?
Plans billed annually can only upgrade to a higher tier plan (e.g., From Essential to Expert). It's not possible to downgrade annual billing.
Can I use CloudTalk for more activities?
Definitely. CloudTalk can be used in many different ways, be it customer support, contact center, virtual phone system, or active call center. Our solution is perfect for companies operating several e-commerce at the same time in need of separate customer support for each e-commerce.
The safety of your data is our topmost priority. CloudTalk uses third-party data centers with industry-standard certifications (Tier III+ or IV, ISO 27001, PCI-DSS). All facilities include physical protection. The interface is accessed through an encrypted SSL connection. You can read more on our page dedicated to Security.