Utilizza CloudTalk per scoprire il potenziale della tua azienda con l'Alternativa a Zoom Phone
Supera le tue aspettative e affidati alla migliore alternativa di Zoom Phone
Impostazione facile in 5 minuti
Protezione dei dati certificata ISO 27001:2013
Trio power dialer per chiamate più facili e intelligenti
Comunicazione personalizzata con ID chiamante
Integrazioni potenti, incluso Salesforce
Non accontentarti di poco
Punta alla migliore alternativa VoIP
CloudTalk vs. Zoom Phone
| | | |
| --- | --- | --- |
| Pricing | Starts at $25 per user/month. Offers tailor-made options. | Starts at $89,28 per user/year. |
| International Numbers | 160 | 45 |
| Call Routing | Skills-based or agent routing to connect the customer with the right agent. It works best with automated call distribution. | Manage rules to redirect calls to internal users and external phone numbers |
| Click-to-call | | |
| Call Masking | | |
| Outbound Caller ID | | |
| Real-time Dashboard | | |
| Call Notes and Tagging | | |
| Dialers | | |
| Creating Tasks | Edit orders in your CRM, helpdesk, or e-commerce solution directly in CloudTalk and streamline your workflows. | Assign the privilege to make and receive calls to administrative assistants on behalf of executives |
I dati di confronto si basano su un'analisi del 4° trimestre 2021.
Software di call center numero 1
Basato su oltre 400 recensioni di CloudTalk su 6 piattaforme di software e mercati indipendenti
Personalizzalo come vuoi.
Scegli CloudTalk per offrire la migliore customer experience
Messaggi vocali personalizzati per il tuo telefono virtuale
Assicurati che nessuna chiamata in entrata rimanga senza risposta. Anche al di fuori dell'orario di lavoro o quando tutti gli agenti sono occupati. Dai ai tuoi clienti la possibilità di lasciare un messaggio che viene automaticamente inviato agli agenti appropriati o al gruppo di agenti che rispondono alla richiesta. Per esempio, se il tuo cliente desidera parlare con il tuo supporto tecnico, il messaggio verrà inviato direttamente a uno specifico agente di supporto tecnico.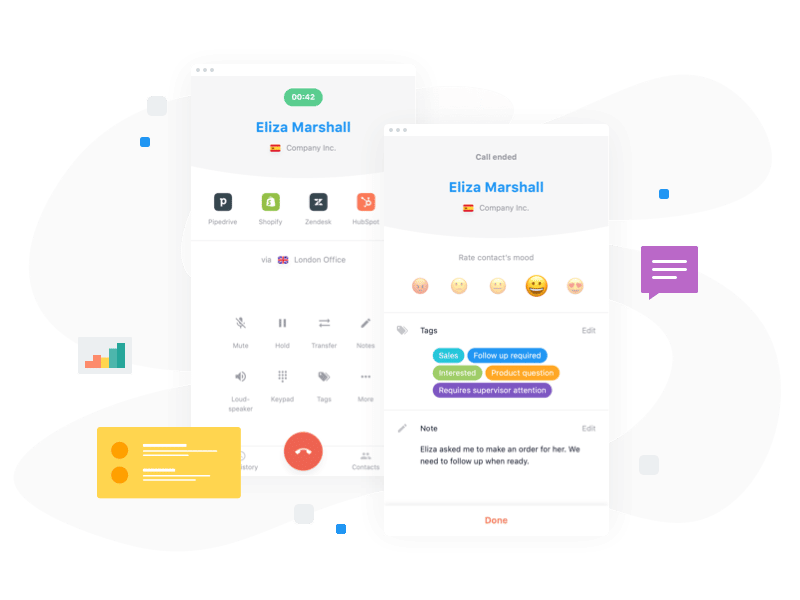 Servizio clienti personalizzato con ID chiamante
"Ciao Matteo, come posso aiutarti oggi?" suona molto meglio di "Hai raggiunto il dipartimento di supporto, qual è il tuo problema?" Migliora le interazioni con i clienti offrendo qualcosa in più fin dal primo secondo. CloudTalk ti mostrerà il nome del chiamante, il suo numero di telefono e molto altro ancora. Anche prima di rispondere alla chiamata.
Saluti personalizzati in base a delle situazioni specifiche
La nostra soluzione PBX ti consente di creare dei saluti e dei messaggi personalizzati e in linea con le tue esigenze aziendali. L'interfaccia intuitiva e facile da usare di CloudTalk include una scheda Messaggi, dove puoi creare tutti i messaggi personalizzati che vuoi – messaggio di benvenuto, messaggio fuori orario di lavoro, saluti personalizzati per la segreteria telefonica, e molti altri.
---
Non affidarti solo alle nostre parole.
Scopri da solo com'è CloudTalk
---
Salesforce e altre 40 integrazioni con un solo clic per aumentare le tue prestazioni
Con CloudTalk, puoi integrare Salesforce, Hubspot, Zapier, Pipedrive e molto altro ancora. Ottieni un call center moderno all'interno del tuo CRM preferito. Gestisci un maggior numero di affari con l'avvio automatico di chiamata e facilita la gestione delle richieste in entrata. La sincronizzazione automatica dei dati in entrambi i sistemi significa che hai sempre accesso a delle informazioni aggiornate.
Lavora con le app che ami. CloudTalk offre oltre 40 integrazioni per migliorare il tuo flusso di lavoro
---
Un servizio clienti dedicato è sempre a tua disposizione
Che tu abbia un'iscrizione Starter o Expert, noi siamo qui per te. Prendiamo ogni cliente come la nostra priorità numero uno, anche durante i fine settimana e le vacanze. Goditi un flusso di lavoro fluido mentre sei supportato dai migliori professionisti in diversi fusi orari.
Ti stai chiedendo come iniziare con Cloudtalk? Ci siamo noi! Il nostro specialista dedicato all'onboarding è qui per guidarti attraverso tutto ciò di cui hai bisogno.
Cos'altro si ottiene con CloudTalk?
Offriamo più di 100 funzionalità per migliorare le tue prestazioni. Scegli quelle più adatte a te. Ad esempio:
Configurazione del flusso chiamata
Crea il tuo flusso di lavoro e gestisci le chiamate in entrata passo dopo passo. Non c'è tempo per risposte limitate. La configurazione del flusso di chiamata funziona meglio quando è accoppiata all'IVR, alla funzionalità di richiamata, alla segreteria telefonica o ad altre funzionalità.
Funzionalità click-to-call e power dialer
Stanco di cliccare manualmente i numeri durante la composizione? Dimentica questo modo antiquato. Risparmia tempo prezioso. Con la nostra funzionalità Click to call, puoi avviare le chiamate direttamente dal tuo browser internet, dalCRM o dal tuo strumento di helpdesk. Punti a qualcosa di più? CloudTalk ti permette di scegliere tra tre irresistibili dialer: Power dialer, Smart dialer e Predictive dialer.
Google Singolo accesso
Non vuoi fare il login ogni volta che lasci il tuo dispositivo? Allora sei nel posto giusto! CloudTalk offre ai tuoi dipendenti un modo intelligente, più facile e più sicuro per iscriversi a varie app. Solo con le credenziali del loro account Google. Su qualsiasi dispositivo, in qualsiasi browser web, senza rischiare una violazione delle informazioni.
---
Oltre 2500 call center e sistemi telefonici
sono gestiti da CloudTalk
LEGGI LE ULTIME TESTIMONIANZE DEI CLIENTI →
Have a question you need answered?
If you have any questions regarding CloudTalk Coverage or the phone numbers, please get in touch at
How does the free trial work?
Simply send us your contact information, and we will send you access to a free CloudTalk trial with no strings attached. You can immediately start making phone calls with CloudTalk.
What are your outbound call prices?
Each package includes one standard local or toll-free number for free. Prices of outbound calls vary, please contact us for more details.
Users work for your company and communicate with your existing and potential clients. You can add or remove users in just a few clicks anytime you need. As a user, you can imagine your agent, supervisor, analyst, administrator, etc.
Can I change my subscription plan anytime?
Plans billed annually can only upgrade to a higher tier plan (e.g., From Essential to Expert). It's not possible to downgrade annual billing.
Can I use CloudTalk for more activities?
Definitely. CloudTalk can be used in many different ways, be it customer support, contact center, virtual phone system, or active call center. Our solution is perfect for companies operating several e-commerce at the same time in need of separate customer support for each e-commerce.
The safety of your data is our topmost priority. CloudTalk uses third-party data centers with industry-standard certifications (Tier III+ or IV, ISO 27001, PCI-DSS). All facilities include physical protection. The interface is accessed through an encrypted SSL connection. You can read more on our page dedicated to Security.